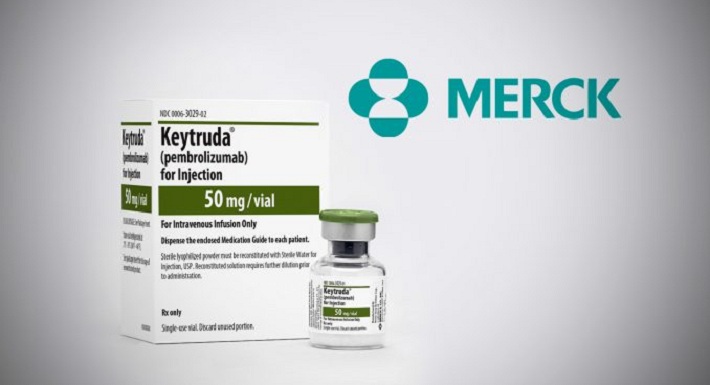 Merck known as MSD outside the United States and Canada, announced that the U.S. FDA has approved KEYTRUDA, Merck's anti-PD-1 therapy.
For the adjuvant treatment of patients with melanoma with involvement of lymph node(s) following complete resection based on results from the EORTC1325/KEYNOTE-054 trial.

This pivotal Phase 3 trial, which was conducted in collaboration with the European Organisation for Research and Treatment of Cancer (EORTC), demonstrated that KEYTRUDA significantly prolonged recurrence-free survival (RFS), reducing the risk of disease recurrence or death by 43 percent compared to placebo in patients with resected, high-risk stage III melanoma (HR=0.57 [95% CI, 0.46, 0.70]; p<0.001). KEYTRUDA is the first anti-PD-1 therapy studied in the adjuvant setting across patients with stage IIIA (>1 mm lymph node metastasis), IIIB and IIIC melanoma.
Immune-mediated adverse reactions, which may be severe or fatal, can occur with KEYTRUDA, including pneumonitis, colitis, hepatitis, endocrinopathies, nephritis, severe skin reactions, solid organ transplant rejection, and complications of allogeneic hematopoietic stem cell transplantation (HSCT). Based on the severity of the adverse reaction, KEYTRUDA should be withheld or discontinued and corticosteroids administered if appropriate. KEYTRUDA can also cause severe or life-threatening infusion-related reactions. Based on its mechanism of action, KEYTRUDA can cause fetal harm when administered to a pregnant woman. For more information, see "Selected Important Safety Information" below.
"In the fight against cancer, progress is made one step at a time, and today we're pleased to take another important step – making KEYTRUDA available as an adjuvant therapy for patients with stage III melanoma," said Dr. Roy Baynes, senior vice president and head of global clinical development, chief medical officer, Merck Research Laboratories. "At Merck, we are committed to transforming the treatment of cancer, as is exemplified by this important advance in the adjuvant treatment of melanoma."
"The collaborative study from EORTC and Merck demonstrated a significant reduction in the risk of cancer returning after surgery," said Dr. Alexander Eggermont, study chair, Director General at the Gustave Roussy Cancer Institute, Professor of Oncology, University of Paris-Saclay. "This approval in the adjuvant setting marks another milestone in the treatment of melanoma patients, who often have a high risk of disease recurrence."
"As physicians, we are always looking to find ways to prevent cancer from returning in our patients," said Dr. Alain Algazi, associate clinical professor of medicine, Department of Medicine, Hematology/Oncology, University of California, San Francisco, Medical Center. "KEYTRUDA has demonstrated significant improvement in recurrence-free survival among stage III melanoma patients when compared to a placebo, and we now have a new option to help patients who have a high risk of recurrence."
"Not too long ago, there were limited treatment options for patients with advanced melanoma," said Marc Hurlbert, Ph.D., chief science officer, Melanoma Research Alliance. "Today's approval of KEYTRUDA in the adjuvant setting provides melanoma patients with another option to prevent their cancer from returning, giving hope to those facing this disease."
About EORTC
European Organisation for Research and Treatment of Cancer (EORTC) conducts clinical research in cancer, defining new standards of practice for better treatment and care of cancer patients. EORTC network comprises more than 5,500 multidisciplinary collaborators in more than 930 hospitals and institutions in 27 countries. Through translational and clinical research, EORTC offers an integrated approach to therapeutic strategies, drug evaluation programs, outcomes research and quality of life. For more information, visit www.eortc.org
About EORTC
European Organisation for Research and Treatment of Cancer (EORTC) conducts clinical research in cancer, defining new standards of practice for better treatment and care of cancer patients. EORTC network comprises more than 5,500 multidisciplinary collaborators in more than 930 hospitals and institutions in 27 countries. Through translational and clinical research, EORTC offers an integrated approach to therapeutic strategies, drug evaluation programs, outcomes research and quality of life. For more information, visit www.eortc.org