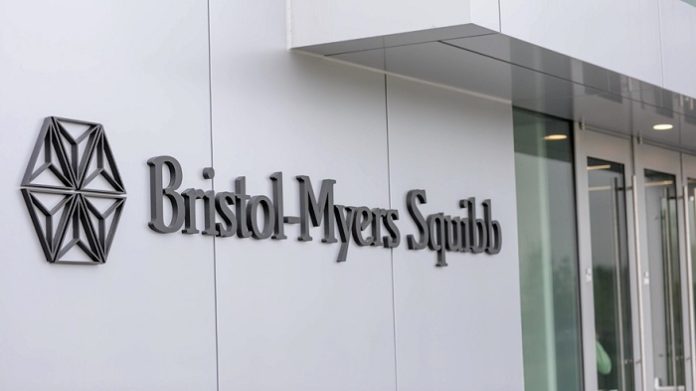 Bristol Myers Squibb announced that the U.S. FDA approved Opdivo®(nivolumab) 360 mg (injection for intravenous use) in combination with platinum-doublet chemotherapy every three weeks for three cycles for adult patients with resectable (tumors ≥4 cm or node positive) non-small cell lung cancer (NSCLC) in the neoadjuvant setting.1Opdivo plus chemotherapy is approved regardless of PD-L1 status.1 The approval is based on the CheckMate -816 trial, the first positive Phase 3 trial of an immunotherapy-based combination used before surgery for resectable NSCLC. The primary endpoints included event-free survival (EFS) and pathologic complete response (pCR), which were evaluated using independent blinded review, and an additional efficacy outcome measure was overall survival (OS).1 The study compared Opdivo plus platinum-doublet chemotherapy (n=179) to platinum-doublet chemotherapy alone (n=179).1
In the trial, when given before surgery, Opdivoplus chemotherapy showed a statistically significant improvement in EFS with a 37% reduction in the risk of progression, recurrence or death (Hazard Ratio [HR] 0.63; 95% Confidence Interval [CI]: 0.45 to 0.87; P=0.0052) compared to chemotherapy alone.1Opdivo plus chemotherapy showed a median EFS of 31.6 months (95% CI: 30.2 to Not Reached [NR]) compared to 20.8 months for patients treated with chemotherapy alone (95% CI: 14.0 to 26.7).1Additionally, 24% of patients treated with Opdivo plus chemotherapy achieved pCR (95% CI: 18.0 to 31.0), compared to 2.2% of patients treated with chemotherapy alone (95% CI: 0.6 to 5.6; estimated treatment difference 21.6; 95% CI: 15.1 to 28.2; P<0.0001).1 A prespecified interim analysis for OS resulted in a HR of 0.57 (95% CI: 0.38 to 0.87), which did not cross the boundary for statistical significance.1
"Given the rates of disease recurrence in patients with resectable NSCLC, additional treatment options are needed that can be given before surgery to help improve the chance of successful surgical treatment and support the goal of reducing the risk of cancer returning," said Mark Awad, MD, PhD, CheckMate -816 study investigator and clinical director of the Lowe Center for Thoracic Oncology at Dana-Farber Cancer Institute.2,3 "The approval of nivolumab with platinum-doublet chemotherapy marks a turning point in how we treat resectable NSCLC and it enables us to use immunotherapy and chemotherapy as neoadjuvant treatment for patients before surgery. Today's announcement reinforces the need to increase the rates of NSCLC screening and early detection, and for patients to discuss treatment options with their providers."1
Opdivo is associated with the following Warnings & Precautions: severe and fatal immune-mediated adverse reactions including pneumonitis, colitis, hepatitis and hepatotoxicity, endocrinopathies, dermatologic adverse reactions, nephritis with renal dysfunction, other immune-mediated adverse reactions; infusion-related reactions; complications of allogeneic hematopoietic stem cell transplantation (HSCT); embryo-fetal toxicity; and increased mortality in patients with multiple myeloma when Opdivo is added to a thalidomide analogue and dexamethasone, which is not recommended outside of controlled clinical trials.1 Please see Important Safety Information below.
"At Bristol Myers Squibb, we are leading innovative science in the use of immunotherapy in earlier stages of cancer and are committed to bringing these options to patients," said Adam Lenkowsky, senior vice president and general manager, U.S. Cardiovascular, Immunology and Oncology at Bristol Myers Squibb. "Today's approval builds on that commitment and expands the role of Opdivo-based treatment in NSCLC, the most common form of lung cancer, so patients may benefit earlier in the course of their disease."1,4
This application was approved under the FDA's Real-Time Oncology Review (RTOR) pilot program, which aims to ensure that safe and effective treatments are available to patients as early as possible.5 The review was also conducted under the FDA's Project Orbis initiative, which enabled concurrent review by the health authorities in Australia, Canada and the United Kingdom, where the application remains under review. The EFS data from the Phase 3 CheckMate -816 trial will be presented at the American Association for Cancer Research Annual Meeting 2022 in April.
About Bristol Myers Squibb
Bristol Myers Squibb is a global biopharmaceutical company whose mission is to discover, develop and deliver innovative medicines that help patients prevail over serious diseases.