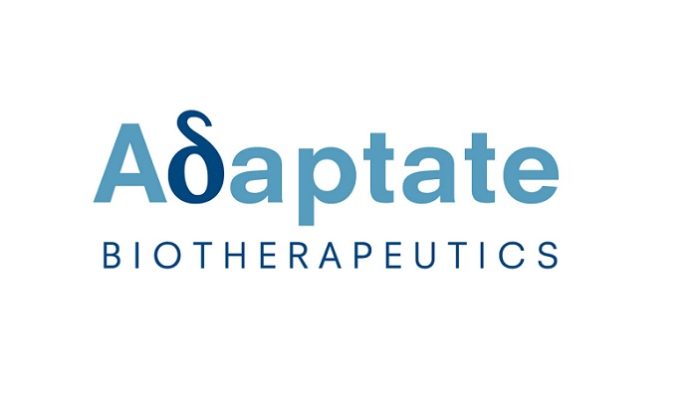 GammaDelta Therapeutics, a company focussed on harnessing the unique properties of gamma delta T-cells to develop transformational immunotherapies, announced the formation of a spin-out company: Adaptate Biotherapeutics. While GammaDelta Therapeutics' primary goal is to develop γδ T-cell based cell therapy products, the new spin-out will build on GammaDelta's knowledge to modulate γδ T-cell activity using therapeutic antibodies, with the potential to trigger an immune response against cancer.
γδ T-cells are a distinct T-cell sub-type that respond to molecular patterns of distress and have been shown to have tremendous potential in treating cancer and other immunological disorders. GammaDelta Therapeutics was formed in 2016 to harness these properties, and since then has gained extensive knowledge of γδ T-cell biology developing a portfolio of investigational cell therapies poised to enter clinical development. In addition to gaining insight into cell growth and isolation, the company's scientists have also discovered a number of potential drug targets and antibodies that have potential to modulate the activity of γδ T-cells in situ.
Adaptate Biotherapeutics has been formed to further develop these targets and antibodies for therapeutic purposes and advance them into clinical studies. Dr. Natalie Mount, currently Chief Scientific Officer of GammaDelta will move to Adaptate Biotherapeutics as Chief Executive Officer. The two companies will continue sharing their insights into γδ T-cell biology as they work towards developing different therapeutic modalities.
The founding of Adaptate Biotherapeutics has been made possible by investment from Abingworth and Takeda Pharmaceutical Company Limited. Takeda has a time-limited option to acquire Adaptate Biotherapeutics in the future. Both Adaptate Biotherapeutics and GammaDelta Therapeutics have also benefited from the support of King's College London, the Francis Crick Institute and Cancer Research Technology.
Dr. Paolo Paoletti, CEO of GammaDelta Therapeutics, said: "γδ T-cells have tremendous therapeutic potential that is yet to be fully realised, and our fascinating journey has afforded additional opportunities beyond our main focus on cell therapy. Spinning out these activities to create Adaptate Biotherapeutics now enables the deployment of a focussed effort on non-cell therapy. Natalie has managed this effort as part of her role at GammaDelta Therapeutics, and she is the natural CEO to lead the efforts of Adaptate. I'm extremely pleased for this opportunity for Natalie and want to thank Raj Mehta, Director of BD, IP and Alliance Management at GammaDelta Therapeutics, for his work on the spin-out and Abingworth and Takeda for their continued support."
Dr. Natalie Mount, CEO of Adaptate Biotherapeutics, said: "I'm proud to be leading this new company, and excited by the potential we have to expand the therapeutic opportunities of γδ T-cells. Both companies continue to share the same ultimate goal of harnessing the power of these cells to improve the lives of patients and I look forward to driving Adaptate Biotherapeutics to achieve this goal."
Stealth will host a conference call and webcast at 8:30 a.m. ET today to review this partnership and the potential opportunity for elamipretide. To access the call please dial 866-939-3921 (domestic) and 678-302-3550 (international) and provide the passcode 49106405. A live audio webcast of the call will be available on the Investors & News section of Stealth's website at https://investor.stealthbt.com/. The archived webcast will be available approximately two hours after the conference call and will be available for 30 days following the call.
About Primary Mitochondrial Myopathy
Primary mitochondrial myopathy (PMM) affects patients afflicted with a heterogenous group of genetic disorders whose disease predominantly impairs skeletal muscle function, with many patients suffering from lifelong functional impairment. PMM is among the most common forms of mitochondrial disease; patients must have a genetically confirmed diagnosis of primary mitochondrial disease plus a predominantly myopathic clinical presentation to have PMM. Signs, symptoms and disease severity vary significantly among patients, but the most common symptoms include progressively debilitating skeletal muscle weakness, chronic fatigue and exercise intolerance. As a result, the diagnostic process can be challenging, requiring a multi-disciplinary approach, most frequently involving neuromuscular specialists and geneticists. There are currently no approved treatments for PMM, and standard-of-care is supportive, typically focusing on the specific symptoms experienced by each individual patient.
About Elamipretide
Elamipretide, a mitochondria-targeted therapeutic, is in clinical development for a variety of diseases caused by mitochondrial dysfunction. Elamipretide targets the inner mitochondrial membrane where it associates with cardiolipin – the signature phospholipid of the inner mitochondrial membrane, which plays a role in many mitochondrial processes, including respiration and energy conversion. This elamipretide-cardiolipin association has been shown to normalize the structure of the inner mitochondrial membrane, thereby improving mitochondrial function. In preclinical and clinical studies, elamipretide was shown to increase mitochondrial respiration, improve the electron transport chain function and ATP production, and reduce formation of pathogenic reactive oxygen species levels. Functional benefit is believed to be achieved through improvement of ATP production and interruption and potential reversal of damaging oxidative stress.
Elamipretide is being investigated in late-stage clinical studies in primary mitochondrial myopathy (PMM) and Barth syndrome as well as in earlier stage clinical studies in Leber's hereditary optic neuropathy (LHON) and geographic atrophy associated with dry age-related macular degeneration (GA). Elamipretide has received Fast Track and Orphan Drug designations for PMM, Barth syndrome and LHON, as well as Fast Track designation for GA.
About Alexion
Alexion is a global biopharmaceutical company focused on serving patients and families affected by rare diseases through the discovery, development and commercialization of life-changing therapies. As the global leader in complement biology and inhibition for more than 20 years, Alexion has developed and commercializes two approved complement inhibitors to treat patients with paroxysmal nocturnal hemoglobinuria (PNH) as well as the first and only approved complement inhibitor to treat atypical hemolytic uremic syndrome (aHUS), anti-acetylcholine receptor (AchR) antibody-positive generalized myasthenia gravis (gMG) and neuromyelitis optica spectrum disorder (NMOSD). Alexion also has two highly innovative enzyme replacement therapies for patients with life-threatening and ultra-rare metabolic disorders, hypophosphatasia (HPP) and lysosomal acid lipase deficiency (LAL-D). In addition, the company is developing several mid-to-late-stage therapies, including a second complement inhibitor, a copper-binding agent for Wilson disease and an anti-neonatal Fc receptor (FcRn) antibody for rare Immunoglobulin G (IgG)-mediated diseases as well as several early-stage therapies, including one for light chain (AL) amyloidosis and a second anti-FcRn therapy. Alexion focuses its research efforts on novel molecules and targets in the complement cascade and its development efforts on the core therapeutic areas of hematology, nephrology, neurology, and metabolic disorders. Alexion has been named to the Forbes' list of the World's Most Innovative Companies seven years in a row and is headquartered in Boston, Massachusetts' Innovation District. The company also has offices around the globe and serves patients in more than 50 countries. This press release and further information about Alexion can be found at: www.Alexion.com.
About Stealth
Stealth is a clinical-stage biotechnology company focused on improving the lives of patients suffering from diseases involving mitochondrial dysfunction through the discovery, development and commercialization of novel mitochondrial medicines. Mitochondria, found in nearly every cell in the body, are the body's main source of energy production and are critical for normal organ function. Dysfunctional mitochondria characterize a number of rare genetic diseases, collectively known as primary mitochondrial diseases, and are also involved in many common age-related diseases. Stealth believes its lead product candidate, elamipretide, has the potential to treat both rare genetic and common age-related mitochondrial diseases. Stealth is studying elamipretide in the following primary mitochondrial diseases: primary mitochondrial myopathy, Barth syndrome and Leber's hereditary optic neuropathy. Stealth is also studying elamipretide in geographic atrophy associated with dry age-related macular degeneration. Stealth's other pipeline candidates include SBT-272, being evaluated for rare neurodegenerative disease indications, and SBT-20 and SBT-259, being evaluated for rare peripheral neuropathies. Stealth has optimized its discovery platform to identify novel mitochondria-targeted compounds, which may be nominated as therapeutic product candidates or utilized as scaffolds to deliver other compounds to mitochondria. Stealth has assembled a highly experienced management team, board of directors and group of scientific advisors to achieve its mission of leading mitochondrial medicine.