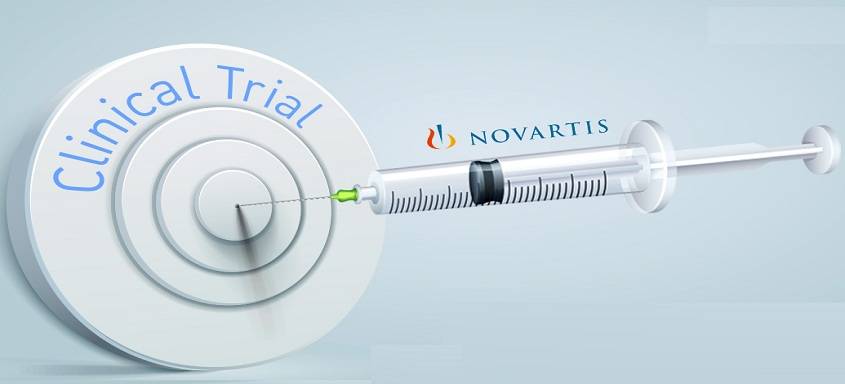 Results from the Phase II SUSTAIN study show that SEG101 (crizanlizumab, formerly SelG1), an anti-P-selectin antibody, reduced the median annual rate of sickle cell-related pain crises (SCPC) by 45.3% compared to placebo (1.63 vs 2.98, p=0.010) in patients with or without hydroxyurea therapy[1].
Novartis announced that the data are being featured in the official press briefing at the 58th American Society of Hematology (ASH) Annual Meeting and presented during the Plenary Scientific Session tomorrow (Abstract #1, 2:00 – 4:00 p.m. PST). The results also are being published simultaneously in The New England Journal of Medicine.

"Acute painful episodes, commonly referred to as vaso-occlusive crises, are a substantial cause of morbidity in sickle cell disease with limited treatment options," said Kenneth I. Ataga, M.D., Division of Hematology/Oncology, University of North Carolina, Chapel Hill. "These findings show that crizanlizumab significantly reduces the frequency of painful crises and represents a potentially novel disease-modifying therapeutic option." 
In the SUSTAIN study, patients were assigned to high-dose (5.0 mg/kg), low-dose (2.5 mg/kg) and placebo arms. The study met its primary endpoint, reduction of the annual rate of SCPC in the high-dose arm by 45.3% vs. placebo (medians of 1.63 vs. 2.98, p=0.010). In the low- dose arm, the annual rate of SCPC was reduced by 32.6% vs. placebo (medians of 2.01 vs. 3.0, p = 0.180). For patients in the high dose arm, time to first SCPC vs. placebo was 2.9 times longer (medians of 4.07 vs. 1.38 months, p = 0.001) and time to second SCPC was 2.0 times longer than placebo (medians of 10.32 vs. 5.09 months, p = 0.022)[1].
"Patients have long been in need of a new therapy for treatment of SCPC, the most common and debilitating complication of sickle cell disease," said Bruno Strigini, CEO of Novartis Oncology. "We are pleased that data from the SUSTAIN study show SEG101 may have the potential to become the first new option for patients dealing with SCPC since hydroxyurea was approved for use in sickle cell anemia about 20 years ago[2]."
Despite its availability, hydroxyurea often is not utilized primarily due to concerns about patient compliance and potential adverse events[3],[4]. 
About the SUSTAIN trial
The SUSTAIN trial was a multicenter, multinational, randomized, placebo-controlled, double-blind, 12-month study to assess safety and efficacy of the anti-P-selectin antibody SEG101 with or without hydroxyurea therapy in sickle cell disease patients with sickle cell-related pain crises. Patients included in the study had a history of 2 to 10 pain crises in the previous 12 months. Patients receiving hydroxyurea or erythropoietin were included if prescribed for the preceding 6 months and dose was stable for at least 3 months. The trial randomized 198 patients age 16 to 65 to receive high dose SEG101, low dose SEG101 or placebo[1].
Adverse events that occurred in 5% or more of patients in an active dose group and were elevated over placebo by at least 2-fold were arthralgia, pruritus, vomiting, chest pain, diarrhea, road traffic accident, fatigue, myalgia, musculoskeletal chest pain, abdominal pain, influenza and oropharyngeal pain. There were no apparent increases in infections with SeG101 treatment. Five deaths occurred during the study, 2 at 5.0 mg/kg, 1 at 2.5 mg/kg and 2 in placebo; no deaths were deemed related to the study drug[1].
About SEG101 (crizanlizumab)
SEG101 (crizanlizumab, formerly SelG1) is a humanized anti-P-selectin monoclonal antibody that binds a molecule called P-selectin on the surface of endothelial cells and platelets in the blood vessels, causing a blockade of P-selectin[1],[5]. P-selectin drives the vaso-occlusive process[1],[6].  Vaso-occlusive crises, also known as SCPC, occur episodically when sickle-shaped red blood cells block blood flow through blood vessels[7]. The therapeutic blockade of P-selectin can prevent painful vaso-occlusion in small blood vessels and maintain blood flow[1],[7].
About NovartisNovartis provides innovative healthcare solutions that address the evolving needs of patients and societies. Headquartered in Basel, Switzerland, Novartis offers a diversified portfolio to best meet these needs: innovative medicines, eye care and cost-saving generic pharmaceuticals. Novartis is the only global company with leading positions in these areas. In 2015, the Group achieved net sales of USD 49.4 billion, while R&D throughout the Group amounted to approximately USD 8.9 billion (USD 8.7 billion excluding impairment and amortization charges). Novartis Group companies employ approximately 118,000 full-time-equivalent associates. Novartis products are available in more than 180 countries around the world. For more information, please visit http://www.novartis.com.
References
[1] Ataga KI, et al. SUSTAIN: A Multicenter, Randomized, Placebo-Controlled, Double-Blind, 12-Month Study to Assess Safety and Efficacy of SelG1 with or without Hydroxyurea Therapy in Sickle Cell Disease Patients with Sickle Cell-Related Pain Crises. Abstract #1. 2016 58th American Society of Hematology (ASH) Annual Meeting, San Diego, California.
[2] Segal JB, Strouse JJ, et al. Evidence Reports/Technology Assessments, No. 165. Rockville, MD: Agency for Healthcare Research and Quality (US) (link is external); 2008 Feb.  
[3] Zumberg MS, Reddy S, et al. Hydroxyurea therapy for sickle cell disease in community-based practices: a survey of Florida and North Carolina hematologists/oncologists. Am J Hematol. 2005 Jun;79(2):107-113. 
[4] Miller ST, Kim HY, et al. for Sickle Cell Disease Clinical Research Network (SCDCRN). Inpatient management of sickle cell pain: A 'snapshot' of current practice. Am J Hematol. 2012 Mar;87(3):333-336. 
[5] Novartis Pharmaceuticals Corporation. Data on file. 2016.
[6] Manwani D. Frenette PS. Vaso-occlusion in sickle cell disease: pathophysiology and novel targeted therapies. Blood. 2013; 122(24):3892-3898.
[7] Quinn CT. Anti-adhesive therapy for sickle cell disease. The Hematologist. 2014; 11(6):15.
Novartis Media Relations
Central media line: +41 61 324 2200
E-mail: media.relations@novartis.com
Eric Althoff
Novartis Global Media Relations
+41 61 324 7999 (direct)
41 79 593 4202 (mobile)
eric.althoff@novartis.com
Jeannie Neufeld
Novartis Oncology Communications
+1 862 778 2104 (direct)
+1 201 650 2728 (mobile)
jeannie.neufeld@novartis.com
Novartis Investor Relations
Central investor relations 
line: +41 61 324 7944
E-mail: investor.relations@novartis.com