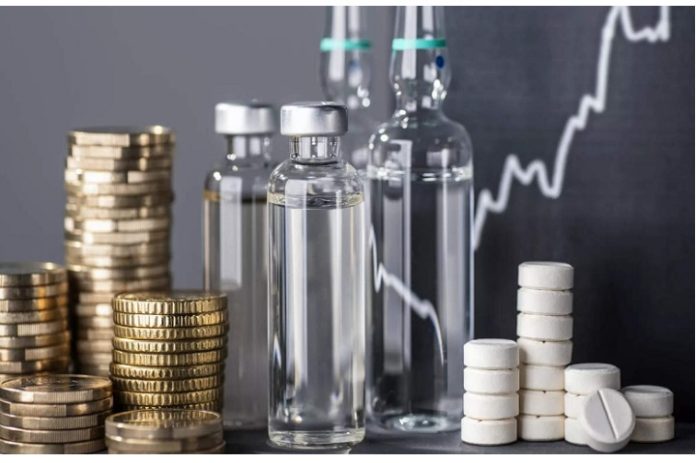 Pharmaceutical companies are turning their attention to the Indian market as revenues decline in the US, Europe, and emerging markets. Indian companies like Sun Pharma, Dr. Reddy's, and Cipla are eyeing the domestic market for solid revenues. The Indian pharma industry has experienced rapid growth, with credit rating agencies estimating a 9.3 percent growth in FY23 and 14.6 percent in FY22. This strong performance makes India a priority market for pharma giants.
The pharmaceutical industry has seen a slowdown after the profitable Covid-19 era due to inconsistent demand for drugs and vaccinations. The Indian pharma market has significant growth potential as India's GDP is expected to sustain growth in FY24. This provides ample opportunity for pharma growth in India.
Q4 FY23 results show double-digit profits for most Indian pharma companies, with the Indian Pharmaceutical Market growing by 11.0 percent YoY. Leading therapies like respiratory, anti-infectives, pain, analgesics, and derma have witnessed significant growth.
Despite price erosion in the US and European markets, pharma companies have reported improved margins by stabilizing raw material costs and performing well in other key markets. Cost optimization measures, discontinuation of low-margin products, and focus on complex molecules and specialty products have been implemented.
Structural factors like an aging population, lifestyle changes, and new product introductions have supported revenue growth in the Indian pharma industry. Investments in salesforce enhancement have also contributed to improved performance. The US market represents about 34 percent of all Indian pharmaceutical exports. Rising healthcare costs, inflation, higher inventories, competition, and localization pressures have resulted in tepid demand. However, the US market remains attractive to Indian manufacturers.
High competition and price erosion in the US have impacted pharma companies' margins, leading to product portfolio optimization. Some companies have taken impairments on previous investments. Launching new products and developing specialty portfolios help combat pricing pressure.
ICRA expects revenues from Indian pharmaceutical firms to grow by 6-8 percent in FY2024, driven by the domestic and emerging markets. The increasing geriatric population and lifestyle changes support the growth of chronic and sub-chronic therapies in India.
Indian companies dominate ANDA approvals, accounting for a significant percentage of approvals granted by the USFDA. They focus more on oral medications rather than injectables. Recent pricing policies include WPI-linked price hikes for essential medicines and annual price increases for non-essential medicines. Despite the hikes, average prices of essential medicines have decreased due to the capping of ceiling prices for a significant number of drugs.
US FDA inspections and compliance have had a negative impact on Indian pharma companies. Adverse observations and the resolution process affect company performance. Dual filings and increased contract manufacturing help mitigate these challenges.
The Indian pharma market offers growth opportunities due to rapid growth, favorable demographics, focus on complex generics and specialty products, and performance in domestic and emerging markets. Compliance with regulations and pricing policies is crucial for sustained growth and success.