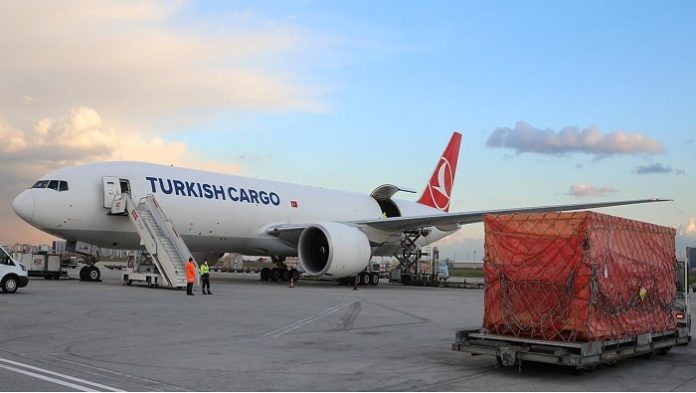 Global air cargo brand Turkish Cargo became the logistics solutions partner of Togg (Turkey's Automobile Joint Venture Group), which was founded with the mission of becoming Turkey's most valuable global mobility brand. National brand carries Turkey's first electric automobile to CES in Las Vegas, one of the world's leading tech expos. With this special flight, indigenous automobile crossed national borders to be presented at the world stage.
On the subject, Turkish Airlines Chairman of the Board and the Executive Committee, M. Ilker Ayc? stated; "With the responsibility that comes with being the national flag carrier and strength of being the airline that flies to more countries than any other, we are excited to carry our country's tech export, Turkey's automobile, to all over the world. As the Turkish Airlines family, we are proud of our contributions towards Togg's world launch, the most ambitious project of our country."
Togg CEO M. Gurcan Karakas said; "Of course we were going to carry our smart product with the global Turkish Airlines brand to CES 2022 where we will present our vision for the future. We thank Turkish Cargo for being our partner in this journey towards #NewLeauge to become a global brand in CES 2022 where the technology world comes together. We will present our smart product with enriched design and futuristic touches as it tells the story of transformation of mobility that launches automobiles into third life cycle."
Sent off with a digital convoy of 40 thousand aircraft
New brand launch and concept automobile by Togg will be present at the international stage for the first time in the CES expo of Las Vegas, which is organized between 5-8 January. Togg's journey towards international stage and becoming a global brand with Turkish Cargo started with a digital convoy which draw participation from all around the world. Thousands followed this 11-hour journey which started at the same time with the departure of Turkish Cargo aircraft via personalized aircraft models with a convoy 40 thousand aircraft.
Turkish Cargo makes use of special equipment for the product shipments that require maximum attention and sensitivity, and it keeps each and every movement of the valuable cargo stored in the sensitive cargo storehouses, under continuous supervision via the cameras installed at and around its storage facilities. Thanks to the unprecedented solutions it offers, Turkish Cargo, which has an experience over 30 years in special cargo shipments, ranks among the first choices of the global-scale companies seeking for a reliable business partner.
About Turkish Cargo:
Performing air cargo operations to more than 320 destinations, 97 of which are cargo destinations, in 127 countries around the world, Turkish Cargo offers services with its fleet of 373 aircraft, 23 of which are freighters, at its hub in Istanbul that connects the continents to each other and has strategic importance. Turkish Cargo, the fastest growing and developing air cargo brand of the world, aims to become one of the top 3 air cargo brands in 2023.
About Togg
Togg is a global USE-CASE MOBILITY® provider whose intellectual property rights are owned by Turkey and will compete on a global scale. Founded on June 25, 2018, Togg continues its activities with the cooperation of Anadolu Group, BMC, Turkcell, Zorlu and the Union of Chambers and Commodity Exchanges of Turkey.
Togg, which will be the first non-classical born electric SUV manufacturer in Europe by 2022, when it will start production in its facilities in Gemlik. Togg develops new generation electric and connected cars and creates a mobility ecosystem around these cars. The company develops new technologies, services, user experiences and new business models within the ecosystem it has built around smart and connected cars. Togg aims to reach 1 million production units by producing 5 different electric and connected models on a common platform by 2030.