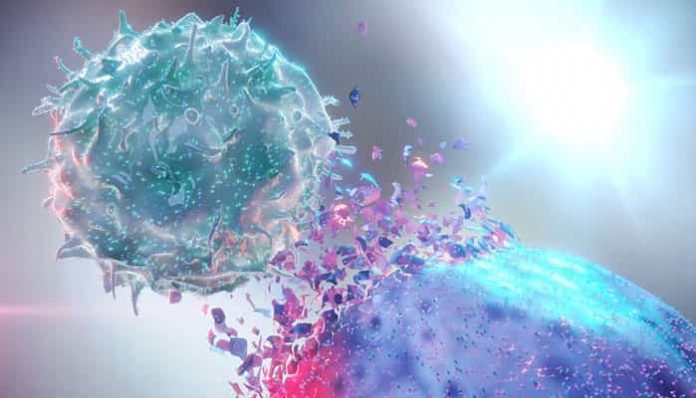 A quarter of patients with a variety of advanced tumours have shown signals of benefit from RP2, a modified form of the herpes simplex virus, according to research. The trial's participants had malignancies of the head and neck, oesophagus, and skin and had tried alternative therapies, such as checkpoint inhibitor immunotherapy.
The preliminary research, which was presented at the ESMO Congress in 2022, indicates that cancer-killing viruses may provide some patients with hope where other types of immunotherapy have failed.
The cancer-killing virus was evaluated by a team from The Institute of Cancer Research (ICR) London and The Royal Marsden NHS Foundation Trust in the ongoing phase 1 trial in nine patients, both on its own and in conjunction with the immunotherapy nivolumab in 30 patients so far.
The early-stage trial, funded by the drug's producer Replimune, is examining RP2's dosage and safety as well as its capacity to reduce tumour size.
Direct injection of the genetically modified RP2 virus into tumours enables it to fight tumours on two fronts. It multiplies inside of cancer cells to explode them from within and disables the CTLA-4 protein, which releases the immune system's brakes and increases the immune system's capacity to attack cancer cells.
Three out of nine patients who took RP2 alone benefited from the therapy and had tumour reduction. One patient with cancer of the salivary gland experienced a complete remission of the malignancy 15 months after beginning treatment.
The other two patients in the group had liver-spreading uveal melanoma, a rare kind of eye cancer, and oesophageal cancer. 18 and 15 months after beginning therapy, respectively, they both experienced tumour reduction and continued to respond, indicating that their cancer had not advanced. Thirty patients were given RP2 with the immunotherapy nivolumab, and seven of them experienced positive outcomes.
It is uncommon to see such good response rates in early-stage clinical trials, as their primary goal is to test treatment security and they involve patients with very malignant tumours for whom current treatments have failed, according to study leader Professor of Biological Cancer Therapies at The ICR, London, Kevin Harrington.
According to the first results of our experiment, certain patients with advanced malignancies, including those who have not responded to previous types of immunotherapy, may benefit from a genetically modified form of the herpes virus.