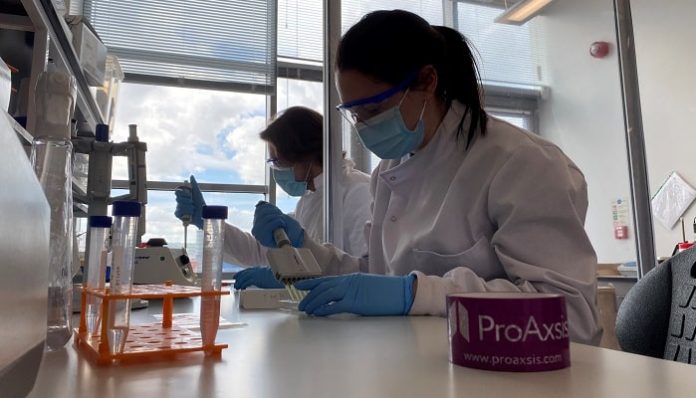 NetScientific plc, the international life sciences and sustainability technology investment and commercialisation Group announces that its wholly owned subsidiary ProAxsis has completed the development and validation of the AstraZeneca COVID-19 antibody test with "impressive performance evaluation results."
In June 2021 ProAxsis entered into an exclusive licensing agreement with the global biopharmaceutical company AstraZeneca, under which ProAxsis took responsibility for completing the development, validation and global commercialisation of a SARS-CoV-2 (the virus associated with COVID-19) serology ELISA (enzyme-linked immunosorbent assay).
The detailed independent performance evaluation study by Prof. Tara Moore of Ulster University, analysed over 1,100 clinical serology samples. The assay was able to detect IgG antibodies in blood samples from previously infected individuals, vaccinated individuals, and also detected IgG from individuals known to be infected by the different SARS-CoV-2 variants – Alpha, Delta and Omicron. Furthermore, strong evidence of assay specificity for SARS-CoV-2 antibodies was found when the assay was assessed against over 100 serology from virus infections including common corona virus, influenza virus and many other common respiratory viruses.
The assay showed exceptional levels of sensitivity and specificity of 100% and 99.3% respectively, and enabled the SARS-CoV-2 antibodies to be measured and tracked over time in individuals. The test uses a simple blood sample, and will be launched into the research and clinical trials markets, which are a core part of ProAxsis's business. This successful development reinforces the standing of ProAxsis, and this test further strengthens its expanding product range and international customer offering.
Registration of the assay for a CE Mark has been formally submitted.
John Clarkson, Chairman of NetScientific and ProAxsis commented:
"The global AstraZeneca licence for this antibody test provides a valuable addition to ProAxsis's respiratory diagnostics offerings and expanded product range in a post-COVID-19 world. The clinical trials market is a core part of ProAxsis's business, and this test provides further commercial
opportunities for ProAxsis. Over 3,500 COVID-19 related clinical trials are currently either recruiting or in preparation around the World, involving approximately 1 million subjects.
"The successful completion of this high-profile exercise marks another significant milestone in the implementation of ProAxsis' growth strategy. After signing the global licence agreement with AstraZeneca, it has been a period of hard work, with rigorous testing, development and validation by the highly skilled ProAxsis team, complemented by the excellent work of Professor Tara Moore. By any standards, this is an excellent result. This highly sensitive and specific test provides a significant enhancement to the company's commercial offering; further extending product range and reinforcing the continued international expansion. This fits well with NetScientific's Trans-Atlantic bridges and global strategic plans."
Prof. Smith, NetScientific PLC Non-Executive Director, said: "COVID-19 restrictions are generally lifting around the world, but the virus has not gone away. Whilst Omicron was a milder variant, future strains may be more virulent. We are learning to live with the reality that COVID will be with us for some time, with potentially serious consequences for elderly and vulnerable people. This test's accuracy and ability to detect multiple assay variants makes it an especially valuable tool for vital research, supporting ongoing and future pandemic response strategies and the individual.
"The serology ELISA developed by ProAxsis is impressively able to detect the various strands and mutations of the SARS-CoV-2 virus. It is excellent news that we can play our part and help deliver real benefits to the community, through the application of ProAxsis' expertise in respiratory assays."
NetScientific holds 100% of the issued shares and 95% of ProAxsis on a fully diluted basis.