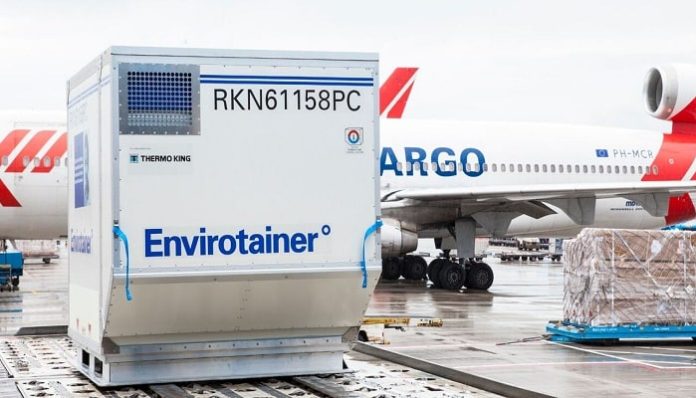 In conversation with Mattias Isaksson, Envirotainer about secure cold chain solutions, cold storage containers and Pharmaceutical cold chain industry at the event Moving Pharma Forward 2019, ITC Maratha, Mumbai, India.
How has the journey for Envirotainer been since the time t2 was developed in 1985? The Pharma cold chain industry has evolved a lot since then. Your thoughts.
Yes, a lot has happened since then. The big difference is that the regulatory landscape has become much tougher as compared to what it was during those days. Also since 1985, for a long time, we used to ship a lot of perishables and then there was this switch that took place almost 10 years back when more than 95% of our business started coming from pharmaceuticals. We still ship perishables but a very small part. We also ship high-tech equipments from NASA which requires temperature control but the main part is pharmaceuticals. I think all the other industries benefit from us shipping pharmaceuticals since it's so restrictive and you are used to following the benchmark practices.
Do the shipping regulations happen to be much more in Pharma as compared to other industries?
Yes, they do. When you tag along with air cargo, it's a combination of two much-regulated industries; the airline industry and the pharmaceutical industry. Both have their set of regulations that need to be taken care of.
You have doubled the Rosersberg production facility three years back. You must have already started to see its positive impact on your sales figures.
The best part of this is that we have full control over our production now. With this facility, if need be, we can increase the annual production by over 40%. If a customer requires a line of containers for a specific longer period, we can produce them. All the quality control measures are right up there. Besides, due to this, we don't turn down a single order anywhere in the world. We always have 100% availability because of a larger fleet and also a good distribution network across the world.
We can figure out that the RAP e2 container is your flagship product. How different is it from RKN e1 container? Is there any new line of container getting launched in the days to come? 
The main difference is that the RAP e2 is a larger container that can take up to 5 palettes whereas RKN e1 can have one palette. Also since both these containers evolved at different times, the RAP e2 happens to be more modern. However, both have data downloads, temperature controls and are ULD's (Unit Load Device) i.e. they are a part of the aircraft body. RAP e2 being a later model is much more cost-efficient for customers. It's a larger size but also much secure. It has till date made 33000 pharmaceutical trips with a zero product loss. So this is what all the pharmaceutical companies want as it is a big expense for them if the container breaks down or the shipment is lost, they will not only miss the opportunity to tap the market but will also have to reproduce whatever it was in that shipment and that by the way involves multimillion dollars. And to answer your question about the future, yes we are certainly looking at future developments but can't comment further on that. We continuously lookout for new things that help us keep evolving. Like there's a lot of demand on data these days. There is not much of shipment visibility from the warehouse to the distribution center which the customers are uneasy about. All of us are working to make sure that kind of transparency exists.
Tell us something more about your data service called the Insight Report. What are the benefits your clientele can expect out of it?
We launched it in June this year. So it's the speed which matters the most when it comes to data. It is the first globally available data service that is made accessible within 48 hours. We have 50 stations across the world, so as soon as the container comes to a particular station, the data gets downloaded automatically, goes to the cloud and gets distributed to all the customers. We have a customer portal where they login and get all the required data. So, one thing they know of is that nothing untoward has happened to their goods and this further helps in the release of the shipment faster.
In your line of business, data seems to be playing a key role. Where does Envirotainer standout on this when it comes to its competitors?
Yes, all of us collect a lot of data but the key to it is how quickly you can get it to your customers and how useful it can be for them. If you fly across the Atlantic, one engine of the airplane collects 1 TB of data, that's a lot of data for one single flight coming from one engine. Similarly, we all collect a lot of data but what matters is how we use it. Today, Envirotainer works with most of the airlines across the world, with many freight forwarders as well as pharmaceutical companies and it is always interesting to know what this data helps us predict. So if there is a trade link from Mumbai to Paris, the data can help us zero down to an airline or a freight forwarder which might take lesser time. Furthermore, it can also facilitate in avoiding a place where customs takes a long time. I believe that just because we have more data, it gives us more opportunity to explore and forecast better.
How important role training of employees plays when it comes to handling sensitive Pharmaceuticals in the right manner? What are the steps taken by Envirotainer in this regard?
Good that you asked this question because we have the containers and the facilities that are technologically equipped but it all boils down to how individuals interact with the given automation. The biggest thing of all is to keep people trained. So, we offer free online training; the last four years we have trained almost 16000 people around the world. One just has to go online, refer videos, answer questions and get the response back. All this and more is done to make sure that the Pharma is safe. We also have a QEP- Qualified Envirotainer Provider in place which trains a particular station. There are round about 736 stations across the world that have been trained till now. One of the interesting things to look into is that when you are on tarmac it's a pressure situation for handlers as the turnaround time for an airplane is quick. An empty baggage container might weigh somewhere around 70 kilos whereas our container would be somewhere near 800 kilos.  So for handlers, it is all about training, understanding and how well they handle the situation and that's where training comes to the rescue.
Your thoughts on where Pharma Cold Chain industry is heading to?
There are big shifts going on in the pharmaceutical market place. A lot is happening on biosimilars these days. Production will move across the world which the pharmaceutical companies will look at with interest. There is also a possibility of geo-political implications that might take place. The industry will become more regulatory with factors such as the level of humidity and vibrations that a drug can withstand coming in picture.
Pharma cold chain involves plenty of research and Envirotainer does a lot of it. Tell us something about that?
The last 2-3 years we have invested around 15-20% of the turnover back into new products, services, increased fleet. In a way, we re-invest as much as Pharmaceutical companies do. Envirotainer, being a market leader has been building this industry for a long time and it's good to see competitors coming up which has driven us to invest more to stay up in front. Good competition always keeps you on toes and makes you very focused on customers.
The Indian market is dissimilar from other Asian markets. How varied is your approach when it involves the Indian market?
When it comes to marketing and communications, in India the level of awareness of our company is higher as compared to China. There are differences in terms of maturity as a market and India is fast becoming a mature market as it has been producing pharmaceuticals for a while now. There are other Asian countries that are just starting up. So the regional differences are there.
Tell us something about your waste management system. We have heard that you recycle the waste fractions arising from container manufacturing.
One of the good things about being a Swedish company is that there are a lot of regulatory demands. Some of the products that we use constitute of aluminum. So we use recycled aluminum for those products. Besides, whatever goes as waste is taken care of at one place so that it's good for the environment.
What are the measures taken once the life of the container gets over after twelve or fourteen years?
We destruct them in our facilities. We take them apart to make sure that everything is separated out and goes to the right place. Some of the electrical equipments go back to the company we buy them from. So, all the worries are well-taken care once a container reaches its maximum age.
Just like the Mumbai station are you also planning to establish some other stations as well in India?
Yes, we have a station in Hyderabad as well which till now had T technology containers but now with RKN e1 and RAP e2 containers will house E Technology too. There are a lot of Pharmaceutical companies based at Hyderabad and it feels great to offer them the best containers from our fleet.
Your Mumbai station opened in February this year initially with RAP T2 and RKN T2 containers. You are now operational with RAP e2 and RKN e1 as well. Tell us something more on that.
These days most customers are going for RAP e2 and RKN e1 containers because they are safer and are easier to run. You don't have to have dry ice to run them. Might not happen in Mumbai where it isn't cold but when you fly across to places where conditions are cold, e containers can compensate cold temperatures and heat them accordingly. That's the trend we are experiencing when it comes to both T and E technologies.