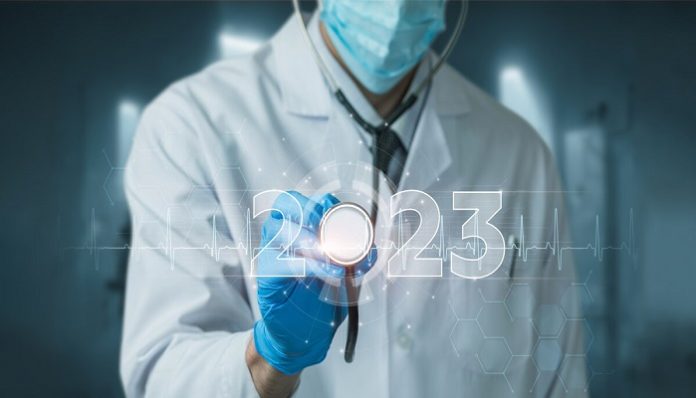 The biopharmaceutical industry faces a future shaped by uncertainty in the wake of the pandemic-influenced world, yet overall growth is expected to continue. The Pharmaceutical Manufacturing Market Size Report states that the market will grow at a compound annual growth rate (CAGR) of 11.34% from 2021 to 2028. As COVID-19 put the reputations of biopharma companies in the public eye more than ever before, there is heightened focus on how these companies adapt to emerging trends and patient needs.
The transformation of the industry over the past two decades has been fueled by the impact of new technologies and scientific innovation, increased investments, and more efficient manufacturing to name a few. Looking ahead into this year, challenges from supply chain security, volatile energy supply and increased costs remain to be at the forefront, followed by both ongoing digitization and sustainability efforts.
With an intensified focus on the growing demand for more flexibility in formats, packaging, and devices, continued customer prioritization on optimizing time-to-market and enhanced operational digitization to promote efficiency, CDMOs are navigating several trends simultaneously while maintaining the quality of their deliverables.
Our global footprint, spanning sites in Germany, Austria, the United States and the APAC region, gives us a worldwide outlook when considering the state of the industry and what is to come in 2023.
Adapting to Succeed in a Post-Pandemic World
With several highly volatile and unpredictable factors impacting success within the biopharma industry, companies are choosing to adapt their practices. COVID-19 continues to have lasting impacts, and more recently, the Russian invasion in Ukraine and resulting supply chain hurdles leave many in the biopharma industry struggling to meet the needs of patients.
Challenges with supply security and cost increases across the global economy are a driving factor for establishing practices that have the potential to support continued success. These challenges will be paired with the ongoing evolution of drug developers' service needs, as drug portfolios continue to shift from single blockbuster products to a co-existence of blockbusters and smaller-batch-size products.
One way our company is adapting to support the drug development challenges of our customers is through our recent clinical manufacturing expansion into Austria, as well as the strategic collaboration with Rentschler Biopharma Xpert Alliance. The Xpert Alliance propels two globally acting companies into the future of the biopharmaceutical industry by offering complementary skills and experience along the biopharmaceutical value chain during unstable times.
Despite obstacles, exponential growth possibilities across the industry are evident. For example, demand for parenteral products is expected to exceed $1 trillion in the next few years, and the need for complex oncology products and rare diseases is projected to grow by double digits. Preparing for this anticipated growth is crucial as CDMOs arrange to meet the upcoming needs of their biopharma customers.
Cultivating Quality Customer Experiences through Fitting Tactics
Looking ahead, stability and rigor from development & commercial partners is crucial to promote a seamless journey from concept to production to commercialization. With so much turbulence, this flexibility will be the difference between keeping production deadlines and leaving customers without the medications they rely on. Accomplishing the flexibility needed in this environment relies heavily on establishing quality experiences for both employees and customers.
Taking care of our employees has always been at the core of the company. However, in recent times, it has become increasingly important. Not only is this a factor in creating a positive workplace, but it directly links to the experience of our customers. By putting our employees' needs as a priority, we make sure that the work they do to support our customers' scientific projects is done at the highest-possible level. By supporting our employees, we are able to provide to our customers the unparalleled quality of work we're known for. As a result, the patients receive their life-saving medications we produce in collaboration with our customers.
Part of the scope of customer experience within biopharma includes preparing for unexpected and potentially tumultuous events while remaining ahead of industry trends. This includes the innovation of cell and gene therapies and DNA-based molecules. As digitalization is going ahead, requirements for speed advance within the industry. Leading biopharmaceutical service providers take steps to keep up and outpace the competition, focusing on efficiency. But we do not compromise on our commitment to do as much as we can to ensure quality of delivery, and it is paramount for us to further invest in the expansion of development services, aseptic manufacturing, and packaging. These are focus areas where the future successes of CDMOs are decided.
By partnering rather than competing, solution providers can strive to offer their customers success across all points of the journey from innovation to commercialization – ultimately providing customers with strong partnerships across the whole development chain
Leaping Towards Sustainability
In an industry that generates high levels of greenhouse gas emissions, sustainability efforts cannot be overlooked, and certainly are not by customers or patients. Biopharmaceutical companies are committed to helping patients live healthy lives, but are increasingly expected to consider the planet's health, as well.
We have been seeking new ways to balance our economic performance while placing a focus on sustainability as it fits within our growth model. Since 2014, sustainability efforts within our company have saved more than 15,000 tons of carbon dioxide.
Industrywide, the challenge remains to address all aspects of sustainability including ecological responsibility, sustainable economy, and social sustainability. This will play a significant role in the shaping of industry trends within biopharma's foreseeable future.
A Balancing Act: Economic Performance & Environmental Impact
As the world evolves, so do the priorities for experts and leaders in nearly every industry. For biopharmaceutical service providers, this means evaluating the past and developing practices for the future. Key trends for the biopharmaceutical industry in 2023 include adapting to instability through anticipatory planning, increasing emphasis on employee support, and meeting heightened expectations for sustainability.
The commitment to customers does not falter regardless of the ongoing adaptations to new methods of work.
Despite extensive changes over the past few years, we kept our mission to supply our customers and patients with high-quality drug products worldwide. Our core aim stays the same: to improve the quality of life for patients. In that respect, we've also seen improved reputation of biopharma companies and their partners as a result of vaccine distribution and enhanced commitment to employee health.
We are confident the industry will remain focused on sustainable growth and delivering the highest quality possible for customers. We aim to be a contributor to this quality growth within our industry. This includes investment in expanding capacities to meet the surging market demand for CDMO services. Biopharma customers are increasingly expecting partners to meet more of their business needs.
Sustainability is growing in importance as all players in our resource-intensive industry are expected to have a more ingrained cultural consciousness to balance economic performance and environmental impact. When trends are effectively considered and integrated, investment plans can expand, capacity can grow, and infrastructure can reach peak optimization.