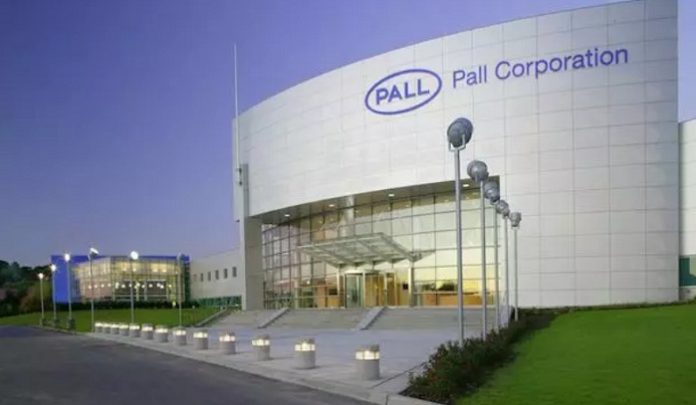 Pall Corporation, a global leader in filtration, separation and purification, announced the signing of an exclusive license for acoustic wave separation (AWS), a disruptive technology from FloDesign Sonics (FDS) for cell culture clarification for both fed-batch and perfusion applications.
The AWS technology enables very-high-efficiency continuous removal of the cells in a closed system without centrifugation, thereby streamlining a challenging step in the biologics manufacturing process within a small operating footprint. The technology will complement Pall's industry-leading STAX™ depth filtration products to enable continuous clarification of cell culture, enabling integration of the bioreactor with downstream processing.
The AWS technology works by applying acoustic forces across a flow channel to generate a three-dimensional standing wave. When a cell culture passes through the flow channel, the cells are trapped at the nodes of the acoustic waves and then aggregate, culminating in their precipitation from suspension as their buoyancy decreases. Important features are no temperature increase, no damage to cells or proteins, and the process works in a robust manner at high yields.
The integration of the AWS technology expands the portfolio of continuous bioprocessing and single-use products offered by Pall, which recently announced the acquisition of the BioSMB® multicolumn continuous chromatography platform from Tarpon Biosystems.
"This approach helps to bridge the critical gap between bioreactor and the downstream processing train," says Michael Egholm, president of Pall Biopharmaceuticals. "The AWS products will eliminate the reliance on centrifugation for cell culture clarification, and will provide a continuous feed stream for direct integration with the BioSMB platform."
Pall plans to introduce a single-use product line using AWS technology for the clarification of cell culture at both bench scale and GMP scale to match pilot and production bioreactor volumes, with predictable and reproducible performance over a wide range of cell densities.
About Pall Corporation
Pall Corporation is a filtration, separation and purification leader providing solutions to meet the critical fluid management needs of customers across the broad spectrum of life sciences and industry. Pall works with customers to advance health, safety and environmentally responsible technologies. The company's engineered products enable process and product innovation and minimize emissions and waste. Pall Corporation is an S&P 500 Company serving customers worldwide.