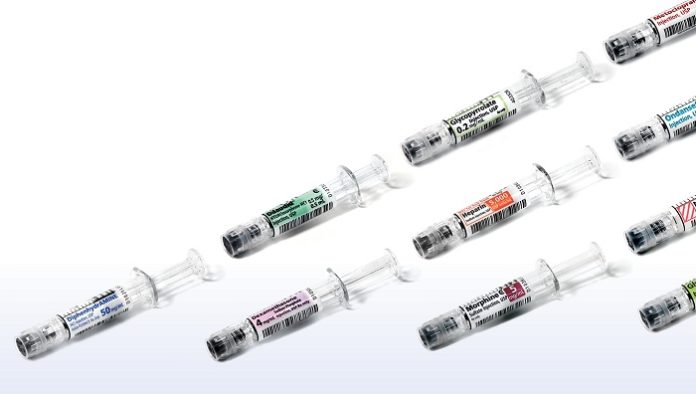 Fresenius Kabi announced the availability in the United States of Simplist® Morphine Sulfate Injection, USP 2 mg per 1 mL and 4 mg per 1 mL ready-to-administer prefilled syringes in MicroVault packaging.
MicroVault is next-generation packaging designed and manufactured in the U.S. to support secure dispensing and diversion deterrence with hard plastic packaging and a tamper evident seal. It is also designed to make narcotic inventory management easier with the use of 5-pack bundling and 10-pack cartons.
Fresenius Kabi is a leading producer of generic injectable medicines including a growing U.S. portfolio of prefilled syringes.
"We are focused on designing, developing and introducing products and labeling that support the safe dispensing of all products, but particularly controlled substances," said John Ducker, president and CEO of Fresenius Kabi USA. "A MicroVault portfolio that now includes morphine is the latest example of our commitment to the secure dispensing of controlled substances."
MicroVault packaging features include:
Slim packaging that takes up less room than a blister pack in the locked compartments of automated dispensing cabinets (ADCs).
A diversion-deterrent polypropylene shell that is rigid and transparent, allowing bar code scanning and visual inspection.
A twist-to-open cap that facilitates access to the syringe.
Fresenius Kabi's Simplist prefilled syringes were associated with a four times lower error rate when compared to traditional medication administration practice1, according to a study published in the Journal of Patient Safety in 2018. The Simplist Morphine Sulfate Injection, USP prefilled syringe is manufacturer prepared, with a 24-month shelf life, and is a single unit dose. Learn more about the Simplist® Ready-to-Administer Prefilled Syringe portfolio at www.simplist-us.com.
About Simplist® Morphine Sulfate Injection, USP MicroVault Prefilled Syringe
Produced at the company's advanced manufacturing center in North Carolina, Simplist® Morphine MicroVault Prefilled Syringe joins Fresenius Kabi's comprehensive portfolio of securely packaged narcotics. Morphine Sulfate Injection is contraindicated in patients with: significant respiratory depression, acute or severe bronchial asthma in an unmonitored setting or in the absence of resuscitative equipment, concurrent use of monoamine oxidase inhibitors (MAOIs) or use of MAOIs within the last 14 days, known or suspected gastrointestinal obstruction, including paralytic ileus, and hypersensitivity to morphine.
Cardiovascular Instability: High doses are excitatory. Have Naloxone Injection and resuscitative equipment immediately available.
Life-Threatening Respiratory Depression in Patients with Chronic Pulmonary Disease or in Elderly, Cachectic, or Debilitated Patients: Monitor closely, particularly during initiation and titration.
Adrenal Insufficiency: If diagnosed, treat with physiologic replacement of corticosteroids, and wean patient off of the opioid.
Severe Hypotension: Monitor during dosage initiation and titration. Avoid use of Morphine Sulfate Injection in patients with circulatory shock.
Risks of Use in Patients with Increased Intracranial Pressure, Brain Tumors, Head Injury, or Impaired Consciousness: Monitor for sedation and respiratory depression. Avoid use of Morphine Sulfate Injection in patients with impaired consciousness or coma.
The most serious adverse reactions encountered are respiratory depression, apnea, circulatory depression, respiratory arrest, shock and cardiac arrest. Common frequently observed adverse reactions include: sedation, lightheadedness, dizziness, nausea, vomiting, constipation and diaphoresis.
About Fresenius Kabi
Fresenius Kabi,  is a global health care company that specializes in medicines and technologies for infusion, transfusion and clinical nutrition. The company's products and services are used to help care for critically and chronically ill patients. The company's U.S. headquarters is in Lake Zurich, Illinois. The company's global headquarters is in Bad Homburg, Germany.