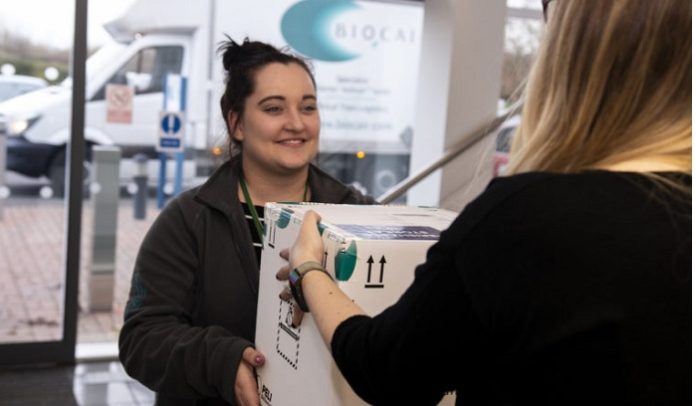 Biocair, a global logistics company dedicated to the life sciences, has partnered with Roylance Pharma to deliver fully integrated transportation and storage services for temperature-controlled pharmaceutical and biological materials.
Roylance Pharma brings more than 50 years' experience in controlled storage services, including outsourced licensed storage, validation and maintenance, while Biocair provides its global logistics and regulatory compliance expertise. This partnership gives Biocair's customers access to secure, temperature-controlled and licensed storage facilities at strategic locations globally.
The temperature ranges which can be accommodated include:
• ICH Stability Storage
• +15ºC to +25ºC – Controlled Ambient
• +2ºC to +8ºC – Refrigerated
• -15ºC to -25ºC – Frozen
• -60ºC to -80ºC – Deep Frozen
• Under -150ºC – Cryo Frozen (vapour phase)
Speaking about the partnership between Biocair and Roylance Pharma, Bruce Kennedy, Chief Commercial Officer at Biocair, comments "both Biocair and Roylance believe that the customers' requirements should be the focus of all operations. By combining Biocair's expert knowledge of life sciences logistics, with Roylance's state-of-the-art storage facilities, we can fulfil every aspect of the supply chain, including the provision of validated packaging, on-site collection, transport, storage and delivery of materials. This partnership ensures two industry-leading specialists will be collaborating, ultimately providing cost-effective, compliant solutions for customers."
About Biocair
Biocair is a global specialist courier with over 30 years of dedicated experience in the pharmaceutical, biotechnology and life science sectors. Specifically, we provide dedicated, specialised logistics services – both the systems and the people – for the scientific sector and our services are the most comprehensive of its kind available on the market.
The company has built up a unique, client-centric approach by employing scientists in front-line logistics positions and assembling a team of best-in-class industry experts in quality, cold chain and regulatory compliance amongst others. Biocair focuses on providing the most comprehensive time-sensitive and temperature-controlled logistics services available whilst delivering flexible, tailored, cost effective solutions to all clients.
The Biocair network spans more than 850 locations in over 160 countries across Europe, Africa, Asia and the Americas.Biocair works to GDP standards across its network of global offices.