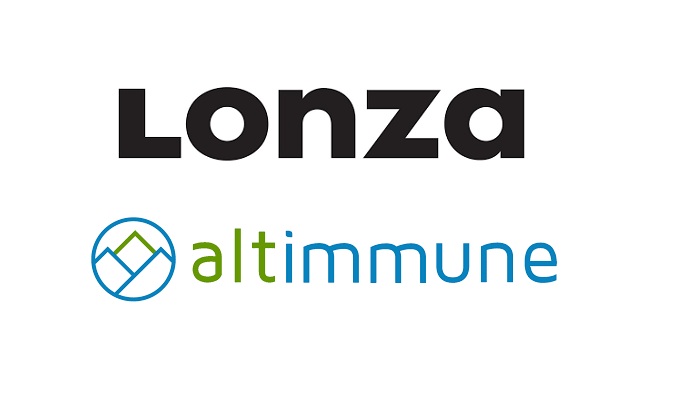 Altimmune, Inc., a clinical-stage biopharmaceutical company, announced that it entered into an agreement with Lonza for the manufacturing of AdCOVID™, Altimmune's next-generation, single-dose intranasal vaccine candidate for COVID-19. Lonza is a leading global biopharmaceutical manufacturing company with facilities in Europe, North America, and South Asia.
Alberto Santagostino, SVP, Head of Cell and Gene Technologies for Lonza, commented, "We are deeply committed to fighting this global pandemic and deploying our expertise and resources to help vaccine developers like Altimmune meet commercial manufacturing requirements for novel and promising vaccine candidates. Lonza is proud to be well-positioned to support these companies in their mission to serve such critical public health needs."
"We are excited about the potential of our AdCOVID vaccine candidate and are actively focused on expanding our network of strategic manufacturing partners to ensure Altimmune's commercial readiness to supply vaccine in 2021 should our clinical data support this advancement," said Dr. Vyjoo Krishnan, Ph.D., Vice President of Product Development for Altimmune. "Lonza is a tremendous partner in this mission, with deep expertise and experience in vector manufacturing and global world class facilities capable of manufacturing AdCOVID at commercial scale."
AdCOVID is a single-dose COVID-19 vaccine candidate that has the potential to be conveniently administered via an intranasal spray. In addition to activating systemic immunity (neutralizing antibodies and T cell responses) AdCOVID stimulates a type of localized immunity called mucosal immunity, which can act to prevent both SARS-CoV-2 virus infection and transmission. In preclinical studies, AdCOVID produced a 29-fold increase in mucosal IgA, well above the level associated with protection observed in several clinical studies from influenza, another respiratory virus.
Based on clinical experience with Altimmune's vaccine platform technology, AdCOVID is expected to provide durable immunity of up to a year or more following a single dose and to have an excellent tolerability and stability profile. Vaccine stability is critical for efficient vaccine deployment and AdCOVID is expected to be shipped without cold chain and permit common refrigerated storage conditions at community-based vaccination centers without the need for specialized freezer storage.
"We strongly believe there is a compelling need for next-generation COVID-19 vaccines and are rapidly advancing our development program for AdCOVID to meet this demand," said Dr. Vipin K. Garg, President and CEO of Altimmune. "Our agreement with Lonza expands on our current clinical and commercial manufacturing strategy for AdCOVID, aligning us with leaders in vaccine manufacturing and positioning Altimmune for commercial-readiness in 2021. We plan to commence a clinical study of AdCOVID in the fourth quarter, with a data readout from this study anticipated in the first quarter of 2021."
About Lonza
At Lonza, we combine technological innovation with world class manufacturing and process excellence. Together, these enable our customers to deliver their discoveries in the healthcare, preservation, and protection sectors.
We are a preferred global partner to the pharmaceutical, biotech and specialty ingredients markets. We work to prevent illness and promote a healthier world by enabling our customers to deliver innovative medicines that help treat or even cure a wide range of diseases. We also offer a broad range of microbial control solutions, which help to create and maintain a healthy environment.
Founded in 1897 in the Swiss Alps, Lonza today operates in 120 sites and offices in more than 35 countries. With approximately 15,500 full-time employees, we are built from high-performing teams and of individual employees who make a meaningful difference to our own business, as well as the communities in which we operate. The company generated sales of CHF 5.9 billion in 2019 with a CORE EBITDA of CHF 1.6 billion.
About Altimmune
Altimmune is a clinical stage biopharmaceutical company focused on developing intranasal vaccines, immune modulating therapies and treatments for liver disease. Our diverse pipeline includes proprietary intranasal vaccines for COVID-19 (AdCOVID™), anthrax (NasoShield™) and influenza (NasoVAX™); an intranasal immune modulating therapeutic for COVID-19 (T-COVID™); and next generation peptide therapeutics for NASH (ALT-801) and chronic hepatitis B.
About AdCOVID
AdCOVID is a single dose intranasal vaccine for COVID-19 designed to offer several important advantages over other vaccine approaches, including a broad immune response that includes both systemic immunity (neutralizing antibody) and local immunity (mucosal IgA, resident memory T cells) in the respiratory tract, a durable immune response of a year or more, and the ability to ship and store the vaccine conveniently and inexpensively.
By utilizing Altimmune's proprietary intranasal vaccine technology, AdCOVID has the potential to activate multiple arms of the immune system as shown in recent preclinical studies where potent serum neutralizing antibody and T cell responses were induced in addition to a robust induction in mucosal immunity against the spike protein of the virus. Importantly, the mucosal immunity was characterized by IgA antibody and resident memory T cell responses in the respiratory tract, both are believed to be important in fighting infection.
Because intranasal dosing can stimulate local mucosal immunity, AdCOVID is expected to guard the respiratory tract from viral invasion and provide downstream protection against viral spread. Local mucosal immunity may be essential for creating sterilizing immunity that eliminates the last traces of viral infection in the nasal cavity. Recent studies have shown that in the absence of mucosal immunity, the nasal cavity may become a reservoir for the coronavirus, potentially prolonging infection while allowing for disease transmission. Importantly, nasal mucosal immunity can only be achieved by administering a vaccine intranasally.
AdCOVID also provides an easier route of administration than an injection eliminating the need for administration by trained medical personnel and may even allow for self-administration. Finally, based on data from Altimmune's other platform vaccines (NasoVAX™ and NasoShield™) AdCOVID is expected to have extended stability at room temperature allowing for cold chain-free distribution of the vaccine where it can then be stored in the common refrigerators found in community-based doctor's offices and pharmacies for two years or more. The simple and convenient handling requirements may greatly increase the number of people willing to take the vaccine.
Altimmune anticipates submitting an IND with the U.S. Food and Drug Administration and commencing a Phase 1 safety and immunogenicity trial of AdCOVID in the fourth quarter of 2020.