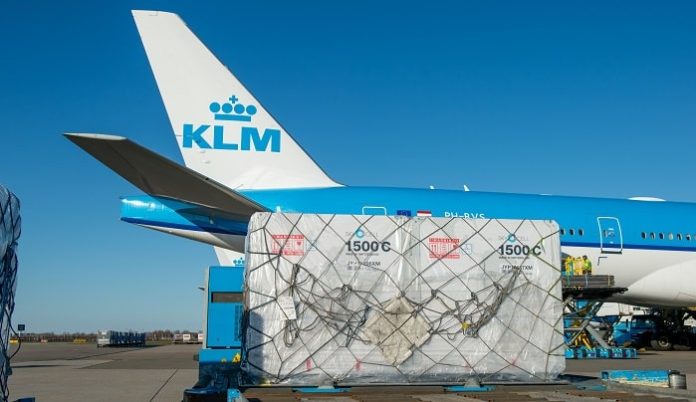 SkyCell and Air France KLM Martinair Cargo have signed a partnership agreement. The agreement sets out the reintroduction of hybrid containers for those shipping with Air France KLM Martinair Cargo, supporting a push to increase the sustainability and safety of pharmaceutical shipments.
The agreement coincides with rising demand for greener solutions and ambitious environmental goals set out by pharma companies. As the pharma logistics industry pushes to prepare for a future global distribution of Covid-19 vaccines, sustainable solutions will be crucial given the volume and global scale of the distribution ahead. Since SkyCell's solutions are able to secure products within a temperature range of 2-8°C and 15 – 25°C and now -70°C, SkyCell is well-prepared for the varying needs of vaccines and other sensitive pharmaceuticals.
The deal with Air France KLM Martinair Cargo is part of a shift towards the adoption of enhanced technological solutions to meet both the demands of pandemic logistics and requirements of environmental agreements. For the 15th consecutive year, Air France-KLM secured a place in the top three of the Dow Jones Sustainability Index (DJSI) Airlines category in September 2019.
Enrica Calonghi, Global Head Pharmaceutical Logistics Air France KLM Martinair Cargo, stated: "Shipping pharma and healthcare products is a core activity for AFKLMP Cargo. Partnerships, such as those with our container suppliers, play a crucial role in the entire chain, especially when it comes to guaranteeing the necessary quality, reliability and connectivity. Together, we are ready to play a key role in the distribution of Covid-19 vaccines, thereby helping to ensure that as many people as possible around the globe will have access to vaccines in these challenging times."
Richard Ettl, CEO SkyCell, commented: "Air France KLM Martinair Cargo is a pioneer in pharmaceutical air freight and, like SkyCell, is committed to minimizing its environmental footprint through technological innovation." .
All SkyCell containers help to eliminate medical waste ending up in landfill by preventing product damage as they move around the globe. Tracked with IoT ('Internet of Things') sensors, hybrid containers monitor the temperature conditions inside and outside the containers to ensure the full efficacy of pharmaceuticals is maintained until they reach patients. In the process, they reduce a shipment's carbon footprint by up to 50 per cent due to their capability to charge independently without the need for dry ice and electricity.
Across SkyCell's client base, SkyCell's containers provide protection for about 202 hours (8.4 days) on average, which is extended by trucking or storage under refrigerated conditions. SkyCell hybrid containers have been known to secure medicine even under extreme climate conditions swinging between as low as -30°C and as high as +70°C . That means, if we move into an era of high demand for fast-paced deliveries to all corners of the world to defeat the coronavirus pandemic, the hybrid is ready to tackle the differing infrastructures and climates of these countries together with the support of airlines around the world.
With the reintroduction of SkyCell's hybrid container to Air France KLM Martinair Cargo's existing range of pharma container offerings, clients can choose to move a step closer to meeting their sustainability goals and simultaneously maintain high standards of safety for their pharmaceutical cargo.
About Air France KLM Martinair Cargo
The Air France-KLM Group is a global airline group with a strong European base. Its main areas of business are passenger transport, cargo transport and aeronautical maintenance.
About SkyCell
SkyCell is the leading manufacturer of temperature controlled door to door container solutions that allows pharma companies to optimise their supply chain by reducing, and even predicting, the risk of delivering sensitive drugs by air. SkyCell brings together big data, software and hardware to transform the decades-old global pharma cold supply chain, using a growing pool of over ¾ of a billion data-points to enable a market leading failure rate of less than 0.1% whilst reducing CO2 emissions by almost half.
Founded in Switzerland in 2012, the company has been validated by the majority of the top 20 pharma companies. SkyCell is the number three player in the world in temperature-controlled air freight solutions, in a market currently worth USD 2.8 bn per annum and growing at a rate of 15-20%.