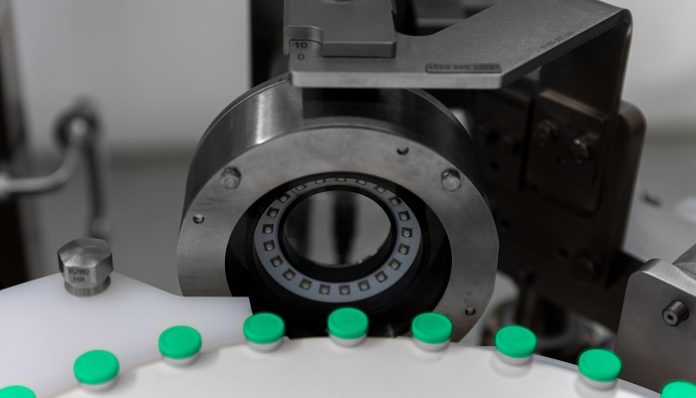 Contract manufacturers like IDT Biologika have to be able to provide additional filling capacity quickly when the need strikes. This requires a filling line that is ready to produce large batches safely and reliably in the shortest possible time. IDT's latest investment shows how to do it: together with Syntegon, the company installed one of the fastest state-of-the-art filling lines in the world. It achieves a capacity of 80 to 100 million 2R vials per year and batch sizes of up to 500,000 containers with 100 percent in-process control.
Due to new treatment methods, the demand for vaccines, viral vectors, and other biologics will continue to rise in the coming years. CDMOs that have the necessary infrastructure for all relevant biosafety levels and are proficient in handling live viruses are in high demand. This also applies to IDT Biologika: as a leading contract manufacturer of viral vaccines, viral vectors for gene and immunotherapeutics, oncolytic viruses, and protein-based vaccines, IDT offers pharmaceutical and biotech companies the entire value chain. Solutions include everything from process development to production of clinical trial samples and commercial manufacturing under GMP conditions up to BSL-2.
Long-standing experience with live agents
In 2021, the company with 1,600 employees in Europe and North America celebrated 100 years of vaccine production. This experience pays off: the vaccines that IDT Biologika has developed in collaboration with pharmaceutical companies over the past decades protect people against infectious diseases such as tuberculosis, AIDS, malaria, dengue fever, and Ebola. IDT also took on an important role during the Covid-19 pandemic by producing vaccines for AstraZeneca and Janssen on short notice. The company had recognized the growing need for development and manufacturing capacities for vaccines and innovative therapies much earlier. Even before the pandemic, the contract manufacturer was planning extensive investments to expand production capacities at its headquarters in Dessau-Roßlau, Germany.
When IDT Biologika was looking for a new, state-of-the-art line for the aseptic filling of commercial products, the company made speed the top priority. In addition, the fill-finish line needed to process large volumes and offer maximum flexibility with various filling systems. Three requirements to reach one goal. "We wanted to fill our customers' products even more flexibly, faster and to an even higher quality standard," says Axel Goertler, head of strategic engineering and process design at IDT Biologika.
Project completion three weeks ahead of schedule
In June 2020, IDT awarded the contract to Syntegon. "We received an ideal design concept for a complete line from a single source, including an isolator within our desired time frame," Goertler explains. For Bernd Goetzelmann, senior project manager at Syntegon, the assignment marked the beginning of one of his most exciting projects. "We were working within a tight timeline and had to tailor the line to a very compact area. In addition, our goal was to achieve an effective 95 percent line production rate over an eight-hour performance period in two FATs. So we were up against some big challenges," Goetzelmann recalls.
Backed by his experience from more than 20 years of demanding projects, Goetzelmann laid the foundation to master the complex task. He formed a core team of five interdisciplinary experts, who all used a central communication platform. Thanks to comprehensive expertise and weekly coordination, IDT Biologika and Syntegon successfully completed the SAT in less than 18 months – three weeks ahead of schedule. "In times of Covid-19 and supply bottlenecks, professional project management was more crucial than ever. The key to success was transparent and constant communication between all parties involved. That went exceptionally well in this project," says Steffen Grune, senior engineer at IDT Biologika.
Focus on safety
The filling line itself matches the speed that both project partners initially envisioned. With a filling capacity of 80 to 100 million 2R vials per year and batch sizes of up to 500,000 containers, it is one of the fastest filling lines in the world, amongst other things thanks to its double magazine with precise piece count. The line also delivers in terms of flexibility. Thanks to several filling systems and format sizes from two to ten milliliters, it can process a wide variety of products.
IDT Biologika pays just as much attention to safety as it does to flexibility. When aseptically filling live viruses under BSL-1 and BSL-2 conditions, the primary concern is the reliable protection of operators and products. Syntegon's proven isolator technology provides the best possible separation of the operating and process areas. For Goertler, "the inactivation of germs such as bacteria by means of hydrogen peroxide is an essential step before the actual fill-finish process." To protect operators from exposure to biohazardous product residues after filling, IDT Biologika opted for an inactivation step prior to opening the isolator doors for cleaning. "We decided to run an H2O2 cycle not only before but also after filling," says Goertler. In addition, the previously cleaned vials are sterilized and depyrogenated using dry heat.
Additional inline inspection for the highest quality
IDT is just as stringent when it comes to quality assurance. "We want to offer our customers and, of course, their patients maximum safety. To do so, we go beyond the prescribed minimum standards," Grune explains. The optional empty vial inspection takes place right at the beginning of the process. Cameras check the integrity of the containers before filling and examine the vials for contamination through foreign bodies. Defective vials are automatically ejected by the system. "With our very high processing speed of up to 600 vials per minute, we need this additional inspection process to avoid losing expensive active ingredient," Goertler adds.
A 100 percent in-process control (IPC) makes sure that each of the previously approved vials contains the exact amount of active ingredient by weighing each vial before and after filling. An additional print is applied with UV ink and verified by means of a camera during crimping. A special containment system ensures maximum operator protection during printing and print counterchecking. In addition, integrated cameras and sensors monitor and document every step of the process; network cameras provide the necessary documentation if required.
An investment with foresight
IDT Biologika sees itself in an excellent position for the future. "Our new high-speed line enables us to respond quickly to demands and expand our manufacturing capabilities," says Grune. The option of retrofitting the line with two freeze dryers is also a far-sighted investment. IDT has already installed the appropriate pure media systems: the vial cleaning machine is supplied with WFI and pure steam via a pure media system from the Syntegon subsidiary Pharmatec. The WFI loop, which is already connected to the cleaning machine, can also supply the two potential freeze dryers. "Studies show that lyophilizates will play an increasingly important role in the future. Freeze-dried pharmaceuticals offer advantages in storage and shelf life and are used exactly when they are needed. This can be a decisive advantage, especially for vaccines needed at short notice," Grune concludes.