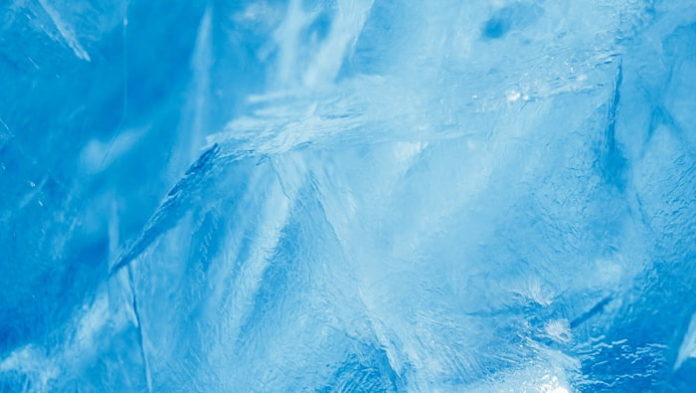 An end-to-end solution could simply be described as a completely functional solution delivering a self-contained system, service or process stage from beginning to end. Within a fully integrated solution individual components are typically sourced, and managed, through a single supplier. This type of solution has the advantage of reducing supply chain risk by focusing supply on a single point of ownership. As such, a fully integrated process can become a trusted partnership between drug manufacturer and supplier.
Integration as part of an end-to-end solution is about bridging gaps and efficiently connecting processes, taking into consideration the full life cycle of any pharmaceutical product. When freezing drug substances, process disconnection often occurs just prior to freezing when downstream processing is complete. It also observed post-freezing, when frozen drug substances are transported for final fill and finish stages at contract manufacturing organizations (CMOs). Clearly, more innovative integrated solutions would be particularly advantageous. They can strengthen process stages that have the potential to be disconnected whilst sharing value to both manufacturer and supplier through enhanced planning and process alignment.
So, what does such an integrated solution look like?
An integrated solution seeks to achieve a seamless connection between interlinked process steps.  This can be achieved when individual processes are viewed as a linear pathway that can be streamlined, enabling an increase in efficiency, time and product yield. In the context of freezing bulk drug substance, the steps immediately upstream and downstream of this operation needs to be considered and carefully linked.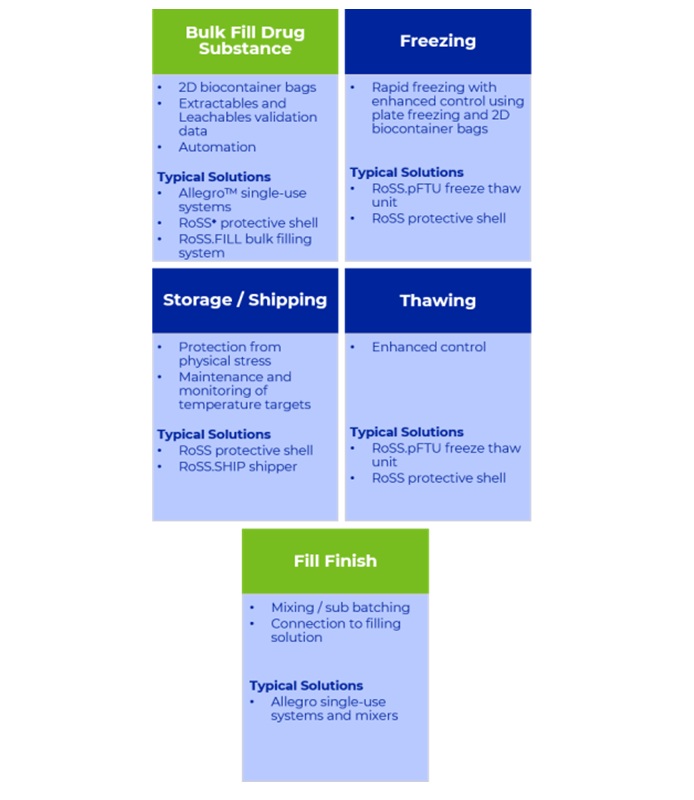 An Integrated Approach to Freeze / Thaw Solutions
Where freeze-thaw is concerned an integrated end-to-end solution starts at the point when drug substance is filled into the preferred containers, is frozen, transported and culminates in thawing of drug substance for formulation and filling.  Driven by rapid, controlled plate freezing and the benefits it brings through consistent homogeneity, quality and drug substance activity, processes from filling to freezing can then be bridged through use of 2D biocontainer bags. Single-use technology as a choice helps define options for the automation of filling to streamline the process and control risk. This also provides an opportunity to build in design elements to facilitate disconnection from the filling process.
Validation of an integrated solution benefits from enhanced process connectivity. Data, specifically that referring to the extractables and leachables evaluation which forms a critical part of the safety profile assessment of the final drug product, can be repurposed for all materials with a common contact surface. Specifying product contact surfaces such as those in mixing or filling systems minimizes the validation burden and reduces the potential set of leached materials in the final drug product. With the desired freezing process in mind it is advantageous to select biocontainer bags that have a low extractables profile and validation data at the target temperature, typically as low as -80 °C.
Comprehensive transport validation reports and data that fully comply with ASTM International protocol and International Safe Transit Association (ISTA) guidelines (3E and 3H) provide complete assurance of robustness. This validation supports protective shells that can maintain the geometry of the frozen biocontainer bags during transit to CMOs. Following this, controlled thawing of the bulk drug substance with the optimized design of all consumables, ensures an easy and safe transfer of thawed bulk to the fill-finish operations with the appropriate connection and disconnection technology, sharing the validation data for any common components used during the bulk filling.
Using these points of integration, a typical process may flow seamlessly with shared validation data and system design principles supporting high performance and robust, streamlined operations.
Author Details:
Name: Kevin Thompson
Title: Technical Director
Department: Pall Biotech
Bio: Kevin is a Technical Director within Pall Advanced Separation Systems (PASS) team within the Pall Biotechnology business. Kevin has spent the last 40 years in Engineering, starting in the UK Electrical Supply Industry, transitioning to Oil & Gas as well as Chemicals & Polymers, with the last 22 years dedicate to Pharmaceuticals.
Website: https://www.pall.com/en/biotech.html
About Pall Corporation:
Pall Corporation is a filtration, separation and purification leader providing solutions to meet the critical fluid management needs of customers across the broad spectrum of life sciences and industry. Pall works with customers to advance health, safety and environmentally responsible technologies. The Company's engineered products enable process and product innovation and minimize emissions and waste.