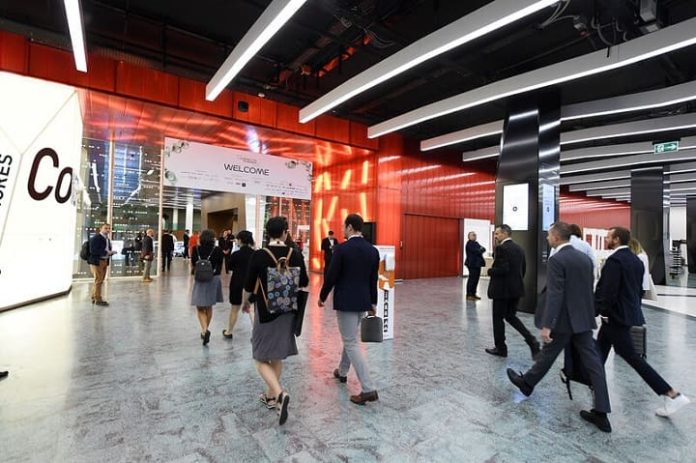 Happiness can never be stalled, and that was pretty evident on Day 1 of Connect in Pharma.
To advance innovation in a cooperative setting, Connect in Pharma has brought together specialists in the pharmaceutical and biotech industries under one roof.
The purpose of the event is to facilitate the convergence of the whole global value chain in Geneva, from top manufacturers to leading suppliers.
Professionals from all across Europe involved in pharma packaging and manufacturing gathered in Geneva to view suppliers' newest offerings and developments and hear from leading industry leaders.
The morning session revolved around post-covid: the future for European pharma production for which the introduction was carried by Thierry Lhuillier, Industrial Performance and Operational Efficiency Director, UPSA.
The first speaker, Marie Coris, researcher in economics at the University of Bordeaux, spoke about health dependency difficulties that the European pharmaceutical business is facing and the opportunity that revolves around them. According to her, two trends have prevented European nations from making progress in the race to produce vaccines: the vulnerability of their positions in a globalised sector and the incapacity to set themselves for prospects in biotechnology.
It was Thierry Lhuillier, Industrial Performance and Operational Efficiency Director, UPSA again on the dais expressing his views on what does it mean for Europe to establish a robust and competitive industry?
Post this session, Jean-François Hilaire, Executive Committee Member, Head of Business Unit Advanced Delivery Systems, Recipharm, talked about Pharmaceutical manufacturing relocation: a strategic initiative for the European Union. He added that his presentation's objective was to look at how supply chains are set up, how much production may be brought back to Europe, and what obstacles might stand in the way.
Eric Goupil , CEO, Unither Pharmaceuticals, took over the session, explaining Euroject, which is a single-dose injection device that is open source and unencumbered by intellectual property. He added that Unither Pharmaceutical is providing a system with complete European control that has several benefits for patients in Europe in terms of deployment capacity, pricing, and application by healthcare professionals.
After this session, it was time for some Q&A pertaining to the sessions that had been held. The afternoon session shed light on creating inventive packaging techniques, the introduction to which was given by Tiffany McIntire, Principal Human Factors Engineer, Roche.
Dr. Reza Abedian, Senior Medical Affairs Manager, Gerresheimer, took over the reins with methods for subcutaneous injection of big molecule biologics that are patient-focused. He opined how one must concentrate on SC administration and the present landscape of drug delivery methods for large molecules and biologics in order to meet the needs of patients and users.
It was then that Isabelle Constant, Research & Development Director at Technoflex, was talking about how to better control the unknown factors of innovative developments and accelerate them. According to her, if an organisation wishes to speed up projects, it must manage project progress.
Tiffany McIntire, Principal Human Factors Engineer, Roche, gave her insights on creating packaging solutions that focus on patients. In the presentation, she talked about how to spot pharmaceutical pipeline projects that might use HF professional evaluation and testing.
Vincent Laperle, Technical Services Specialist at BD Medical – Pharmaceutical Systems, then spoke about the development of Composite Products Subcutaneous Considerations Dose Delivery. His insights on how manual, syringe-based injections could enable subcutaneous single-dose self-injections that go beyond the usual restrictions on volume and viscosity if they are administered with the right ergonomic and design considerations comprised the final session of the day.
The afternoon session culminated with a Q&A part involving the presentations that were made.
The day saw the first Sustainable Medicines Packaging Awards winners being announced, and the attendees were motivated and left with important lessons from the conference and workshops. There were worthwhile novel discussions on the exhibition floor, and there were meaningful new ties and exchanges at the Champagne Bar on the exhilarating first day.
The day was jam-packed with informative workshops from top European suppliers of packaging solutions. It made sense, considering how exciting the environment was. Connect in Pharma is already in full swing with a combination of conference and workshop programmes, and we are certain that the second day will further broaden the participants' horizons.