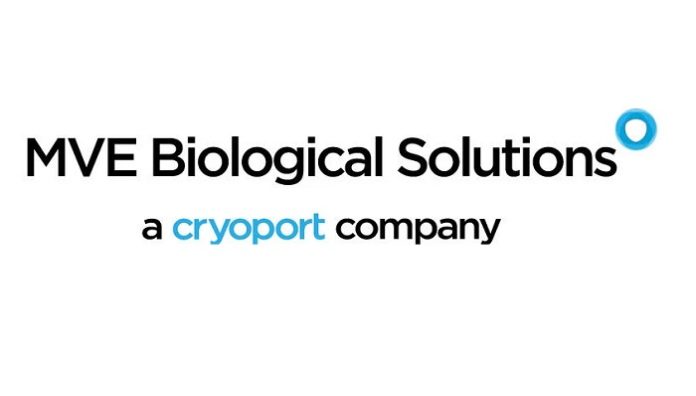 Cryoport, Inc., a global leader in temperature-controlled supply chain solutions for the life sciences industry, announced it has signed an agreement to acquire MVE Biological Solutions, a global leader in manufactured vacuum insulated products and cryogenic freezer systems for the life sciences industry, from Chart Industries, Inc. This acquisition is a further step in Cryoport fulfilling its mission of being "the life sciences industry's preeminent partner for temperature-controlled supply chain solutions" by broadening its footprint of solutions and services to the life sciences industry, and in particular to the fast-growing cell and gene market. With the acquisitions of MVE, CryoPDP and Cryogene, Cryoport will provide fully integrated, end-to-end supply chain solutions to cell and gene therapy clients as well as the broader life sciences industry.
As a Cryoport company, MVE will expand Cryoport's role in the cell and gene therapy supply chain ecosystem, a business that is forecasted to grow 30% to 40% per year, and further enhance Cryoport's position as a leading player in the supply of cryogenic solutions for the life sciences industry. Under the agreement, Cryoport will acquire MVE in an all cash transaction valued at $320 million. Closing is expected by the end of the year, subject to regulatory approval and customary closing conditions, MVE's revenue for 2019 was approximately $83.7 million and it is expected to be immediately accretive.
Blackstone Investment and Financing
To fund the acquisition, Cryoport is receiving a $275 million investment from funds managed by Blackstone Tactical Opportunities (NYSE: BX) ("Blackstone"). Under the terms of its investment, Blackstone will purchase $250 million of a newly designated Perpetual 4% Series C Convertible Preferred stock of the Company, with a purchase price of $1,000 per share, and $25 million ofcommon stock of the Company. The remainder of the purchase price for the MVE acquisition will be paid from the Company's cash balance. The preferred stock will be convertible into shares of Cryoport's common stock at a conversion price of $38.6152 per share, representing a premium of 15% to Cryoport's 30 trading day volume-weighted average price (VWAP) as of August 20th, 2020 prior to the announcement of the CRYOPDP acquisition and the $25 million of common stock will be sold at a price of $37.0076 per share. Blackstone's investment is subject to the closing of the acquisition of MVE and other customary closing conditions. In conjunction with Blackstone's investment in Cryoport, Cryoport will appoint Ram Jagannath, Senior Managing Director and Global Head of Healthcare for Blackstone Growth and Tactical Opportunities, to its Board of Directors upon the closing of the transaction. Additional information regarding the MVE acquisition and the Blackstone investment will be included in a Form 8-K to be filed by Cryoport with the Securities and Exchange Commission.
Strategic Rationale and Value Creation
Headquartered in Ball Ground, Georgia, USA, MVE provides cryogenic storage and transportation solutions for the life sciences industry through its advanced line of stainless steel freezers, aluminum dewars and related ancillary equipment used in the storage and transport of life sciences commodities, which includes the rapidly growing cell and gene therapies business. With over 226 dedicated employees and three primary facilities, in the states of Georgia and Minnesota and Cheng-du, China, MVE serves over 300 primary customers.
This transaction represents a hallmark event with two supporting life science leaders, Cryoport and MVE Biological Solutions, coming together to further de-risk processes for the life sciences industry at a time when these services are poised for exponential growth. Furthermore, it is the continuation of Cryoport's drive in further developing the highest quality, most reliable and comprehensive temperature-controlled supply chain company supporting the life sciences industry. Cryoport, with the addition of MVE will deliver a unique combination of passionate teams with outstanding industry knowledge; industry-leading global client coverage; advanced temperature controlled engineering capabilities; and unparalleled temperature-controlled supply change innovation.
Jerrell Shelton, CEO of Cryoport, said, "The acquisition of MVE Biological Solutions represents an important step in carrying out Cryoport's mission. It further entrenches us in the cell and gene therapy supply chain ecosystem at a time when cell and gene therapies are experiencing rapid and sustained growth, and with an even more exciting growth story ahead. Bringing MVE Biological Solutions under the Cryoport umbrella, which will include Cryoport Systems, Cryogene, and the recently announced agreement to acquire CRYOPDP is expected to increase our revenue run rate to over $160 million and to be immediately accretive.
"Both companies serve sophisticated life sciences clients, and having these two life sciences supporting leaders working together will amplify the high quality and reliability their respective customers have come to rely on. The agreement to acquire MVE follows on the heels of our agreement to acquire CRYOPDP, a France-based specialty temperature-controlled life sciences logistics company. This marks an exciting time in our growth as we become a larger and more comprehensive global player in supporting the fast growing cell and gene therapy industry and the life sciences industry, at large, with the most advanced and reliable temperature-controlled supply chain solutions in the world."
Ram Jagannath, Senior Managing Director of Blackstone, said, "Life sciences and logistics are two of Blackstone's highest-conviction investment areas and we're excited to back an industry-leader at the cross-section of these fast-growing sectors. Together, Cryoport and MVE Biological Solutions offer a unique combination of industry knowledge, client coverage, engineering and innovation. Through Cryoport's acquisition, we believe MVE Biological Solutions will deliver strong growth as the demand for its solutions from cell and gene therapy customers continues to increase. This acquisition provides multiple value creation opportunities for Cryoport and MVE Biological Solutions that offer additional revenue growth upside, including the development of new product innovations, opportunities to grow with key distributors in the U.S., and the opportunity to increase direct customer sales and distributor relationships globally. This strategic acquisition allows Cryoport to continue to increase services for cell and gene therapy customers, providing mission-critical solutions helping improve patient outcomes and save lives."