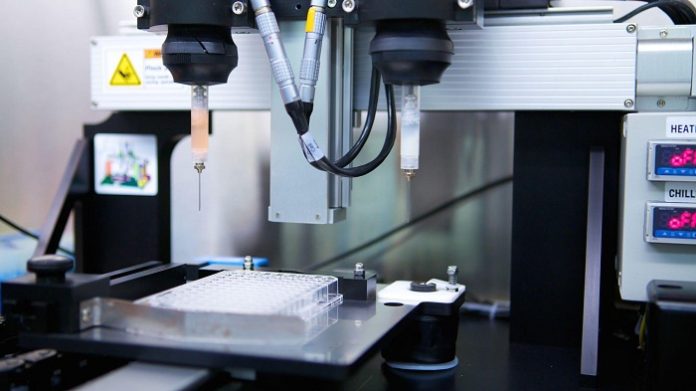 BiologIC Technologies, a pioneer in powerful digital architectures for radically disruptive automation hardware in synthetic biology, has announced today that it is accelerating development using the recently launched J826 3D printer from Stratasys, a global leader in additive manufacturing and 3D printing technology.
BiologIC will use the J826 3D printer to develop its flagship digital hardware for advanced life science instrumentation that may be described as "the desktop PC of life sciences". BiologIC's digital hardware architectures integrate and add powerful new functionality to many biological processes and will become key enablers of synthetic biology.
Synthetic biology, where the disciplines of biology and technology meet, is transitioning rapidly from 'reading and writing DNA' to 'applying and scaling DNA', with the potential to create billions of dollars of disruptive value and benefits to society in existing and entirely new markets. However, this growth is severely constrained and it is well known that breakthrough bioproducts developed from advances in our ability to read and write DNA cannot readily be applied and scaled.
Underpinned by a strong first-mover advantage and robust IP, BiologIC is working with a growing network of leading partners to unlock this pent up demand through radically new and powerful digital hardware architectures for highly integrated biotechnology automation. BiologIC's unique combination of digital hardware and digital biology enables the next wave of synthetic biology that promises to significantly improve major global issues such as healthcare, climate change and environmental sustainability.
Richard Vellacott, Chair of BiologIC Technologies, commented: "We are delighted to have the opportunity to be among the first in the world to access the latest J826 3D printer from Stratasys. The 3D design freedoms delivered by full-colour, multi-material printing, together with our proprietary digital toolchain, enable BiologIC to greatly accelerate the synthetic biology design, build, test, learn development cycle with zero restrictions.
"The J826 forms a key part of our tool chain for the development of powerful digital architectures. Our automation hardware will unlock the potential of synthetic biology to create significant disruptive value and improve the quality of many lives. We are pleased to be partnering with a growing network of fellow innovators to make significant advances in automating the synthetic biology industry."
About BiologIC Technologies
BiologIC's pioneering vision is to become the enabling architecture for a radically different generation of integrated and miniaturised life science automation that delivers Any Biology, Anywhere. The company's breakthrough digital hardware allows rapid development and execution of novel, high-value and high-volume biological workflows in powerful, affordable and application-specific 3D bioprocessing units.
BiologIC's first mover advantage and IP in the high-end application of 3D printing creates disruptive value for commercial partners in leading biopharma and technology organisations in the rapidly growing markets of synthetic biology.
The company is building the major strategic partnerships that will drive scale towards transformational global leadership and the delivery of the "Desktop PC" of life sciences.
About Stratasys
Stratasys is a global leader in additive manufacturing and 3D printing technology and is the manufacturer of FDM® and PolyJet™ 3D Printers. The company's technologies are used to create prototypes, manufacturing tools, and production parts for industries, including aerospace, automotive, healthcare, consumer products and education. For 30 years, Stratasys products have helped manufacturers reduce product-development time, cost, and time-to-market, as well as reduce or eliminate tooling costs and improve product quality. The Stratasys 3D printing ecosystem of solutions and expertise includes: 3D printers, materials, software, expert services, and on-demand parts production.