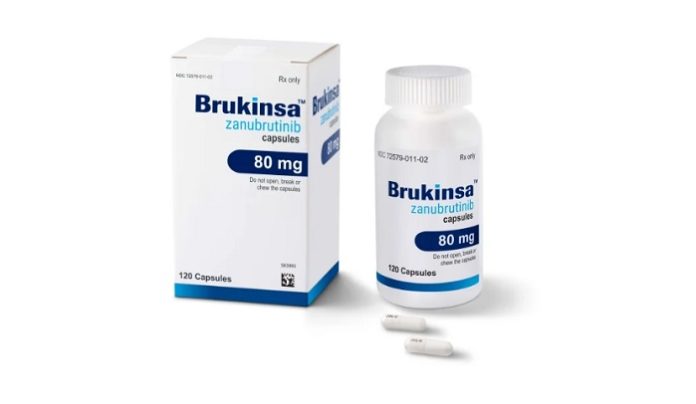 BeiGene, a global biotechnology company, announced that the U.S. FDA  has approved its Bruton's tyrosine kinase inhibitor (BTKi) BRUKINSA (zanubrutinib) for the treatment of adult patients with chronic lymphocytic leukemia (CLL) or small lymphocytic lymphoma (SLL).
"With four US approvals in just over three years and demonstrated superiority versus ibrutinib in the final progression-free survival (PFS) analysis of the ALPINE trial, we believe BRUKINSA is well-positioned to become the BTKi of choice across multiple indications," said Mehrdad Mobasher, M.D., M.P.H., Chief Medical Officer, Hematology at BeiGene. "We're grateful to the patients who participated in the ALPINE and SEQUOIA studies; and with this new approval, we're excited to expand our impact to even more patients."
The U.S. approval is based on two global Phase 3 clinical trials demonstrating superior efficacy and a favorable safety profile for BRUKINSA in CLL:
With a median follow-up of 26.2 months in the SEQUOIA trial, BRUKINSA demonstrated a significant PFS benefit versus bendamustine plus rituximab, (HR 0.42, [95% CI: 0.28, 0.63], P<0.0001), as assessed by an Independent Review Committee (IRC) in the first-line treatment setting.1
BRUKINSA achieved a superior overall response rate versus ibrutinib in the relapsed/refractory (R/R) treatment setting (ORR 80.4% vs 72.9%, P=0.0264), as assessed by an IRC in the ALPINE trial.2
The overall safety profile of BRUKINSA in the ALPINE and SEQUOIA trials was consistent with prior studies.
In the pooled safety population of CLL patients who received BRUKINSA across the clinical development program (N=1,550), the most common adverse reactions (≥30%), were decreased neutrophil count (42%), upper respiratory tract infection (39%), decreased platelet count (34%), hemorrhage (30%), and musculoskeletal pain (30%).3
The pre-defined final PFS analysis of the ALPINE study demonstrating superior efficacy and a favorable cardiac safety profile for BRUKINSA versus IMBRUVICA in patients with R/R CLL, was presented in a late-breaking session at the 64th Annual American Society for Hematology (ASH) Meeting and published simultaneously in The New England Journal of Medicine. With a median follow-up of 29.6 months, BRUKINSA demonstrated superior PFS compared with ibrutinib in patients with R/R CLL (HR: 0.65 [95% CI, 0.49-0.86] P=.0024, for both investigator and IRC). Additionally, BRUKINSA demonstrated a favorable cardiac safety profile, with significantly lower rates of atrial fibrillation/flutter (5.2% vs 13.3%) and zero deaths due to cardiac disorders with BRUKINSA vs. six with ibrutinib (0% vs 1.9%).4,5
Jennifer R. Brown, M.D., Ph.D., Director of the CLL Center of the Division of Hematologic Malignancies at Dana-Farber Cancer Institute, commented "We have seen striking data from the BRUKINSA development program demonstrating significant and consistent efficacy across CLL patient sub-types, including the high-risk del17p/TP53 mutated population, and regardless of treatment setting. With extensive follow-up across the CLL development program and the combined results from the SEQUOIA and ALPINE trials, BRUKINSA is established as a new standard of care for CLL."
"Thanks to research that has delivered innovative and effective medicines, people with CLL can remain on therapy for years so tolerability is an important consideration. I'm pleased that the approval of zanubrutinib provides a new BTKi option for people with CLL/SLL, with demonstrated efficacy as well as being very well tolerated long-term," said Brian Koffman, M.D., Chief Medical Officer and Executive Vice-President at CLL Society.