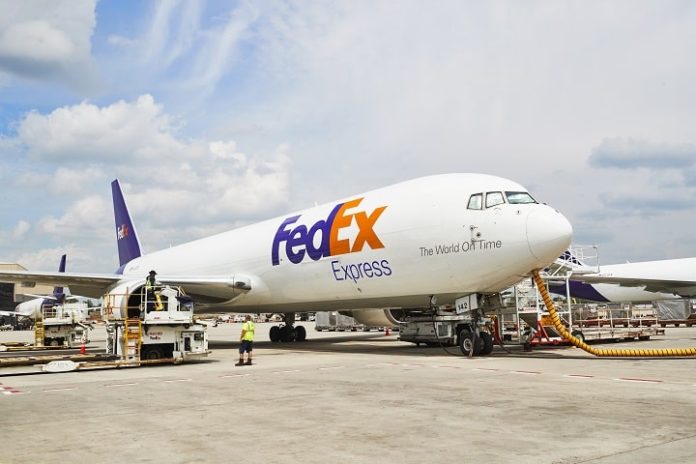 In a scenario where time is of the essence, it becomes all the more important for industries to make continuous amendments as far as their processes are concerned. These processes become all the more noteworthy and challenging in a complex Pharma and Biotech vertical. It's an undeniable fact that the role of logistics in the said industry has become far more significant than ever before. And surprise, surprise- this association is going to become more and more diverse, upgraded, innovative and profitable in the years ahead.
FedEx, we all know has come a long way in delivering quality perceptions across regions. We find it increasingly intriguing and amazed in the way they have evolved themselves keeping in mind this huge pharmaceutical and biotechnology base. This interview piece with Karen Reddington, President Asia Pacific, FedEx Express gives us a hang of what's in store for the Pharma and Biotech industry when they push their shipments through FedEx globally and in particular Asia and Asia Pacific landscape. Also, we get to know how essential it is to change with time and in fact be ahead of the curve in this industry.
1. There is a phenomenal increase in the pharma and biotech research in the Asian Market, which also means an increasing demand in logistics. How has FedEx coped with it?
We've observed the demand for healthcare logistics is rising rapidly and cold chain logistics is expected to drive this demand. In Asia Pacific, the cold chain logistics market is underpinned by strong global growth, with spending tipped to reach US$16.7 billion in 2020 . We are also seeing a rise in demand and spending as global pharma shifts its portfolios towards biologics.
Increasingly, we find ourselves transporting sensitive biological samples for clinical studies from countries such as Japan, Korea and Australia to Singapore or U.S laboratories. By providing a strong infrastructure and cold chain logistics support, we can move clinical samples and laboratory supplies including clinical trial test drugs in an efficient and cost-effective manner. FedEx has invested in building regulatory compliance as a part of our business process. Through services like FedEx Priority Alert, we have a temperature controlled contingency process for our transportation network, further enhancing our quality compliance to our healthcare customers.
2. Describe the role FedEx plays when it comes to supply chain intelligence for clinical trials in the pharmaceutical industry.
FedEx supports clinical trial projects by providing greater transparency throughout the supply chain. Product integrity is our number one priority for our clinical trial customers. Clinical samples and investigator drugs need to be transported under stringent conditions where temperature and reliable transit times are essential to maintain product integrity. FedEx® Healthcare Priority (FHP) offers customers comprehensive solutions to support clinical trials by providing greater transparency, visibility, control and security to the healthcare supply chain.
Our solutions track and monitor the temperature, time and location to deliver reliable data as well as a clear line of sight at every stage. For example, FedEx MedPakVIoCis a temperature-controlled cold chain shipping solution using high performance reusable thermal packaging that provides 96-hours temperature stability in case of unforeseen contingencies – critical for temperature-sensitive investigator drug shipments.
We also provide IATA validated single use packaging solutions for shipping Biological samples at controlled ambient, frozen dry ice and chilled 2-8C temperature.
The FedEx Quality Management System (QMS) is designed for the healthcare industry wherein a FedEx Quality Assurance (QA) team offers detailed audit trails throughout the shipment's journey as well as Corrective and Preventative Action (CAPA) services to ensure that all shipments are compliant to regulations. FedEx regulatory compliance is supported by end-to-end tracking technologies that generate extensive data and continuous visibility on biopharmaceutical shipments.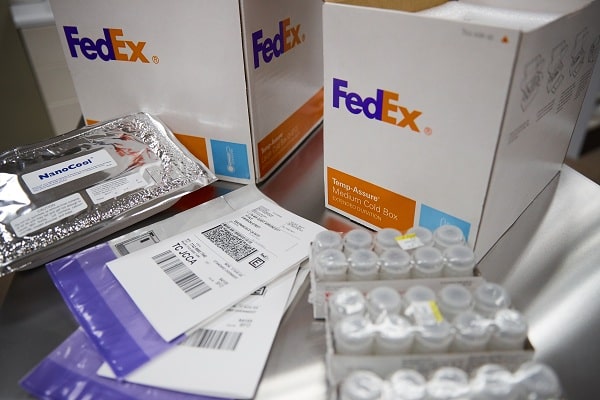 3. Pharma drug molecules, especially in the initial stages, require a lot of temperature monitoring especially being transferred from one location to another. What makes the role of logistics so pivotal during the process and how equipped is FedEx in handling such situations?
As global pharma is shifting portfolios and priorities towards biologics and gene cell therapies, we are seeing an increasing connection between quality and technology innovation in cold chain transportation, one where customers are looking for high-end bespoke transportation services and solutions to ship sensitive clinical trial drugs worldwide
The expectations for cold chain logistics players are to have the same commitment to speed and quality as their customers – the companies researching and developing this highly specialized pharma. To meet this growth in cold chains, it is paramount for logistics providers to ensure adequate capacity and yet at the same time ensure safety and regulatory compliance.
The FedEx proprietary solution SenseAware® is near real-time monitoring device which tracks temperature – a key variable of pharmaceutical products – during the journey of the shipment, but also can record the other key variables including humidity, light exposure, shock events and other environmental factors that can impact the shipments.
The FedEx Priority Alert Plus provides a temperature controlled contingency solution, which is monitored by a global 24×7 control tower. This further enhances compliance and provides peace of mind to our healthcare customers.
4. More so in case of clinical trials where critical and sensitive drugs are involved, tell us about the technology which FedEx uses to provide greater transparency throughout the supply chain.
FedEx understands the possibilities that clinical trials bring, and the investments required by companies to realize them. We are continually leveraging technology to develop innovations that provide robust support throughout the supply chain.
The FedEx Sense Aware is our signature tracking solution for continued visibility via monitoring of temperature, humidity, light exposure, shock events and other environmental factors that can impact biopharmaceutical shipments.
Our customers are able to track their shipments on the FedEx website under Track and trace as they go through our network by using the FedEx AWB or their own specific reference number.
On top of using technology, the APAC Healthcare Control Tower provides round-the-clock support and monitoring, and pro-actively take actions when there is risk of temperature excursions due to delays.
5. Data tracking and mining have become a priority for pharma manufacturers. What solutions does your technology provide on this front?
Logistics services — previously considered a tactical aspect of supply chain operations — are now rapidly evolving into a crucial part of business operations, due to data analytics integration. Digitization has allowed vast amounts of data to be captured by sensor-enabled devices moving through supply chains and this has put big data and analytics in the mainstream healthcare logistics.
At FedEx, we recognize the potential of leveraging big data and data analytics tools to increase efficiency and lower costs. Using big data and analytics, we can start to identify where and when deviations in temperature control are most likely to occur. Historical data can allow us to deploy optimal packaging designs and use of cold facilities and transportation, while real-time data analysis can spot specific shipments where intervention is required immediately to save a product. This is a shift towards predictive analysis which can help customers improve their risk mitigation practices and save costs!
Looking into the future, we are excited by the prospect of blockchain and how it could transform the package delivery business, including clinical trial business. We believe blockchain will bring in a new level of transparency in the supply chain where information provided is validated and verifiable. Better visibility would lead to greater supply-chain efficiency, both by departments in charge of various logistical processes and partner companies.
6. The Asia Pacific region involves developing and developed countries. This means you have to deal with economic and social scenarios of varied magnitude. How does FedEx deal with something like this especially when you are transporting such high-priced drug components?
FedEx offers different solutions based on market conditions and local needs. For example, in the developed and matured markets like Japan and Australia with a higher level of service expected by the investigators, we provide highly customized white glove services by a fleet of trained and certified drivers to deliver high touch point pick-up service. While in rapidly developing markets such as China, we offer cost effective solutions with a wide geographical coverage that enables us to effectively deliver investigator drugs to study sites and then transport samples from those sites to domestic labs within the time and temperature needs of customers.
7. Clinical trials are happening at a brisk pace in the Asian region. But then there is always a financial constraint involving logistics. How does FedEx encounter this without compromising on the quality?
The geographical spread of clinical trial activities has increased significantly with global connectivity – both in terms of depth and breadth. In Asia Pacific, nearly 20 countries are involved in clinical trials and in most cases, the sites are located beyond just capital and tier-1 cities into more remote locations.
This poses several logistical challenges, including the understanding of local customs and regulations for import-export, coverage of all the sites including remote locations, supply of cold chain packaging solutions and dry ice, reliable transit times to ensure irreplaceable patient samples are delivered intact and on time, and robust contingency management in a dynamic region.
All the above need to be achieved while remaining cost competitive. Over the past two decades, FedEx has carefully blended our core network transportation capabilities with specific value-added elements to deliver the desired high service levels.
We offer two different level of services depending on the needs of our customers. While we are offering premium specialized services with dedicated pickup and delivery for time critical shipments, we also offer cost effective network services for those cost-conscious customers for less critical shipments.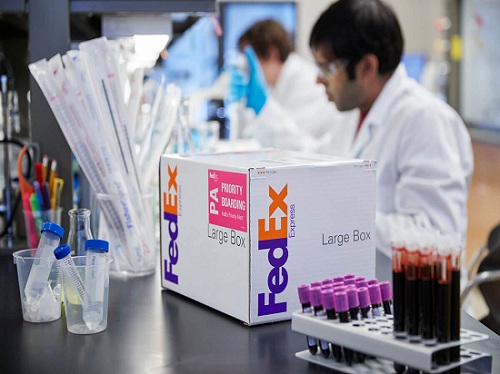 8. What is the new upgrade we can expect from your Pharma Logistics division concerning clinical trials in 2020?
FedEx Express has invested significantly in its healthcare portfolio of solutions and services – including FedEx® Healthcare Priority services specifically for Asia Pacific.
We continue to focus on "priority" – the priority service; specialized packaging; temperature-controlled shipping; along with customized services. It's all about prioritizing the needs of Asia's healthcare industry.
For example, in Singapore we have made changes to our operations to allow Contract Research Organizations (CROs) labs to have samples collected later in the day and have them delivered to partner labs across the U.S. next day. This provides our CRO customers with more time to carry out their local tests before releasing the samples for further testing overseas
FedEx has recently invested in expansion of the TNT Life Science Centre in Tokyo, Japan, which is dedicated to the storage and distribution of Investigational Medicinal Products (IMP) investigator drugs in Japan. We help pharmaceutical, CROs and CTS companies to conduct clinical tests in Japan for the development of new medicines. Whether being held in storage or being delivered to a hospital, the clinical drugs are maintained and handled in the required conditions. The Life Science Center is fully equipped for the quality and integrity of the products and local regulations.
We have invested in our Quality Assurance and Regulatory compliance capabilities, which are key aspects and high priority for the customers.
9. What are the limitations you face in Asia when it comes to the transportation of such complex drugs? How do you adjust to it?
One of the biggest challenges is regulations and customs clearance. Regulations are different in every market and which are always in a state of flux. Sometimes in countries like Vietnam or China, they may even vary by provinces. We have to keep ourselves abreast of these changes and keep our customers informed timely. We leverage our local expertise to address the local needs, at the same time we have a centralized team at regional level to ensure standard processes and harmonized customer experience across the region.
At FedEx, we have always prioritized innovation and finding new innovative solutions to provide the visibility required by customers up and down the supply chain. We offer technology-enabled integrated solutions for planning, storage, transportation and managing trade regulations to overcome the challenges that result from the complex and rapidly evolving regulatory environment.
Technology aside, we also have a FedEx Quality Management System (QMS) and a FedEx Quality Assurance (QA) team that offers detailed audit trail through the shipment's journey as well as Corrective and Preventative Action (CAPA) needs to ensure that all shipments are compliant to regulations.
10. How has your experience been thus far in the clinical trials segment and how does your approach differ from other verticals of pharma?
Clinical trials require special logistics service offerings as the drugs are often tested across multiple geographic locations and for shorter periods of time. In addition, local regulatory requirements, temperature monitoring during transit, and the storage and distribution of products are all common challenges in clinical trials logistics.
While each different healthcare segment has its unique needs, what is required is more than the basic needs of an efficient supply chain – cost, speed, reliability and security. Healthcare customers don't want a one-size-fits-all solution and FedEx approach is to cater to unique industry needs. For instance, requirements differ with each product, as do the temperature ranges required, along with lane considerations, positioning, volume, security and monitoring.