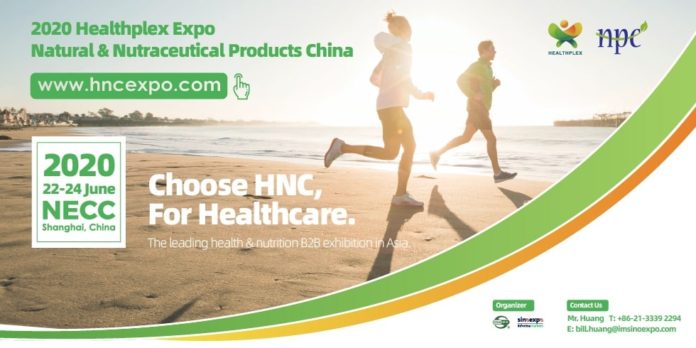 HNC 2020, short for "Healthplex Expo 2020 / Natural & Nutraceutical Products China 2020", is considered as the leading health and nutrition B2B trade show in China, and will come to its 11th edition this June. HNC helps international brands to meet local distributors and enter China market for finished products covering Healthy and Natural Food, Chinese Traditional Medicine Products, Healthcare Products and Dietary Supplements.
In 2019, HNC was delighted to welcome the historic increase in the proportion of international exhibitions, while overseas pavilions including many national exhibitors of more than 20 developed countries and regions in the world gathered together, such as Australia, New Zealand, Japan, South Korea, Taiwan Province, Norway, Germany, the Czech Republic, Belgium, Thailand, Greece, Italy, India, Singapore, Malaysia etc.. Traditional health supplements such as ganoderma lucidum, ginseng, swiftlet nest, dendrobium and cordyceps sinensis took nearly half of the product categories, covering immunity enhancement, beauty care, weight management, anti-aging, sleep health, intestinal health, cardiovascular health, bone and joint protection and mental health emerge.
During HNC, docking activities like brand showcase, match makings and cross-border e-commerce networking help the international suppliers to find the best way to enter China market and expand their business. The organizer invites key persons of government management agencies and authoritative experts to interpret the latest policies and regulations on health products in China.
Event Name: Healthplex Expo 2020 / Natural & Nutraceutical Products China 2020
Event Venue: National Exhibition and Convention Center (NECC), Shanghai
Event Date: 22-24 June 2020
Event website link: www.hncexpo.com/en
Event Organizer Name: CCCMHPIE / Sinoexpo Informa Markets
Communication number (with country & area code): Tel:+86(0) 21 3339 2294
Email ID: bill.huang@imsinoexpo.com
Social Media Link's: https://twitter.com/hncexpo