Kawal Preet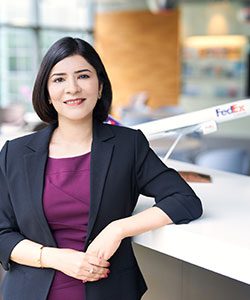 Kawal Preet is president of FedEx in Asia Pacific, Middle East, and Africa (AMEA) and leads nearly 40,000 employees across the region to tackle the challenges brought on by the global health crisis. Throughout the pandemic, FedEx remained operational and continues to play a central role in delivering life-saving medicines and medical supplies to communities around the world. As economies begin to bounce back, FedEx is delivering to support recovery for SMEs and consumers.
Under Preet's leadership, FedEx AMEA is ready to take on COVID-19 vaccine deliveries in the region working with governments and public health authorities. FedEx has been investing in cold chain technology and innovations to ensure robust infrastructure and capabilities for vaccine distribution. FedEx – operating at peak levels through 2020 – continues to flex its vast network – adjusting flights and operations – to ensure SMEs benefit from the unprecedented e-commerce surge.
An engineer by background, Preet is inspired by innovative solutions to achieve growth and solve problems. She is passionate about female entrepreneurship and helping women in business succeed. Preet serves as the chair of the National Center for APEC and is an active board member of the USASEAN Business Council and Junior Achievement Asia Pacific.
Follow Kawal Preet on LinkedIn: www.linkedin.com/in/preetkawal
Company:FedEx Express
FedEx Express is one of the world's largest express transportation companies, supplying fast and reliable delivery to more than 220 countries and territories. FedEx Express uses a global air-and-ground network to speed the delivery of time-sensitive shipments by a definite time and date.