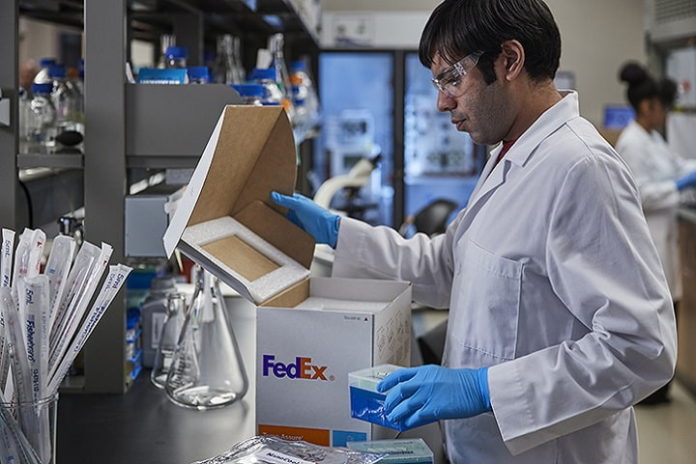 With more vaccines being approved worldwide, maintaining the shipments' integrity throughout the delivery process is the most challenging hurdle for many logistics providers.
Since the first COVID-19 vaccine was approved in December last year – Pfizer-BioNTech's mRNA vaccine – there are now 20 authorized vaccines available.[1] Scientists worldwide have demonstrated their incredible ability to develop vaccines at breakneck speeds thanks to the power of technology and collaboration across the medical community.
Even with an announced cumulative supply target of 14 billion vaccine doses[2] by the end of 2021, demand is intense. Governments and healthcare organizations – now more than ever – need reliable logistics providers with global-scale, robust distribution networks and expertise in the safe delivery of life-saving, temperature-sensitive vaccines to communities in almost every corner of the world, no matter how remote.
Running the marathon
For most countries, vaccine delivery can't come fast enough. But the reality is that the race to deliver these life-saving doses is still only in the early stages – and it's going to be a marathon effort. Much of the world's population has yet to be vaccinated due to lack of access, particularly in developing countries. According to official data, countries such as Canada and the U.S. have close to half of their population fully vaccinated, compared to developing countries like India, which has only been able to immunize 5% of their population.[3]
While some countries in Asia have been able to develop their own vaccines and production capabilities, the shortage of vaccines effective against the latest surging Delta variant has forced others like Thailand and Indonesia3 to look for booster shots from the West.
The lagging global rate of vaccination, as well as the need for booster shots to combat emergent variant strains, further highlights the need for healthcare logistics companies to have a robust distribution network built on decades of experience in delivering vaccines. FedEx has been on the frontlines delivering COVID-19 vaccines from the outset, offering flexibility, scalability and customized healthcare supply chain solutions.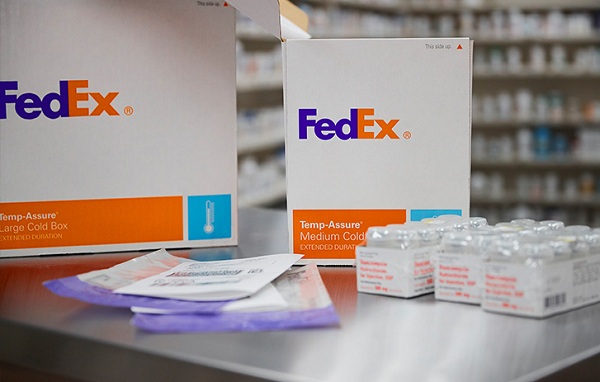 Why temperature matters
Temperature control is essential for ensuring vaccines effectiveness, and the different COVID vaccine types currently available have varying temperature requirements. Pfizer-BioNTech's mRNA vaccine needs to be stored in deep frozen conditions under -70oC, while vaccines such as China's Sinovac, or the UK's Oxford/AstraZeneca can be safely stored at regular refrigerator temperatures of 2-8oC without compromising their efficacy.
Managing these complex requirements through international shipping presents risks to logistics providers as shipments pass through many touchpoints, from customs and security to loading and unloading, before reaching customers. At FedEx, we've been harnessing our temperature control solutions and digital capabilities for every contingency in the air and on the road.
Our suite of temperature-controlled shipping solutions and freight monitoring technologies provide end-to-end customized supply chain configurations that can accommodate all types of vaccines and temperature requirements, from standard refrigerator temperatures down to an extreme freeze of -150oC. Our customized freight services help manage shipments throughout their journey and ensure timely delivery without compromising quality or safety.
Our SenseAware technology allows customers to gain better visibility and track their cargo in real-time, monitoring both the inside and outside of their shipment – including temperature, light exposure, barometric pressure and other variables – from pickup to delivery. Our dedicated team of specialists ensures medical shipments move swiftly through borders and arrive in the same condition as you sent them.
A trusted partner in global vaccines supply chain
Responding to infectious disease outbreaks is not new to FedEx. During the 2009 swine flu pandemic, we successfully shipped 80 million doses of vaccines to more than ninety-thousand sites across the affected regions of the world. Since the beginning of the COVID-19 pandemic, we continued to operate, shipping more than 90 kilotons of personal protective equipment, including 2.3 billion surgical masks, and over 12,000 humanitarian aid packages to date.
Unlike other logistics providers that rely on available capacity on commercial linehaul, FedEx uses its own fleet of cargo aircraft to ensure timely delivery of life-saving medicines, shortening transit times and reducing exposure to unforeseen logistical delays. With more than 90 cold chain facilities across the globe, FedEx continues to safely ship vaccines and vaccine supplies across five continents as well as within the AMEA region. Not only do these logistical advantages help customers save shipment costs, but spoilage of life-saving vaccines is also kept to a minimum.
With the recent resurgence of COVID-19 cases in some of Asia's developing countries such as India and Indonesia7 due to the Delta variant, the next leg of global vaccination efforts must focus on immunizing these vulnerable populations in tier-2 cities and remote areas. The diverse geography makes vaccine supply chain logistics challenging to manage for any distributor. But with three Life Science Centers in Asia – Singapore, Japan and South Korea – acting as strategic distribution and cold chain warehousing hubs, as well as cold chain contingency rooms at several air cargo gateways within the region, FedEx stands ready.
Today, there is no higher priority than to get COVID-19 vaccines delivered on time and to the communities and people who need it most. We are ready to meet the challenge and deliver well into the future. This is who we are and what we do.
References:
[1] https://covid19.trackvaccines.org/
[2] https://www.ifpma.org/wp-content/uploads/2021/03/Summit_Landscape_Discussion_Document.pdf
[3] https://ourworldindata.org/covid-vaccinations