John Mykytiuk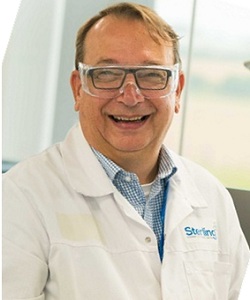 John Mykytiuk obtained his degree in chemistry and PhD in polymerisation reaction kinetics from the University of Bradford. Following two post-doctoral positions at Sussex University, he joined Cyanamid GB as part of a drug development group. John then moved to a CRO, Evotec/Aptuit, were he was involved in chemical process research and development including solid state investigations. John then moved to Onyx Scientific to take up a role to develop solid state services where he was involved with numerous and diverse solid state investigations. John now leads the solid state activities at Sterling Pharma Solutions encompassing physico-chemical characterisation, salt and polymorphism investigations, crystallisation development and particle characteristics.
Company:Sterling Pharma Solutions
Sterling Pharma Solutions is a global contract development and manufacturing organisation (CDMO) and is the largest independent UK provider of small molecule API development and manufacturing services to the pharmaceutical industry, specialising in handling challenging chemistries. With over 50 years' experience, the team can manage the most complex API and API intermediate challenges from proof-of-concept to commercial manufacture.
Sterling has four facilities; its HQ in Dudley, Northumberland, UK, two sites in the US, the first in Cary, North Carolina and the second in Germantown, Wisconsin, and now a bioconjugation and ADCs facility in Deeside, North Wales, UK.
For more information visit www.sterlingpharmasolutions.com.