Chitra Lele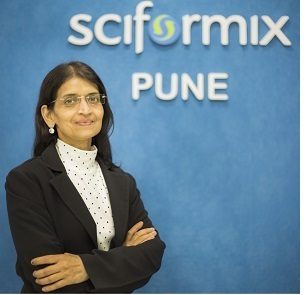 Chitra Lele is Chief Scientific Officer at Sciformix Corporation, with over 20 years of experience in the healthcare industry. She has been part of the company's leadership from its inception and has been instrumental in establishing and growing the organization. Prior to Sciformix, Chitra was Executive Director responsible for Indian operations of Pfizer Global R&D. With a PhD in Statistics from Stanford University, her prior experience includes work as a biostatistician in cancer epidemiology at both Stanford and University of California.
Company:Sciformix Corporation
Sciformix Corporation is a leading scientific knowledge-based organization that provides process, technology and consulting services  to the life sciences industry. We employ best-in-class strategies, technologies and expertise that accelerates business drives higher  levels of performance and fosters innovation. What differentiates Sciformix is our ability to integrate scientific and technology  expertise with quality driven processes to provide value to our clients throughout the entire drug development cycle. Our areas of  specialization include Safety & Risk Management, Clinical Research & Post-Approval Support Services, Regulatory Affairs & Regulatory Operations, and Technology Services. Corporate headquarters is located in Westborough, MA with operations in USA, UK, India and the Philippines.
We create value for our clients through our singular focus on the life sciences industry, strong pharmaceutical domain competency, exceptional subject matter expertise, uncompromising focus on quality, process rigor, predictable results, and ability to scale. Our portfolio of services spans the full spectrum of product lifecycle from pre-clinical and clinical to post marketing activities to help our customers solve complex analytical challenges, improve the quality of patient healthcare and increase client productivity.
Sciformix is dedicated to providing our clients outstanding services and solutions, fuelled by an unrivalled commitment to quality. We share the same level of involvement, dedication and passion as our clients and become an integral part of their team. Our distinct combination of scientific expertise, process rigor and technology innovation delivers consistent, reliable and insightful results. Our ability to scale and grow to meet your evolving needs means we are flexible and dedicated to your success in delivering safe products with more efficiency and greater speed. We help you make the right decisions at the right time by providing Trusted Services Built on Science.