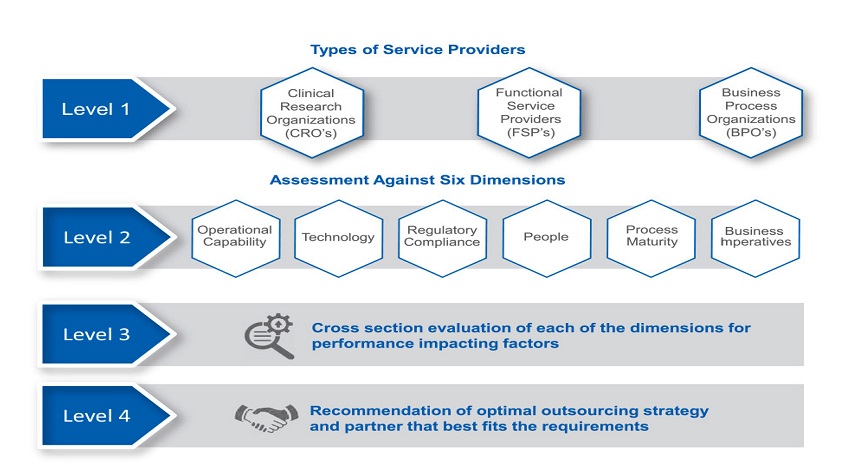 Life Science companies, both large and small, are seeking more strategic partnerships with vendors.
As they expand into new geographies, markets and regions, or consolidate operations due to mergers and acquisitions, specialised capabilities and regulatory knowledge are a critical consideration of their strategy.Ensuring product safety and a favourable risk:benefit profile is also of utmost importance whether it's for a single product or several hundreds of products. Strategic planning, sourcing and implementation of safety and risk management operations are multi-dimensional activities and an organisation's sourcing strategy would vary based on consideration of a number of factors as detailed in the below figure.
Factors Impacting an Organisation's Safety& Pharmacovigilance Outsourcing Strategy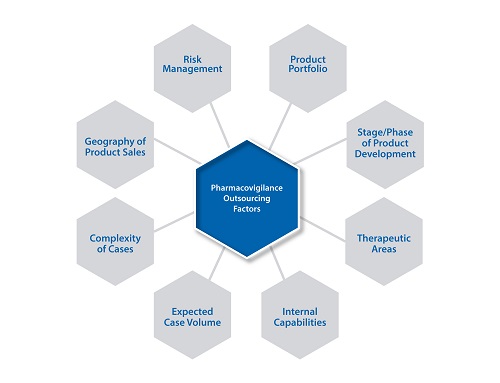 Alarge company may decide to outsource a few steps of the safety and pharmacovigilance (PV)activitiesthat the organisation classifies as largely process-driven and resource-intensive,and over a period of time, may choose to outsource the entire process from case receipt to submission. Smaller organisations with drug candidates in the pipeline typicallywork with several clinical research organisations (CROs),with their safety data in disparate systems. They may need help centralisingtheir data in a single database, andconsulting support to help them assess their safety operations needs and strategy. A mid-size organisation may take time to determine what aspects of safety operations should be kept in-house vs outsourced. The company would have to make a series of decisions on the details of the engagement,such as whether to begin with a pilot, how to migrate work to the vendor, how to manage the vendor, what Key PerformanceIndicators (KPIs) such as quality, cost, time and success metrics are critical to track. As a result, they may first seek consulting support to enable the decision-making.
Addressing the Business Need
The Outsourcing Framework for Safety Operations
APartner Assessment Framework enables companies to choose the optimal safety and risk management outsourcing strategy that aligns with their unique business needs. The framework helps companies to identify the right fit and determine the extent and volume of scale-up leading to a successful outcome of their outsourcing initiative.
A roadmap to outsourcing safety operations based on the maturity of an organisation's as-is state enablesthe development of a partner selection model that is customised to the specific needs of a company's product vigilance strategy. As a second step, the framework specifies quantitative measures to facilitate a seamless transition of operations to an outsourcing vendor and key milestones to ensure a successful outcome.
The Partner Assessment Framework (figure 2) includes an analysis of a company's overall safety needs by three broad categories of service providers: Contract Research Organisations (CROs), Functional Service Providers (FSPs) and Business Process Outsourcing companies (BPOs). Assessment is performed against the following six dimensions:
Operational capability
Regulatory compliance
Technology
People
Process maturity
Business imperatives
Each dimension in the framework includes 3 to 10 factors. Operational capability, as an example, addresses a number of factors including: the number of global sites/hubs for the PV team; competence to perform varied tasks associated within safety and risk management, such as literature research and review, periodic reporting, Company Core Data Sheet (CCDS)/label update, and signal detection. Process maturity, on the other hand, evaluates the extent to which processes are standardised and streamlined, employee productivity, employee training, etc. This multi-dimensional assessment allows a client to evaluate their processes against the industry baseline for safety operations and identify the next steps for scale-up of their overall operations. The key outcome of this kind of assessment is a recommendation for the optimal choice of sourcing strategy and partner organisation that best fits the requirements.
The Risk-Based Outsourcing Approach
A sponsor organisation's business model, current status and future plans determine its outsourcing approach. When it comes to safety, companies are especially risk-averse in their outsourcing decisions and a risk-based approach to outsourcing safety services could lead to very different outcomes for different companies.
A risk-averse approach for a company which has an in-house PV operations and safety team could mean that they gradually transition activities and/or products to a PV service provider and it may not be critical for the provider to have the scale and end-to-end expertise from the start. However, small companies which lack in-house capabilities will look to partner with a provider who can envision and setup the entire safety system and operations for them, inclusive of people, process and technology. This is the most risk-averse scenario and decision for these companies.
As PV outsourcing experience has matured over the past few years, companies have evolved in terms of how they approach outsourcing and what they expect. Some of the large pharmaceutical companies that were early adopters of PV outsourcing and off-shoring now want to work with more than one provider. Additionally, while scalability was an important factor for vendor selection the first time, capability to provide more domain-intensive safety services (such as aggregate reporting and safety surveillance) may play a prominent role in the selection of the second niche provider. Expectations around realising the benefits from process and automation/technology improvements are clear, from both large and niche providers.
Mid-sized companies have experienced a substantial increase in their PV needs as a result of their growth, expansion into new markets and the evolution of regulations across the globe. The sourcing decisions they made a few years ago may not be valid for them today. For example, they may want to assess whether an in-house or outsourced safety strategy would best suit their growingneeds. If some companies had chosen to partner with a niche, near-shore safety provider, increased volumes and greater need for more safety expertise may lead them to explore other options, including off-shoring, both for scale and skill, while controlling costs.
Small biotechnology companies are growing in number and theirconsiderations are often quite different from those of others in the context of a risk-based approach to fulfilling their safety and risk management needs. They may have a few clinical trials which are being managed by different CROs, inclusive of processing of adverse events. As their first product approaches the submission stage, they have to begin to thinkabout post-marketing safety. Thus, many of these companies may evaluate safety FSPs. They have to also decide whether to invest in their own database or host the data with the service provider, as well as how much of the domain intensive safety and risk management activities to outsource (e.g. signal detection, risk management plans, etc.).
Summary
Safety processes, along with their underlying technology infrastructure, are fundamentally very different and more complex than other clinical research processes (such as those typically outsourced and delivered from offshore providers). Even the simplest of activities, such as individual case processing, requires years of training to understand the mechanism of action of the drugs and to do the label and causality assessment accurately. For more complex activities, like aggregate reporting and signal detection, involving substantial subjectivity of decisions, the need for additional specialisation is even more critical.
Vendors with experience in providing end-to-end safety and risk management support to global life science organisations have sound understanding of all aspects of the safety continuum, as well as the interdependency between them.  A Partner Assessment Framework and methodology can be employed to determine the right sourcing model and select the right partner. A partner with the optimalcombination of tools, methodologies and best practices in safety operationscan ensure delivery of compliant, quality and consistent results to life science organisations.
For more information about the Partner Assessment Framework, please visit: www.sciformix.com