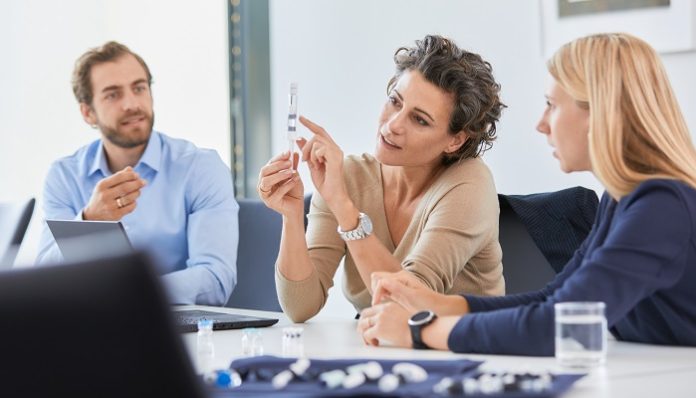 The drug manufacturing process is complex. It requires a methodical and detail-oriented approach to achieve efficiency and maintain high-quality outcomes, necessary for bringing a drug product to the market. Although every step from pre-clinical to phase III is necessary, the launch management of a drug has the most significant impact. It brings results to what is often years of development work and financial investment. Upon reaching this milestone, we must alter our focus from the development of the drug to the commercialization. In addition to this serving as the first opportunity to generate revenue for the customer, it is also one step closer to bringing lifesaving injectables to patients in need.
We have worked with numerous customers to support their launch management. As a result, our five-step process has proven its success time and time again and provides customers with the reassurance that their molecules are in the right hands to reach the "finish line". While every drug product is unique and brings its own individual needs regarding packaging, delivery, timeline and more, a proven process adds a much-needed layer of reliability.
As a Contract Development and Manufacturing Organization (CDMO), we partner with our customers to establish a solid launch management plan that meets their needs, as well as the requirements of the product. Working backward from a pre-determined launch date, a close-knit team of our launch management experts and the customer collaborate to move through the process step-by-step. Through the partnership with a launch manager and project manager, customers are guided through the entire journey and supported by the expertise of those with many successful product launches under their belts.
When considering the value of this expertise, it is vital to consider the external factors outside of a customer's control that could have a crippling impact on the launch management process. For example, our team is well-versed in monitoring potential active pharmaceutical ingredient supply issues, which can make or break the ability to stay on track with the timeline. Although CDMOs can't necessarily prevent or control these supply chain bottlenecks, we can prepare for them strategically and take precautionary steps to avoid significant interruptions later.
CDMO's like ours prioritize transparency, open communication, expertise, and collaboration throughout the process. Our time-tested launch management process offers customers the reliability and quality they expect and deserve to bring a drug product to market.
The process begins with a formal initiation during which all involved parties define a launch process and timeline. Shaped around the customers product launch plan, phase one allows the customer and CDMO to define a collaborative structure and discuss any notable requirements and expectations. By doing so, both sides of the team are on the same page right at the start of the launch management partnership. Although the team structure may seem clear with the CDMO and customer involved, it can be much more complex – incorporating those from quality control, demand management, supply chain management, packaging, and more. By clearly adopting individual roles and responsibilities, the risk of a lack of clarity later in the process is minimized.
Once the launch management has been initiated, it is time to launch kick off. It is now that we initiate product handover to the commercial team who will carry the product through the launch. This point also signals when the product officially shifts from project to commercial, requiring all parties to engage in key kickoff meetings for team-wide alignment. As the CDMO partner, we explain the launch management process in detail, giving launch teams a comprehensive overview of what can be expected. Following suit, we ask that the customer provides details of their product and their understanding of the process that has just been explained. As mentioned previously, this level of transparency is not only expected but required.
Together, the CDMO managers – both launch and project – and the customer, will agree on key milestones, goals, timelines, risk factors, and more. Upon acceptance of this plan, this phase can be deemed complete.
We now move into the launch phase, where we establish a commercial set-up. Creating a launch checklist allows the team to identify gaps, open actions, or status updates as the launch begins. This list follows the team throughout the launch, and paired with regular meetings, we maintain fluid lines of communication with the customer every step of the way. As with any process that involves external factors, we advise evaluating best- and worst-case timelines to accurately forecast a time-range for the official commercialization. This flexibility is highly appreciated by customers when unforeseen or unpredictable circumstances arise. As milestones are achieved, the checklist items can be marked complete, and when obstacles arise, the entire timeline can be consulted to account for the impact of these delays.
It is then time to shift to the step that the customer has likely anticipated for years – the first commercial fill. We officially begin to manufacture the first commercial batch, which marks the completion of the product's transfer from project to commercial. By now, most of the checklist should be complete, including confirming that necessary packaging materials are available, training all involved personnel, and preparing for the required shipping processes.
Following a successful fill, we reach post-launch. The combined team of the CDMO and customer officially close down the launch management project and pass the product solely to the commercial team. This is now the time when steps are taken to strengthen this step-by-step process further. Through mutual education, we learn how the customer feels and how we can further optimize the process for the next launch, while the customer learns how to better get their product to launch for next time. In many cases, the filling partner can also improve its processes through this phase.
Though the project team conducts lessons learned and is doing a full project close down, the commercial team remains fully involved in monitoring performance results and collecting data, forecasting and making capacity reservations, reviewing the business, and managing the high-quality delivery expected by our customers.
With numerous customers successfully passing through our walls and reaching the market via our 5-step launch management process, we serve as a leading fill-finish CDMO for injectables, whether in vials, syringes, cartridges. Our launch management process is proven and constantly improved to support the customer's journey to market effectively. This process is not only as predictable as it can be given external factors, but also one that can be planned and counted on. It brings us back to reliability – what our customers look to us to provide and what we pride ourselves on. The reliability of this step-by-step guide has supported customer success for decades and will continue to do so, whether in this form or a future adaptation.