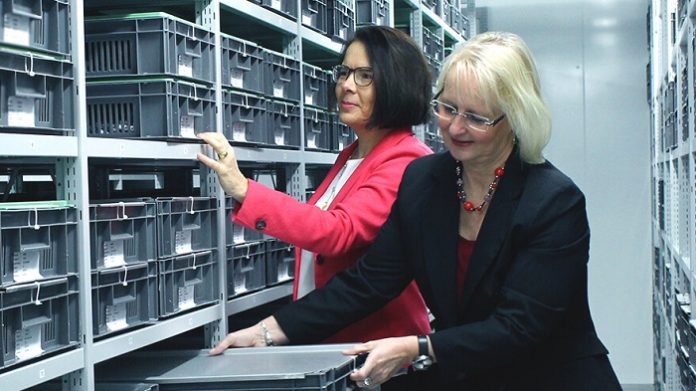 From complex and high-sensitive substances to vaccines and biotechnologically produced proteins, production of drug products requires a high-level of expertise to cover all of the necessary processes prior to independent completion of the final product.
A major challenge is the completion of stability studies to support each step of development for an API and drug product. During development, evaluation is conducted with the help of well-designed stability studies, for example, with packaging material where excipients and production process parameters combined, lead to a stable product. Afterwards, the data is compiled to generate the expiration date and, finally, to obtain the market authorization. The expiration date identifies the period in which a drug product can be used and marketed.
For Pharma and Biotech companies it is crucial that regulatory requirements such as the ICH Guideline (International Council for Harmonisation of Technical Requirements for Pharmaceuticals for Human Use) are followed during the studies. According to these guidelines, the purpose of stability testing is to provide evidence on how the quality of a drug product changes over time under the influence of a variety of environmental factors such as temperature, humidity and light. They are also used to establish a re-test period for the active pharmaceutical ingredient or a shelf-life for the drug product at the recommended storage condition.
There may be times when small and medium-sized pharma and biotech companies lack the knowledge, storage and lab capacity necessary to cover all the processes ranging from correct storage of the stability samples to establishment and performing of all required analytical test methods, statistical evaluation of the data and the fulfilment of regulatory requirements.
Stability studies are carried out during the entire life cycle of a product beginning with the first development of the API through to process validation of the drug product. Even drugs that are already on the market have to be placed on stability at least on an annual basis to fulfil the GMP- requirements.
Wide-ranging tests for reliable results
The stability studies usually last between two and five years. During development, the studies are much more compressed to support landmark decisions. The stability samples are stored in so-called 'stability rooms' under different climatic conditions (temperature (° C) and relative air humidity (RH)). During storage of samples in these rooms, how the quality of a product changes over the specified storage period at different storage conditions by means of a complex inspection program are analyzed. For example, the content of the API, degradation products or the appearance of the solution can be affected. For example, does it stay clear or change color over time? Depending on the previously defined requirements, for example, the functionality of te injection system (gliding forces, integrity of the system etc.) is also checked. The tests are determined at different points in time (previously scheduled for the entire study period).
Samples are often stored under several storage conditions to accelerate results. Samples must be stored, transferred or retrieved at predetermined times for the respective analysis. In addition, it is essential to correctly interpret the results by statistical evaluation.
Procedure of a stability study (simplified)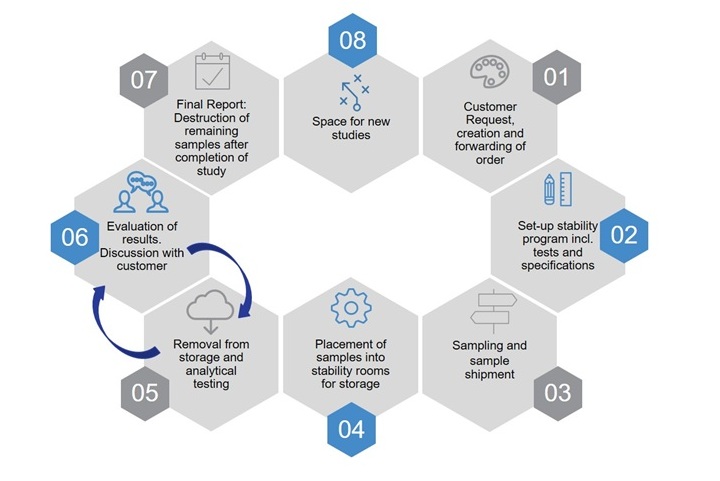 Increasing complexity requires an experienced and flexible partner
The demand for stability studies is consistently increasing due to rising complexity and regulatory requirements. Vetter is an experienced full service provider known for high quality support to the customer during development and life cycle management of their drug product. Vetter has been offering this service to its customers since 1996 with a dedicated Team of highly experienced Project Managers and Experts for Stability Studies. Vetter offers storage space of more than 700 m² with various storage conditions available. Additional storage space is also planned. To fulfill all requirements of our customers in a highly flexible manner, Vetter uses stability chambers and rooms which can be flexibly adjusted to a customer specific storage condition.
Pharma and biotech companies can choose the scope of the services they need. They can also request that the entire study be carried out at Vetter, including sample storage and the corresponding analytical testing. Customers who store their drugs for the stability studies on their own premises can also make use of individual tests Vetter offers in our labs. For example, they can send samples to Vetter to perform the sterility test, avoiding the need to implement this test on their own. The advantages are obvious. With a strong full-service provider by their side, pharmaceutical and biotech companies can focus on further product development while an experienced CDMO manages their stability studies.