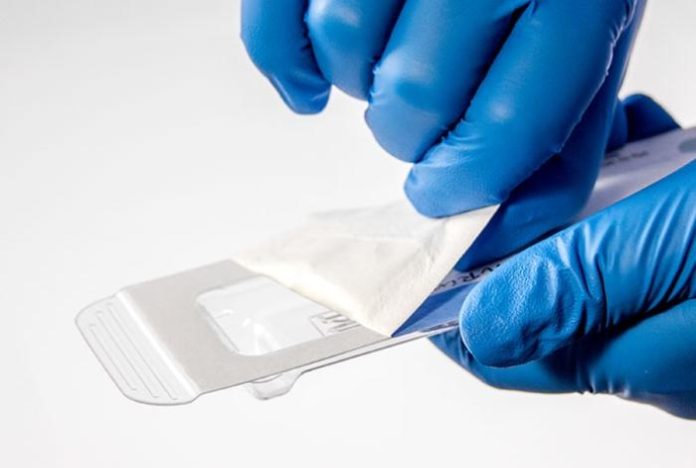 Design validation is a critical regulatory requirement, which if done systematically, sets a strong foundation in the success of launching a new medical device to market, while ensuring that the device meets user needs.
In the last article "Building a Solid Foundation" we discussed the different areas a packaging engineer would need to consider when packaging a device to ensure that the integrity of the sterile barrier is maintained throughout distribution to point of use. The next step would be to examine the process to ensure its capability to consistently deliver quality products.
ISO-11607 and Validations in Sterile Barrier Systems
Process validation on the other hand, focuses on the manufacturing of the device. It demonstrates that the output of the processes in medical devices manufacturing consistently meets pre-established quality specifications. ISO 13485:2016 specifies that "[t]he organization shall validate any processes for production and service provision where the resulting output cannot be verified by subsequent monitoring or measurement".
ISO11607-2; 2019 specifies requirements for the development and validation of processes for packaging medical devices that are terminally sterilized. Section 5.1.2 says '[p]rocess validation shall include, at a minimum, an installation qualification, an operational qualification, and a performance qualification in this order'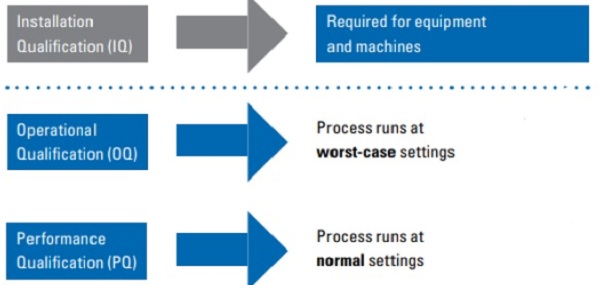 Typical elements of process validation
All packaging sealing equipment and machines in the manufacturing process need to have an Installation Qualification (IQ). IQ includes verification of equipment design features, installation conditions such as electrical and mechanical features, safety features, manufacturers documentations such as manuals, specifications, drawings and prints, software and firmware specification etc. Successful completion of IQ concludes that the equipment is installed and functions as per the manufacturers' specifications and requirements. This process is a prerequisite for Operational Qualification (OQ).
OQ identifies the upper and lower limit of critical sealing parameters for a specific Sterile Barrier System (SBS) for which the installed equipment will be used to create seals for. OQ demonstrates that the particular SBS will consistently meet the predetermined specifications such as seal strength, seal width etc., at both the lower and upper manufacturing process limits to ensure full integrity of the SBS produced at these limits. OQ is a prerequisite for Performance Qualification (PQ).
PQ is a process of establishing by objective evidence that the sealing process at nominal sealing conditions, usually the center points of the OQ lower and higher limit, will consistently produce a product, in this case, an integral SBS, that meets all predetermined specifications. PQ includes consideration of different variables anticipated under normal manufacturing conditions such as, but not limited to multiple lots of materials, multiple operators, equipment stop and start-ups etc. PQ also includes usage of actual or simulated device or contents; unless a documented rationale is in place justifying that they are not required. Successful completion of PQ concludes the sealing process validation activities after which the manufacturer can proceed to initiate commercial operations for that particular SBS.
Design of Experiment
ISO 11607 part 2 under section 5.1.3 recommends consideration of process development as an integral part of the sealing process. Process development helps to assess and evaluate variables and deviations during a sealing process such as operating ranges, settings and tolerances for the critical sealing parameters. This assessment lays a strong foundation for OQ and PQ. A widely used tool for process development is Design of Experiment (DoE).
DoE is a commonly used approach in many industries to model the relationships among the variables in a system. It is a statistical tool used in validation to challenge a system and identifies the factors to control.
In the case of a heat-sealing process for a particular SBS, DoE is a set of statistical approaches used to model the effects of temperature, time and pressure on heat sealing of two materials, which constitute the SBS. Every approach uses a unique set of variables and multiple sets or runs are conducted and tested for various outputs such as seal strength, seal width and more to eventually identify the critical process parameters for OQ and PQ resulting in an optimized manufacturing sealing process.
Building quality into the product at every step
Quality is an imperative prerequisite when considering medical devices.
Process validations provide a high degree of assurance during every step of the manufacturing process. These validations ensure that each products manufacturing parameters and outputs have been vetted, and any deviation thereof will drive the necessary actions to ensure product quality and consistency before reaching the market.
In the case of SBS, a robust process validation not only ensures that the equipment is installed and functions as per the allotted parameters established, through the DOE it also defines the sealing parameters and the optimal window to achieve a good seal. With a solid process validation in place, manufacturers can be assured that their medical devices are kept and protected in a sterile environment through the supply chain till the point of use.