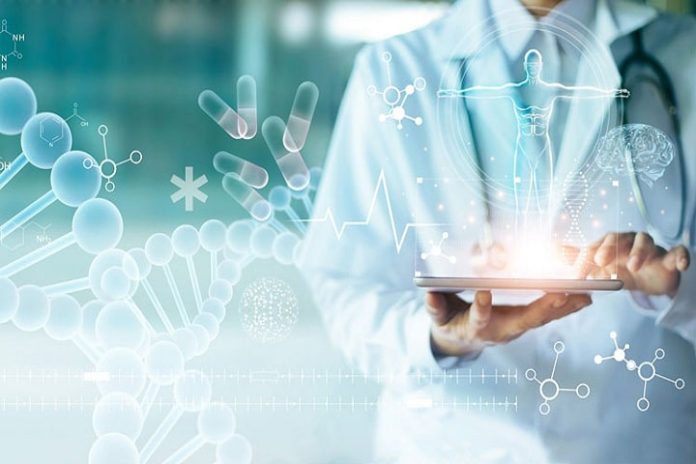 Pharma is at the cusp of third industrial revolution. The first occurred in the late 18th century with the move from agrarian and handicraft-based societies to machine manufacturing. The second occurred in the early 20th century when companies could harness electricity to power mass assembly lines. The third industrial revolution is one of automation, where information technology and electronic devices (e.g. transistors in the beginning and integrated circuit chips later) optimised processes, enhanced productivity and enabled a real-time decision making with faster work execution and quicker problem solving. This led to increased productivity, reduced downtimes and improved shop-floor compliance.
Industry4.0 has been drawing attention from governments, researchers and industries with its potential to revolutionise the industries to the next level.According to Deloitte Insights:"The term Industry 4.0 encompasses a promise of a new industrial revolution—one that marries advanced manufacturing techniques with the Internet of Things to create manufacturing systems that are not only interconnected, but communicate, analyze, and use information to drive further intelligent action back in the physical world." [1]
Traditionally pharma and biotech industries have been slow adopters of new technologies. Although recently there has been a lot of push towards Pharma 4.0, today's big question is, how Industry4.0 would gain acceptance of pharma in the post COVID era?
To me, moving to Pharma 4.0 is a necessity, not an option; and this would be truer in post COVID world.Here's why…
Pharma 4.0 would reshape the Future:
A key learning from this crisis is, manufacturers are still too much dependent on human skills and manpower-intensive value chain. This resulted in unprecedented disruption of manufacturing and supply chain due to execution of lockdowns and social distancing norms in many parts of the world.After dealing with this, as soon as the manufacturers would move to post-crisis business-as-usual, they would look for building efficiency and productivity in their systems andtry to build more resilience for business continuity in future.
Driven by the ever-increasing demand for high quality medicines, along with tight regulatory controls and stiff market competition, pharma and biotech manufacturers must adopt new technologies to enable better process controls,minimal human errors and improved line productivity. Pharma 4.0 technologies enables a continuous real-time monitoring of processes, where any drift away from set parameters can be predicted and rectified before it surpasses the control-limits, causes a deviation or down time,and prevents any product loss.
Over the last few decades, with the introduction of IT-systems and increasing use of robotics in pharma, individual process equipments are capable of self-detecting some of the failures with minimal operator intervention; however, they are still not able to predict failures. In a Pharma 4.0 environment, these self-conscious components can appraise on their own condition, indicating how much useful life they are left with, and predict when they are likely to fail. This saves a lot of productive time from breakdown maintenance.
With increasing globalization of the pharmaceutical industry, products are manufactured from around the world and marketed worldwide. As a result, the entire value chain is becoming increasingly complex and difficult to manage; more so with travel restrictions and apprehensions related to it.An integrated auto-managed system of Industry 4.0 allows efficiently managing the production planning,inventory controls and demand supply with interconnected functions.This would also leverage the remote audits of overseas facilities which most of the regulators and vendor audit teams are look for as a preferred option for future.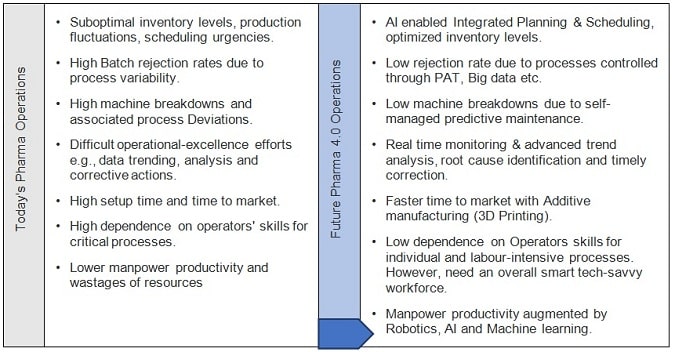 Today's Pharma Operations Vs. Future Pharma 4.0 Operations

Dealing with Roadblocks:
What are some of the challenges? For one,obviously manufacturers will have to invest in upgrading legacy systems to more digitised systems;whereas,immediate priority for any manufacturer would be to stabilise their businesses with minimum investment. However, going forward this move will enable a number of positive results, including higher productivity, reduction in downtime and improved process control and compliance levels.In turn, this will bring down operating costs.
Data integrity will continue to be a challenge for the industry. With Pharma 4.0, decisions will be made in real time, based on the processing big data through artificial intelligence (AI)and other algorithmic tools. Hence, data integrity guidelines and ALCOA+ principles will be critical and will require adopting best practices for creation of system architectures throughout the entire data lifecycle, to achieve data integrity by design. A carefully designed system will protect itself by auto-analysing the captured data and triggering alerts about any noncompliance or failures.
Another challenge will be growing the skills of the existing workforce and acquiring skilled workers familiar with Pharma 4.0 technologies. One way to address this challenge could be to build an in-house academy with competent trainers or working with universities to offer courses on data science or Industry 4.0to bridge this knowledge gap.
Lastly, pharma will hesitate to move ahead with Pharma 4.0 due to the lack of clear regulatory guidelines.Collaboration between industry and regulators will be key to greater adoption of Industry 4.0 technologies. To address industry concerns, three years agothe U.S. FDA CDER Office of Pharmaceutical Quality rolled out the Emerging Technology Program to promote the adoption of innovative approaches to pharmaceutical product design and manufacturing. Through this program, industry representatives can meet with Emerging Technology Team (ETT) members to discuss, identify and resolve potential technical and regulatory issues related to implementation of these new technologies.[2]
Conclusion:
Although pharma and biotech will remain slow adopters of new technologies, especially in the post COVID era; Pharma 4.0 will gain impetus with increasing application of cloud computing, big data and AI in its entire value chain. As pharma increasingly adopts Industry 4.0 technologies, it will drive a paradigm shift in manufacturing,and digitally smart factories will evolve. It will gain better resilience to disruptive forces of future.This paradigm shift however, will call for strong collaboration among industry, academia and regulatory bodies.
Nevertheless, pharma continues to move towards an exciting era with a plethora of opportunities to ensure better patient care across the globe.

References:
1. Deloitte Insights. https://www2.deloitte.com/us/en/insights/focus/industry-4-0.html
2. https://www.fda.gov/about-fda/center-drug-evaluation-and-research-cder/emerging-technology-program