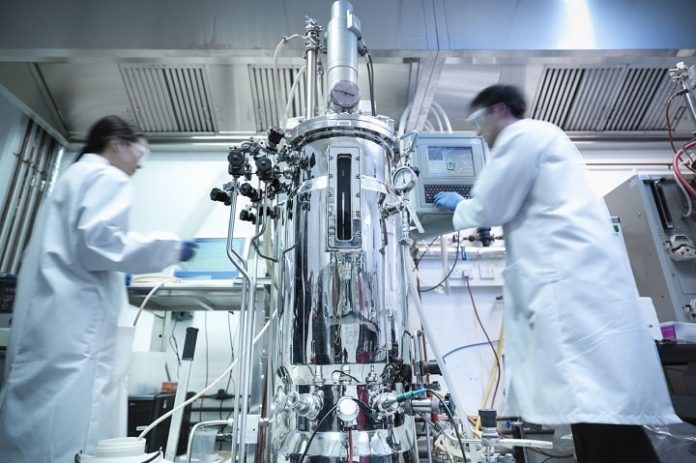 Introduction:
Quality control laboratories play a vital role in pharmaceutical manufacturing, from the evaluation of raw materials through to the release of the final packaged product. They are pivotal in ensuring the safety and efficacy of products administered to patients. As the complexity and testing requirements of pharmaceutical manufacturing increase, laboratories face growing pressure to improve operational efficiency, better manage and allocate resources, and ensure they deliver real business value. All within a highly regulated operating environment in which there are ongoing concerns about data integrity[1].
Modern laboratory information management systems (LIMS), tailored to the needs of pharmaceutical manufacturing and quality assurance/quality control (QA/QC) laboratories, are proving to be a powerful force in enabling the industry to meet these challenges. Capable of integrating multiple functions and processes, these systems reduce reliance on off-line methods and manual transcription for managing, tracking and applying the large volume of data generated as part of manufacturing processes. As a result, laboratories can more easily identify cost reduction strategies, while meeting regulatory standards and ensuring the security of their data.
The following exploration of the role of LIMS in pharmaceutical QC is informed by the recent experience of the Shanghai ZhongxiSunve Pharmaceutical Company (ZhongxiSunve) in moving from predominantly manual processes to a centralized LIMS.
Information Management in Quality Control
According to the FDA, "The pharmaceutical quality control laboratory serves one of the most important functions in pharmaceutical production and control.A significant portion of the CGMP regulations (21 CFR 211) pertain to the quality control laboratory and product testing." [2].
The QC laboratory is therefore central to pharmaceutical manufacturing. The testing it conducts confirms product quality and the reports it generates provide the documentary evidence. Enormous amounts of data are generated as the result of testing at various stages of manufacturing and these should reveal whether quality has been sustained throughout the process. Unsurprisingly, QC laboratory data is the subject of intense regulatory scrutiny since any errors might result in the manufacture of products that may be ineffective or threaten patient safety. Such data may also be indicative of the transparency of a company's systems.
The integrity (completeness, consistency and accuracy) of QC data is critical. It should be attributable, legible, contemporaneously recorded, original or a true copy, and accurate, as well as complete, consistent, enduring and available (ALCOA+) [3]
With often multiple laboratories, disparate instruments, and varied workflowsinvolved, data management to the required standards is challenging. As a result, companies are increasingly implementing LIMS solutions that take full account of the specific requirements of pharmaceutical manufacturing, supporting both quality assurance and helping drive continual process improvement.
QC data should be attributable, legible, contemporaneously recorded, original or a true copy, and accurate, as well as complete, consistent, enduring and available (ALCOA+)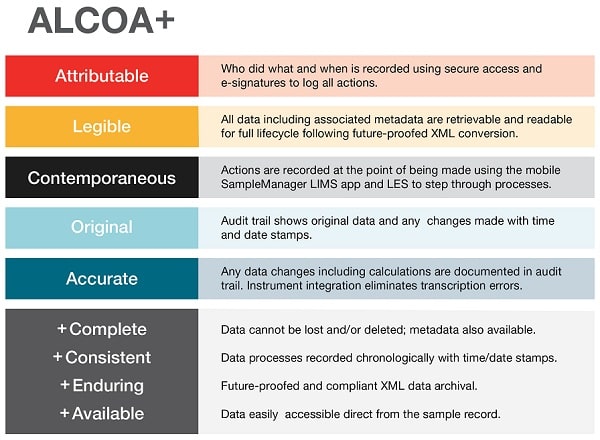 Traditional Information Management and its Limitations
Within the pharmaceutical industry there remains some reliance on spreadsheets and manual transcription of data to manage the information generated in QC testing. The many inherent drawbacks and compliance risks are prompting companies, such as ZhongxiSunve (Shanghai, China), to invest in digital systems designed to drive informatics in production and quality management. Historically, ZhongxiSunve used a "human-based" management model that relied on written testing data, paper-based data storage and transmission, manual assignment of tasks, and manual tracking of progress. This model generated vast quantities of data that had to be transcribed via highly error-prone manual processes. Complex paperwork storage, difficulties in searching the data and all the inefficiencies involved in moving through the various steps were compromising laboratory effectiveness.
While for many companies, paper-based approaches are already a thing of the past, their replacements may be a range of digital systems, which increasingly require greater integration. Modern LIMS that are designed for pharmaceutical manufacturing and QA/QC laboratories bring together every element of the laboratory, data and process management.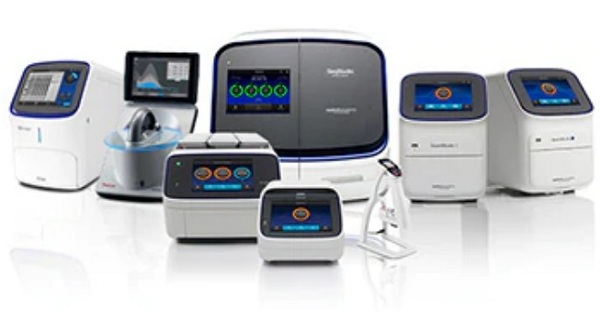 For ZhongxiSunve, which has three separate production facilities, multiple laboratories and many testing personnel, the desire to construct an intelligent manufacturing system was fundamental to the implementation of integrated digital systems in their laboratories. They aimed to achieve leanness, automation, information readiness, smartness and greenness, all goals that are designed to underpin business growth. The company also wanted to adopt cGMP standards across the entire organization, provide continuous training for employees, strengthen compliance awareness, and continually improve products and services.
The decision to move to a centralized LIMS was made for three main reasons: to be able to track and trace data quickly to make its laboratories more compliant; to have the ability to quantitatively assess all laboratory resources through a digital system for effective resource management; and to access and analyze QC data in real time to enable scientific management of the data. A LIMS solution was an essential choice for business growth that could help overcome data storage complexities, inconveniences in tracing, high quality management costs and high compliance risks.
Addressing Complex Information Challenges
Laboratory functions are often managed using a variety of tools. These can include Lab Execution Systems (LES) that drive laboratory procedures, and Scientific Data Management Systems (SDMS) to integrate instruments across the facility and centralize data capture. Many LIMS will operate alongside these to enable organizations to see how their lab is operating and identify any data trending towards warning or failure. However, there is growing demand for a more unified approach to laboratory and data management.
To meet current needs, acomprehensivesolution must provide a complete informatics infrastructure that brings togetherLIMS, SDMS and LES. Having all these capabilities within a single system simplifies training and administration, streamlines compliance, offers better overall quality control, and can be executed across different geographies and partnerships for more holistic management.
With LIMS, SDMS and LES software, organizations can integrate everything from laboratory instruments and equipment to enterprise systems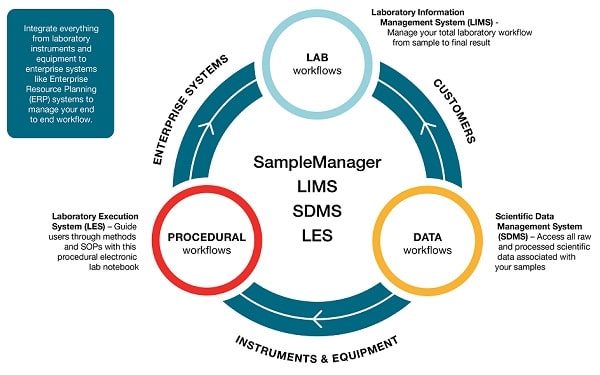 Having identified the need for a scalable, flexible solution that could be implemented in more than one site and tailored to suit different project requirements, ZhongxiSunve had additional demands that influenced its choice of supplier. They needed complete confidence in the professional advice, 24/7 global support and service they would receive, and wanted to be able to draw on the vendor's pharmaceutical industry experience. The implementation of their chosen system (Thermo Scientific SampleManager LIMS software, from Thermo Fisher Scientific) has been in two phases: phase 1 to develop sample life cycle and laboratory management, and phase 2 to develop electronic experiment records and instrument connectivity.
The system was deployed centrally using a virtual platform, with the server located at one of the company's facilities. Before phase 1 implementation, vendor and customer teams worked closely together to define all business processes, such as sample testing, supplies/reagents, instrument management and specific coding rules, together with definition of software and hardware resources relevant to the server. Collaboration between the vendor's service teams and the customer's quality directors, QC managers and laboratory workers at each facility was essential to confirm project plans, arrange training, and verify and analyze needs. System configuration and design, "double-track" operation, and user acceptance testing (UAT) confirmation and validation programs were followed by a test run period. The system became fully operational in January 2019.
The expected benefits of the LIMS implementation are now being achieved. Purchasing from a single vendor meant there were no technical barriers to implementation and fewer technical support costs. The system can retrieve data from the diverse range of laboratory instruments that are in use and make that data available to the whole organization. This makes data searching convenient and enables online management of laboratory resources.
Organizations can benefit from standardizing on a single, connected informatics solution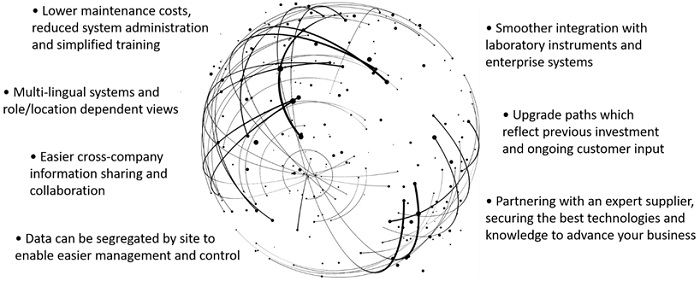 A significant reduction in repetitive manual work minimizes the risk of human error across the organization. Additionally, more effective transmission and sharing of information makes task workflows, data analysis and data application more efficient, while enhancing data integrity. Overall quality-related costs are reduced and quality management standards enhanced.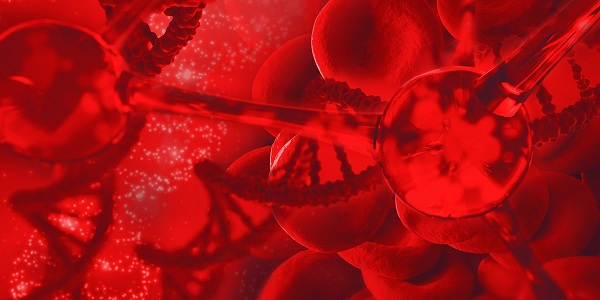 Moving Towards Better Methodologies
With the ability to integrate the management of multiple processes and securely handle very large amounts of data, a modern LIMS solution provides the tools that pharmaceutical QC laboratories need to fulfil their crucial role in ensuring product quality and supporting the business goals of the organizations they serve.
A comprehensive LIMS solution not only streamlines disparate analytical workflows and data output within and between laboratories, ensuring the availability and integrity of the data produced, it also enables laboratory personnel to make informed choices in areas such as workflow, instrument integration and reporting. The insight and control that this integration delivers means easier and more effective decision making for better time efficiency, resource allocation, cost reduction and regulatory compliance.
QC laboratories are integral to the success of any pharmaceutical manufacturing organization. A comprehensive, workflow-driven LIMS delivers the rigorous processes and operational agility that laboratories need to help deliver business success in today's challenging regulatory and economic environments.
References

"Data Integrity and Compliance with Drug CGMP, Questions and Answers, Guidance for Industry." US Food & Drug Administration, December 2018. https://www.fda.gov/media/119267/download (Accessed March 1, 2020)
"Pharmaceutical Quality Control Labs (7/93): Guide to Inspections of Pharmaceutical Quality Control Laboratories." US Food & Drug Administration, Information current as of 11/13/2014. https://www.fda.gov/inspections-compliance-enforcement-and-criminal-investigations/inspection-guides/pharmaceutical-quality-control-labs-793 (Accessed March 1, 2020)
Schniepp, "ALCOA+ and Data Integrity," Pharmaceutical Technology 43 (10) 2019.http://www.pharmtech.com/alcoa-and-data-integrity (Accessed March 3, 2020)