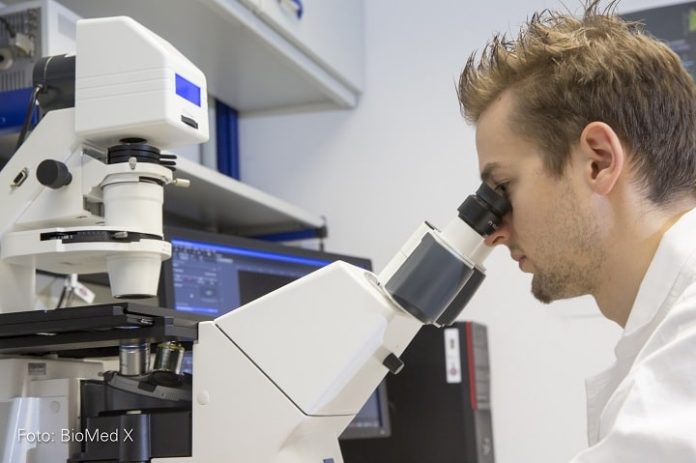 Introduction: As the complexity of pharmaceutical research and development increases constantly, its innovation productivity defined as the successful approval and launch of truly novel drugs and therapies, has declined since years. To boost its innovation productivity,the pharma industry has realized the need to intensify collaboration with bright minds around the globe to access inspiration and ideas. A driving force for creativity and innovation and an already proven approach in this context is the outsourcing of research challenges and the collaboration with highly specialized innovation centers.
Industry and academia agree that the translation of research results into new therapies is still inefficient. New approaches especially in pre-clinical research are needed to make results tangible, reproducible and finally applicable for the benefit of patients.
The BioMed X Institute, located at the biomedical innovation hub in Heidelberg, Germany, has been pioneering this path especially in biomedical pre-clinical research and offers pharmaceutical companies a unique innovation model: The combination of active global crowdsourcing of the worldwide best research talents with local incubation at the campus environment of the University of Heidelberg in the South of Germany.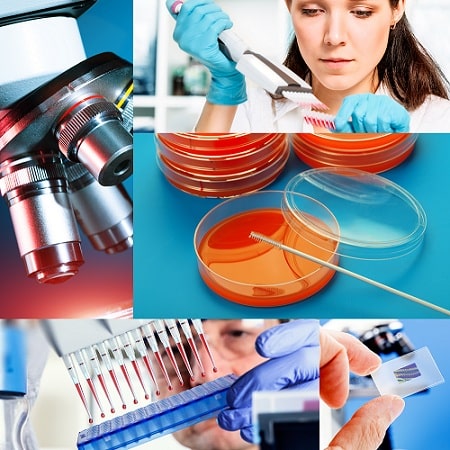 Industry and academia agree that the translation of research results into new therapies is still ineffucient. New approaches especially in pre-clinical research are nedded to make results tangible, reproducible and finally applicable for the benfit os patients.
Dr. Christian Tidona, founder, Managing Director and 'backbone' of the BioMed X Institute describes its business model and mission as follows: "We link the best of both worlds – academia and industry – and combine free, creative and curiosity-driven research with the solid validation of results, timelines and deliverables, as required by the pharmaceutical industry." Tidona continuous: "Working at the interface between academia and industry we serve a large purpose in advancing translational medicine."
Currently big pharmaceutical companies like Boehringer Ingelheim, Merck and Johnson & Johnson are financing and running eight research projects with the BioMed X Institute. The variety of these projects ranges from chronic lung diseases, such as COPD or idiopathic pulmonary fibrosis up to psychiatric diseases, like depression or schizophrenia. Projects are also carried out for very complex diseases such as cancer or autoimmune diseases such as multiple sclerosis, inflammatory bowel disease, systemic lupus or rheumatoid arthritis.
"With our unique innovation model, we are able to solve two big problems of pharmaceutical companies at the same time: The outsourcing of pre-clinical research in high-risk exploratory fields and the targeted identification and recruiting of the world's best academic research talent for this purpose." Tidona adds.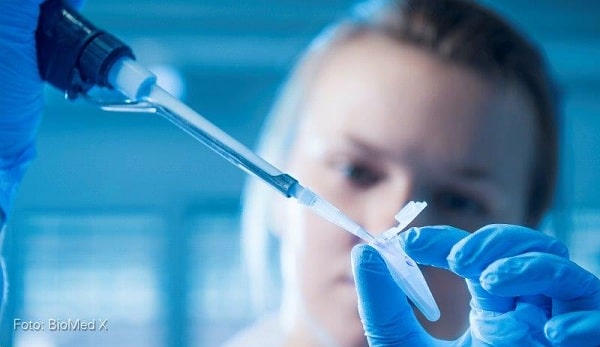 Everyday life of the BioMed X research teams on the campus of the University of Heidelberg in Germany.
How to attract the top scientists of the world
To jointly work on an outstanding tough pre-clinical challenge, pharma companies sign on with the BioMed X Institute. In a second step BioMed X posts this challenge on its automated online crowdsourcing platform at apply.bio.mx where talents can register and receive an email as soon as a call for application is published.
"Starting BioMed X in 2013, I quickly realized that it is not enough to grow local innovation systems organically. In order to create a world-class 'innovation honeypot', as I call it, we need to actively identify the top scientists of the world and physically relocate them and their families to a specific location. With BioMed X's global crowdsourcing platform, we are able to identify and attract the best early-career researchers at the world's best universities and research institutions who are interested in making a real impact for the benefit of patients." says Dr. Christian Tidona.
For BioMed X, the future 'innovation honeypot' is the campus environment of the University of Heidelberg in Germany. Heidelberg is the largest biomedical research hub in Europe, and home of famous institutes such as the German Cancer Research Center (DKFZ) and the European Molecular Biology Laboratory (EMBL).
The large technology park on the campus of the University of Heidelberg hosts around 100 small and medium-sized biotech companies, including BioMed X. Being on campus offers the BioMed X research teams access to state-of-the-art academic research infrastructure. There are more than 20 other local institutes focused on biomedical research with over 15.000 jobs and 16.000 students in life sciences and medicine.
So, it is no wonder that BioMed X receives up to 500 project proposals on a single call for application via its crowdsourcing platform. Early-career scientists are applying from up to 80 countries all over the world. The 15 most promising talents are selected by an evaluation committee and invited to a five-day boot camp in Heidelberg. The winners of this intense boot camp win a research grant of up to five million euro and a two- to five-year research fellowship at the BioMed X Institute in Heidelberg.
"The local campus ecosystem in Heidelberg is a very dense biomedical research environment, and this is what helps us to attract the world's best talents;they need a vibrant academic environment with lots of institutions, core facilities and student life." Dr. Christian Tidona says.
When building the research teams, top researchers with very different scientific and cultural backgrounds are mixed to leverage synergies and foster cross-pollination for the best possible results. Tidona states: "Diversity in every aspect is our source for real innovation and therefore sharing ideas and helping each other is key at BioMed X. The teams live and work in an open innovation atmosphere using a joint lab facility on the campus of the University of Heidelberg. They work under the guidance of experienced mentors from academia and industry, while expanding their scientific network and receiving training in entrepreneurship and leadership."
Open innovation as a proof of concept
At the end of each project, the sponsoring pharma partners can freely decide whether they want to acquire all the intellectual property that came out of their project by paying a pre-negotiated fee. For BioMed X, a project is successful when the pharma partner decides to internalize the generated intellectual property into its pipeline and then uses that for the development of new drugs and therapies.
In the nearly seven years since its foundation in 2013, BioMed X was very successful: The new institute started 14 research groups, relocated more than 100 research talents from over 30 countries to Heidelberg and completed seven research projects of which six were transferred to the sponsoring pharma partner, including all data, materials and intellectual property rights. Not to mention the over 40peer-reviewed scientific publications and around 50 bachelor, master and PhD theses that were successfully completed at the institute.
With BioMed X and its team, Dr. Tidona has a clear vision: "Like in other industries such as information technology or electronics, it takes new business models to disrupt the current state of the pharma industry and to lay the groundwork for a new generation of drugs and therapies! With BioMed X in Heidelberg, we are in the successful process of creating a strong local ecosystem in which disruptive innovation can happen. We attract and physically relocate the best of the best research talents to the Heidelberg campus and allow them to cross-leverage and cross-pollinate their ideas. We prove that it is possible to build a highly productive innovation ecosystem with a development strategy that is competitive on a global scale and has the potential to generate long-term impact." To maintain this path of stable growth and to scale the business model geographically, BioMed X's near future goal is to also attract a more diverse group of project sponsors, like foundations and patient advocacy groups, in addition to the big pharmaceutical companies.
BioMed X Team EPD: Early Intervention in Psychiatric Diseases
At the beginning of the year 2020, the BioMed X Institute started its most recent joint research program in collaboration with Boehringer Ingelheim. The diverse group of five early-career scientists investigates myelination deficits of the adolescent brain in connection with the development of schizophrenia.Normal brain development involves the proliferation and migration of cells that occur mainly during prenatal life, as well as the arborization (circuit formation) and myelination that take place in childhood and adolescence during the first two postnatal decades. Therefore, childhood and adolescence represent a critical phase in the development of psychiatric diseases such as schizophrenia. Therapeutic pharmacological interventions during this period of change in brain structure and function could normalize brain maturation and prevent disease progression.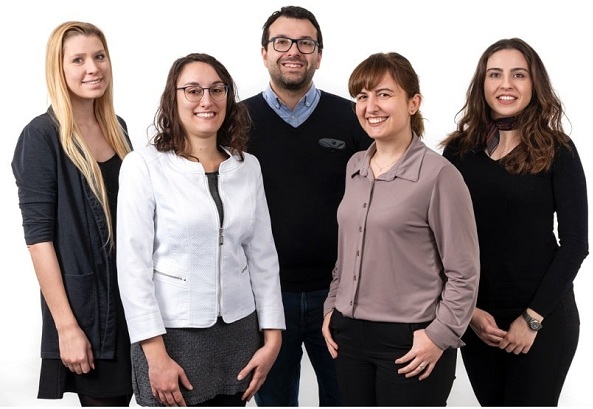 The team behind the EPD project at the BioMed X Institute (left to right): Martina von der Bey, Dr. Silvia De Cicco, Dr. Federico Tinarelli, Dr. EbruErcan-Herbst (research group leader) and Raquel Moll-Diaz
Schizophrenia as a neurological developmental disorder shows aberrations not only in the structure, wiring and chemistry of multiple neural systems, but also in myelination. And these changes occur long before clinical symptoms of the disease appear in early adulthood.
In an up to four-year research project, the team hopes to decipher the causes of theseso far unexplored myelination deficits. The goal is to develop in vitro and in vivo platforms to study oligodendrocyte development and myelination and to use these platforms to identify extrinsic (neuronal) and intrinsic (oligodendrocytic) factors that influence myelination in schizophrenia.