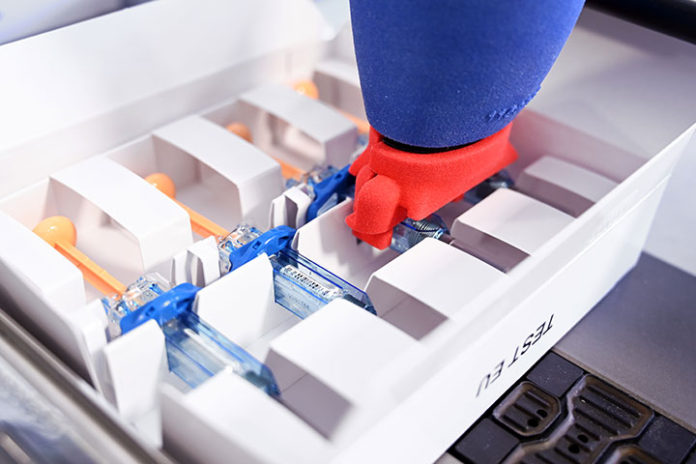 How to seize market opportunities while navigating the requirements of both drug therapies and delivery devices
The global biopharma market has recently experienced a remarkable period of evolution and expansion. In that time, parenteral medications have become one of the industry's most important innovation and growth drivers.
Fueled by a continuing shift toward at-home, self-administered care – an established trend accelerated by the pandemic – the rapid surge in demand for injectable therapies is set to continue in the coming years. Between 2020 and 2027, sales of parenteral medications are projected to expand from 53 to 57% of global market volume, with most of those gains taken away from oral drugs.[1]
But with that growth comes changing expectations. As many more drug developers are discovering, demand for injectable therapies isn't simply growing: it's shifting rapidly toward products that maximize patient-centricity and support value-based at-home care models.
For manufacturers, this shift means that sustainable market success often lies beyond conventional vial- and syringe-based formats. Today, optimizing injectable therapies for convenience, simplicity, and safety means ultimately converting them to patient-friendly formats such as pens, autoinjectors, and wearable delivery devices—an undertaking that adds multiple layers of complexity to the fill-to-finish workflow. While these formats may make administration and adherence easier for users, they require manufacturers to simultaneously tackle all the technical, logistic, and regulatory challenges of both aseptic filling and delivery device assembly.
As always, organizations that proactively plan ahead will be best positioned to succeed with one of the most complex and challenging transitions in the injectable product life cycle. For teams looking ahead to that launch, these five steps are worth considering at the outset:
1. Plan for the impact of a market-by-market approach.
Standing out from the noise of a competitive market has always been a priority for drug developers—and that need is as salient as ever amid the growing demand for patient-centric delivery systems.
When assessing target profile components in service of a differentiation strategy, several market factors can influence the decision to choose one delivery format over another. Use case (whether products are handled at home or at the clinic) as well as user competencies and expectations typically top the list. But other considerations matter too, including patient characteristics, varying regulatory frameworks, and market-specific payer arrangements.
Considering the wide range of region-to-region variability in demographics, socioeconomics, and other factors, a device that serves one market's adherence, regulatory, or handling needs may not do as well for those of a different region. The result: a single launch may realistically transform into a complex series of customized, regionally specific sub-launches.
Managing a single manufacturing strategy this way can be as technically, operationally, and logistically challenging as it sounds. It's a necessity that should be acknowledged upfront in timelines, budgets, and resource allocations to pre-empt unnecessary or unexpected delays in a market-by-market launch plan.
2. Become fluent in the evolving regulatory language of drug-device combinations.
By virtue of their business, drug companies typically see themselves as experts on their molecule or substance class—not necessarily in delivery devices. But that's exactly the expertise that regulators are increasingly demanding of the fast-growing market for combination products.
Agencies from both the United States and the European Union place injectable medications in a regulatory framework that covers both the active pharmaceutical ingredient (API) and the delivery device, setting compliance rails that likewise straddle the drug and medical device universes.
For example, U.S launch plans must contend with the FDA's Title 21 Code of Federal Regulations (CFR) Part 4, an issuance that established these therapies as combination products. The associated rules tick boxes for both cGMP and medical device regulations—either wholly conforming to both or complying with just one and adding compliance measures as required from the other.[2]
In the EU, similar expectations apply under Article 1(8) of the Medical Devices Regulations, with some nuances. Notably, regulations flex according to which product (drug or device) plays the dominant role—but in the case of autoinjectors or pens, frameworks span both drug and device regulations.[3]
As with market variables, regulatory conditions and their associated documentation requirements can mightily affect a company's intended pivot to parenteral delivery. Timelines can be prolonged, budgets expanded, and outside know-how may be needed from the medical device world. Allotting the right resources upfront for these regulatory subtleties will drive more efficiency and value along the road to commercialization.
3. Account for overlapping complexities of form and function.
Combining an injectable medication and a delivery device is a step with intricate, far-reaching technical implications for device selection, manufacturing processes, and the product supply chain. Upstream decisions about many aspects of a product's commercial profile can lead to unforeseen consequences and unexpected costs when it comes time to select and launch in a delivery device.
Primary packaging choices, for example, can ultimately dictate component selection and manufacturing processes—such as when an autoinjector that requires more advanced specs ends up limiting compatibility with assembly machinery. Similarly, decisions around secondary packaging can influence downstream steps in the workflow regarding label placement or measures to safeguard against pre-activation.
Basic fill-to-finish parameters like viscosity and filling volume can also have domino effects. For instance, dose volume may dictate the length of the plunger rod in safety devices, while viscosity (and actuator strength) may limit appropriate autoinjector options. In all these cases and more, delivery devices demand a holistic, forward-thinking approach that accounts for multiple stages of a far more complex commercial manufacturing strategy – one that may need to factor in parameters from formulation all the way to packaging, fulfillment, and testing.
4. Incorporate environmental stewardship.
With the global threat of climate change weighing heavily on public and private organizations, sustainability is rapidly reshaping the competitive vision for the world's top industries. That includes the pharmaceutical sector, which contributes a large share of the planet's emission intensity, higher even than carmakers.[4]
Environmental initiatives can influence a company's launch of a new delivery device in several ways, from limiting the use of certain raw materials such as traditional plastics to working with production partners that embrace alternative energy to power their operations. Drug developers are increasingly building "green" goals into their new product profiles, through product attributes like multi-use delivery or minimized disposables – demands that manufacturers must then address in their production requirements.
While these new trends aren't unique to the market for injectable medications, they can further raise the bar for organizations assessing the best combination of characteristics to help their product stand out in a crowded and increasingly eco-conscious market. But as scientific innovation and environmental stewardship increasingly align across the industry, proactively planning for a planet-friendly supply chain will invariably pay off in the short- and long-term.
5. Supplement in-house capabilities with outside experts.

As demand continues to grow for patient-friendly therapies, organizations that traditionally focused their operations outside of the delivery device arena will encounter a mix of challenges as they take on the complexities of a combination product launch. To fill blind spots and complement their internal skillsets, these companies are increasingly turning to CDMOs and other partnerships as part of their fill-to-finish commercialization plans.
However, with many players in the competitive CDMO market—all of them eager to scoop up new business—biopharmaceutical companies are being increasingly scrutinous in their vendor assessment.
Factors that have become most important in partner selection include those inherent in a traditional parenteral therapy, with some critical additions. This unique launch requires expertise in not only conventional fill-to-finish processes, but also device assembly and secondary packaging. Experience comes high on the list as well, with a special emphasis on a vendor's understanding of how market-to-market patient needs will influence device launch. Finding an organization well-versed in international regulation for both drugs and delivery devices will also serve companies as they navigate the dual requirements of those technical disciplines.
With a combination product launch, a CDMO's breadth of expertise matters, too. A manufacturer who can provide comprehensive support – from fill-to-finish, to device assembly, to secondary packaging – can enable the drug developer to consolidate contracts, streamline process and service handoffs, and stay focused on core competencies and overarching goals like sustainability.
Navigating complexity to achieve success
With demand trending upwards for years to come, patient-friendly delivery systems are set to shape the evolution of patient care in a wide range of therapeutic areas. As drug developers respond, steering more and more commercial roadmaps toward pens, autoinjectors, and wearables, the combination product launch will increasingly become a defining step for the market's most successful parenterals.
That challenging transition – a test of skill, planning, and foresight for any drug developer – is one that smart organizations can readily prepare for by focusing on these five important steps. By committing time and resources to these considerations, they can not only mitigate many potential challenges but also position themselves and their products to capture some of the most valuable opportunities in our dynamic and fast-growing market.
References:
[1] Source: Global Data Sales Analytics, 17 May 2021
[2] CFR – Code of Federal Regulations Title 21. Fda.gov. Published 2021. Accessed January 11, 2022. https://www.accessdata.fda.gov/scripts/cdrh/cfdocs/cfcfr/cfrsearch.cfm?cfrpart=4
[3] Questions & Answers for applicants, marketing authorisation holders of medicinal products and notified bodies with respect to the implementation of the Medical Devices and In Vitro Diagnostic Medical Devices Regulations ((EU) 2017/745 and (EU) 2017/746). European Medicines Agency. 2021.
[4] Belkhir L, Elmeligi A. Carbon footprint of the global pharmaceutical industry and relative impact of its major players. Journal of Cleaner Production. 2019; 214:185-194.