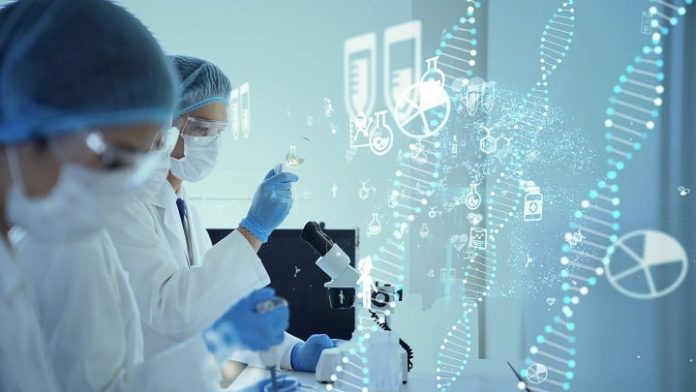 In the IDC Info Brief: "Good Manufacturing Practices for Asia/Pacific Pharmaceutical Companies: Accelerating Transformation with Manufacturing 4.0" published in June 2021 and sponsored by Cognizant and Zenith, IDC analysts found organizations in Asia are working on their Industry 4.0 digital transformation to ensure Good Manufacturing Practice (GMP) compliance and better business results.
However,while a number of companies have started this journey, many have not. Taking a closer look at the pace of digital transformation, Kenneth Teo at Cognizant offers insight into IDC findings and explore show the regions' pharma industry can improve operations by adopting digital technologies.
The Asia-Pacific region's dominance in the global manufacturing sector has never been stronger. According to a recent Financial Times Supply Chain Update, decades of investment from wealthy economies into lower-cost economies have entrenched geographical shifts in manufacturing into this region[1].
It's also true of pharmaceuticals. In 2019, Janet Woodcock, director of FDA's Center for Evaluation and Research (CDER) testified before the Subcommittee on Health, Committee on Energy and Commerce, saying: "in recent decades, drug manufacturing has gradually moved out of the US. This is particularly true for manufacturers of active pharmaceutical ingredients (APIs), the actual drugs that are then formulated into tablets, capsules, injections, etc."[2]
Woodcock added that, as of August 2019,72% of the manufacturing facilities supplying APIs to US markets were based outside the US, including 13% in China.
Growing numbers of drug consumers in the Asia-Pacific region are also prompting an investment in domestic drug product manufacturing. In 2020, per capita usage of medicine was estimated to reach about 1.6 single units (SUs) per person per day, an increase of 24% vs 2015. Much of the increased use has been driven by China, India, and Indonesia where substantial increases have been made in average medicine volume usage.[3]
Key trends post COVID-19
The IDC analysts noted regional reactions to industry, economic, and health pressures from the coronavirus culminated in three recent trends in the Asia-Pacific region:
Global supply chain instability
Incentives to boost local production
Growing local markets
These trends all point to a growing need for advanced digital and analytical infrastructures to meet the business continuity and growth challenges of companies operating in the region.These are regional challenges, but they have significant global impact. A tremendous amount of pharmaceutical commerce is conducted in the Asia-Pacific region and anything that disrupts supply chains can have globally disruptive effects.
Tremendous opportunity to digitally transform biomanufacturing
With the Asia-Pacific region seeing growth in biopharmaceutical manufacturing,both innovator companies and contract development and manufacturing organizations (CDMOs) are introducing new capacity to the region. Of this capacity globally, it's estimated CDMOs provide nearly 60% and most in the industry expect that number to continue to grow.[4]
Biopharmaceutical manufacturing stands apart from most of the other major segments of high-tech manufacturing due in part to its laboratory and science heritage as well as its highly regulated quality assurance environment.
For much of pharma's commercial drug manufacturing history, the industry relied on scaling lab processes to industrial proportions, regardless of cost. For years, the vast majority of manufacturers processed tons of APIs and finished drug products in manually-transferred batches, tracking quality and every other critical aspect with paper records. But those manufacturing models proved cost-prohibitive and increasingly unsustainable as pharma entered the 21st Century.
Around 2001, the FDA, looking to secure the safety and availability of drugs for US consumers, introduced the concept of Good Manufacturing Practice (GMP). The guidance in essence prompts manufacturers to demonstrate to regulators they are using the best available manufacturing techniques and technologies that ensure the quality and efficacy of products. For the most part GMP has been adopted by pharma manufacturing regulators around the world.[5]
Influenced as much by regulation as it was by competitive market forces, pharma's engineers began to recognize the importance of integrating digital technologies and informatics systems.These systems were already driving business value and cost control in other sectors including food, microchips and automobiles.
Journey to 4.0 transition
Even though pharma in general has been late to the party, Asia-Pacific's manufacturers are benefitting because early adapters did not have access to the open, interconnected, affordable smart systems now available.
For example, in China, all new sites are being built with new equipment rather than repurposing legacy sites which means they can be designed with industry 4.0 in mind. There is also a strong preference for single-use technology and a trend towards continuous bioprocessing to increase manufacturing efficiency.[6]
For most enterprises, digital transformations require well-funded programs based on well-defined business and financial objectives like Cost-of-Goods (CoG) control or development of new products for new markets.
Bearing in mind GMP, the biopharma factory of the future seeks to assure overall operational effectiveness (OEE) by integrating the data streams from operational, information and data analytics and eliminating data silos within the organization. It also must create the means and networks to connect external partners and data sources to facilitate scheduling, asset operations, and identification of quality issues in real time.
By embracing Industry 4.0, it is possible to find savings in terms of operational productivity and efficiency, and to drive risk and uncertainty out of countless operations and processes. Digital transformation also creates highly collaborative data and information sharing that ensures reliable supplies of quality products reach patients in need.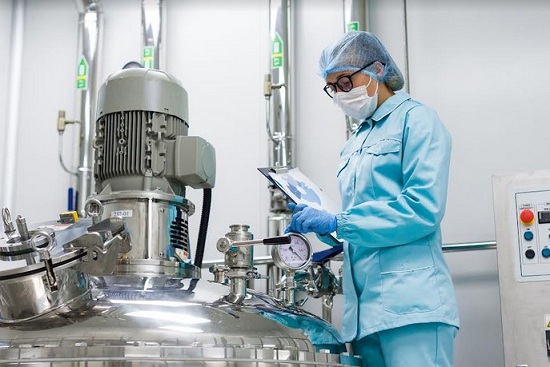 Some of the use cases outlined by IDC analysts in the Info Brief include:
Real-time scheduling. Production scheduling and sequencing are completed in an analytic model that is directly connected to execution. Through the real-time assessment of current demand and available capacity, operations and production schedules are continuously and intelligently re-sequenced.
Dynamic material requirements. Enable a more flexible and dynamic process that allows for material requirements to evolve as the R&D process progresses. This must include the ability to identify alternative material options that may outperform initial selections or provide contingency options during periods of disruption.
Predictive asset monitoring and diagnostics. Machine learning algorithms that build an accurate predictive model of potential failures that can be used to alert maintenance teams in real time.Maintenance resources can then be optimized through a tiered support structure, depending on the issue, type of asset, criticality, and so forth.
Cognitive root cause identification and mitigation. Connected quality metrics can create an analytic model that supports the automated analysis of quality anomalies with the ability to identify and mitigate root quality processing issues in an automated way.
Versatile, accurate molecule discovery. Precision data acquisition and management supports pharma innovation and the more efficient discovery of new compounds and formulations.With the high integrity data comes the ability to identify, catalog, and simulate (at the molecular level)the therapeutic and commercial potential of compounds as well as model multiple use-case opportunities for individual molecules.
Digitally enabled data-driven R&D efficiency. Through collaborative platforms, data-driven insight can increase the efficiency and accuracy of commercial research and development (R&D) and deliver great value to any organization. This results in more efficient, cost-effective R&D operations, increased development program effectiveness, and ultimately faster go-to-market timelines for high potential compounds.
The road to digital
For any drug manufacturer the journey to a digitally transformed enterprise may seem a long one. But, like any journey it starts with the first step. To step off on the right foot, first build a roadmap, then determine who should lead the initiative. Seek transformative partners that can help implement a full technology stack. Next, carefully consider engaging industry expertise to address technology and GMP compliance requirements—accurate scoping and implementation are key here.
From there, it is important to ensure there is movement and sharing of data across information silos to create collaborative workflows. Lastly, explore platforms that capture and analyze patient data, R&D data, market data and operational data and create actionable information to support innovation, quality and better patient outcomes.
Summary
For the biopharmaceutical industry in Asia-Pacific there is no time like the present to embark on an Industry 4.0 transformation to secure meaningful, short- and long-term returns. The enabling technologies and networks are in place, and solutions are more functional, adaptable and affordable than ever.
Case study: Major pharma player drives its manufacturing 4.0 roadmap
In the IDCInfo Brief, analysts presented a case example of a global healthcare company that digitally transformed its operations to be better at delivering quality and value to patients.
According to IDC, the company wanted to increase operational and capital efficiencies, including overall equipment effectiveness (OEE), across the company's 20-plus sites.
The company was hoping to achieve early wins to demonstrate to the organization and shareholders the value of the investment and help sustain the momentum of its digital transformation.Their intention was to focus on implementing the foundational digital technologies effectively and then, building on the expected efficiency gains,support the company's long-term business planning, drug development strategies, and deliver continuous improvement to products and processes.
Building a roadmap to digital agility
As part of its digital transformation journey, the company built a digital transformation roadmap that allowed it to undertake a series of projects focusing on both data use and systems innovation. The aim was to add value and operational agility while building a framework for future implementation.
The company's digital transformation roadmap yielded:
Manufacturing Excellence System (MES) implementation
Asset management driving operational and capital efficiency and OEE
Data blueprinting, data pipeline generation and design to underpin integration between sites, products and service teams, and to facilitate future digital transformation initiatives that will integrate R&D and CMO partners.
Wide-scale digitization across the enterprise, with automated data acquisition and electronic batch record systems enabling more efficient compliance processes and record-keeping,plus task automation for manufacturing sites.
Advanced analytics, from neural networks and digital dashboards to increased data integrity and improved operational and asset performance management on site.
According to final data published in the IDC Info Brief, the pilot's respiratory product's manufacturing lines avoided $255 million in capital spend with the scaling of pilot technologies resulting in an additional $184million in operational cost savings.
Overall production speed improved by 21%. The increased capital efficiencies resulted in reduced downtime and increased yield, said IDC, delivering an OEE improvement of 10%. Automation of manual records, documentation, and logbook entries save man-hours and enable tighter controls around products and digitized compliance processes, while decreasing cycle times for order preparation and overall time to market (from R&D to medicine delivery).
References
https://www.ft.com/content/2b0c172b-2de9-4011-bf40-f4242f4673cc.
https://www.dcatvci.org/6213-global-api-sourcing-which-countries-lead.
https://www.iqvia.com/-/media/iqvia/pdfs/institute-reports/global-medicines-use-in-2020.
https://samsungbiologics.com/media/science-technology-view?boardSeq=1295&schBoardCtgryCcd=3&boardDtm=2021-08-10%2000:00:00.0&page=1.
https://www.fda.gov/drugs/pharmaceutical-quality-resources/facts-about-current-good-manufacturing-practices-cgmps.
http://www.bioplanassociates.com/china/.