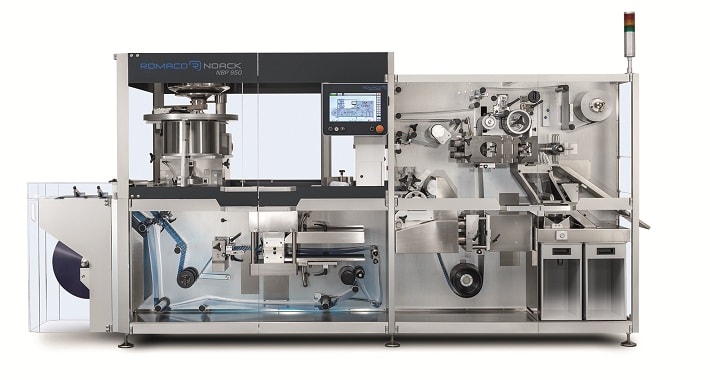 Romaco China will open a processing laboratory for solid pharmaceuticals on the Truking campus in Changsha right on time for the upcoming CIPM. Romaco will take advantage of the exhibition to show a selection of its packaging, tableting and processing technologies.
Romaco China will open an 840 square metre processing laboratory for solid pharmaceuticals on the Truking campus in Changsha to coincide with the start of the trade fair. The new "Romaco China Solids Process Center" will be fitted out with latest-generation laboratory equipment as well as three Kilian tablet presses and three Innojet processing machines. Romaco's new laboratory is mainly intended to appeal to pharmaceutical, food and chemical producers in Asia, especially China.
Interested organisations can test their products on the Romaco systems, for example, and check their machine settings. The "Solids Process Center" also provides opportunities to develop new products or optimise existing formulations. Romaco sees itself as a competent partner that supports users of its technologies throughout their machine's lifespan. At CIPM 2019, the manufacture will be demonstrating highlights of the Innojet, Kilian and Noack product brands.
RomacoNoack NBP 950 blister packaging machine
Romaco'sNoack NBP 950 is an extremely compact blister machine for pharmaceutical applications that saves a lot of space in cleanroom areas.The blister packaging machine's individual stations – such as forming, feeding, sealing, coding, perforating and punching – are installed on a very small footprint for this reason. The result is a blister technology that is up among the leaders in the mid-performance class in terms of both space use and output, with a remarkable 500 blisters per minute. The intuitive HMI panel, with its short learning curve, is a further advantage of the user-friendly blister machine.
Equipped with RomacoNoack's patented QuickFeed feeding system, the NBP 950 speeds up product changes because the complete module can be replaced in a few simple steps. The optimal access to all components moreover simplifies cleaning of the blister line. Reproducible format parameters and QuickAdjust, the automatic station control system, simultaneously reduce the run-in times to almost zero. Separate servo drives ensure safe operation at the individual stations. In short, the NBP 950 blister packaging machine from RomacoNoack offers excellent opportunities for improving overall equipment effectiveness (OEE).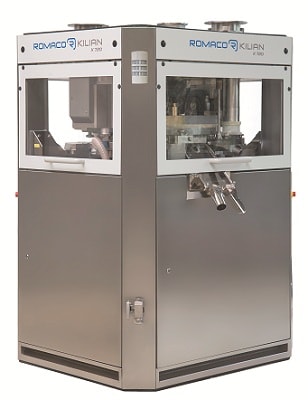 Romaco Kilian K 720 double-sided rotary press
The tablet presses in the Romaco Kilian K series impress with their excellent value for money. The K 720 double-sided rotary press was configured by Romaco Kilian for the production of mono and bi-layer tablets and can be switched flexibly between the two operating modes. This high speed press has a maximum output of 1,000,000 tablets per hour. The technology is used both in the pharmaceutical industry and in the non-pharmaceutical sector, and is particularly suited for compressing effervescent tablets, nutraceuticals and drugstore items. The systematic reduction of product loss was a top priority when Romaco Kilian developed the K series.
Amongst other features, this is achieved by means of product scrapers, which are in constant contact with the die table surface due to magnetic force. Targeted measures to improve the Kilian K 720's productivity, availability and quality have simultaneously increased its overall equipment effectiveness (OEE). The hermetic separation of the tablet press process area from the changeover and service areas moreover restricts cleaning to a minimum and extends the production time of the Romaco Kilian K 720 rotary press.
RomacoInnojet VENTILUS® V 5 processing machine
The laboratory-scale version of the RomacoInnojet VENTILUS® V 5 is used for granulating, drying and coating particle sizes from 10 µm to 2 mm. Due to its special design and enhanced processing efficiency, the VENTILUS® V 5 allows up to 25% shorter batch times. The homogeneous flow conditions inside the cylindrical product container enable extremely gentle intermixing of the batch. The process air is controlled by the ORBITER booster, an ingenious container bottom consisting of overlapping circular plates. Together with the ROTOJET, the central bottom spray nozzle, the ORBITER booster forms an innovative functional unit that meets all the requirements for linear scale-ups. The air flow bed technology ensures accurate control of the product movement and equally precise application of the spray liquids. The resulting formulations can achieve the required release profile with between 10 and 15% less spray liquid.
On show at CIPM – China International Pharmaceutical Machinery – in Changsha (China) from April 17 to 19, 2019 (Changsha International Convention and Exhibition Center, International Hall, Booth W1-32).
Romaco Group
Romaco is a leading international supplier of processing and packaging equipment specialising in engineering technologies for pharmaceutical solids. The group provides individual machines and turnkey solutions for manufacturing and packing powders, granulates, pellets, tablets, capsules, syringes and medical devices. Romaco also serves the food and chemical industries.
The Romaco Group has its headquarters in Karlsruhe (Germany) and is part of the Truking Group, a globally operating high-tech enterprise based in Changsha (China). Truking's core competency is handling and filling pharmaceutical liquids.
Romaco operates from four European business sites, with a broad portfolio comprised of six established product brands. Noack and Siebler (Karlsruhe, Germany) supply blister, heat-sealing and rigid tube filling machines. Macofar (Bologna, Italy) markets technologies for filling sterile and non-sterile powders and liquids. Promatic (also Bologna, Italy) specializes in cartoners, track & trace systems and case packers. Kilian (Cologne, Germany) offers compression solutions for tableting while Innojet (Steinen, Germany) is an innovation leader for granulation and coating.
More than 600 highly skilled and committed Romaco employees are dedicated to the development of future product technologies and to the continuous implementation of internal improvement processes. Romaco's multi-brand system solutions are sold worldwide through six Sales & Service Centres and a dense network of local agent organisations. Over 12,000 installations delivered by Romaco are currently in use in more than 180 different countries.
For more information about the Romaco Group, visit www.romaco.com