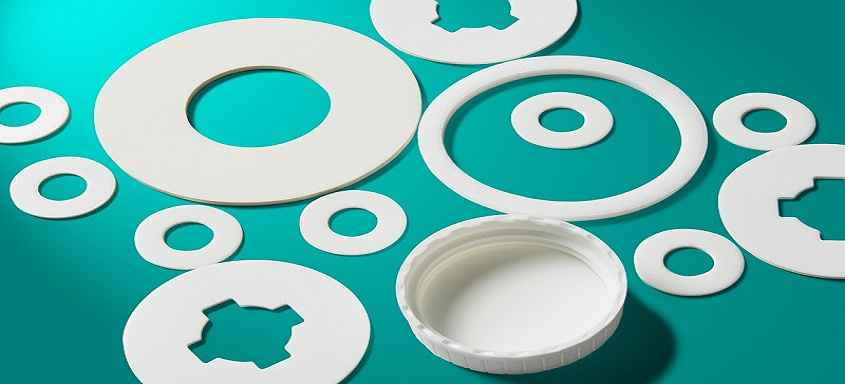 Although it may not be the first component that comes to mind when thinking of a pharmaceutical package, closure liners play a critical role in delivering tamper-evidence, supporting product integrity and protecting the package during the distribution cycle.
The latest technology also provides additional performance attributes to help pharma companies deliver their products to consumers across the globe.
What follows is an overview of existing closure liner options, as well as emerging technologies designed to help brand owners deliver products to consumers that meet an increasing range of necessary criteria.
Closure liner types
There are three primary closure liner types foam, induction heat seal and pressure sensitive used in pharmaceutical packaging today.The liners are typically used with closures ranging from 20 to 89 mm on a wide range of narrow- and wide-mouthed containers made from polyethylene, polypropylene, polyethylene terephthalate and glass.
Here are their attributes:
Foam closure liners
Reseal excellence
Chemical resistance without degradation
Highly compressible to accommodate bottle finish imperfections/variation
Thickness, density and resilience control for specific liquid applications
Multilayer laminations to address product needs
Oxygen scavenging and barrier capability
Induction heat-seal liners
Tamper evidence
Barrier (moisture, oxygen)
Hermetic seal
Chemical resistance
Seal integrity
Pilferage protection
Product freshness
Venting of high chemically-reactive products
Easy-open
Anti-counterfeiting
Pressure-sensitive liners
Torque-dependent seal
Improved seal integrity between bottle and cap
Moisture protection
Cost effective
Ideal for dry products/powders
Liner structures
Liner composition can range from one to as many as seven layers.  Foam liners are typically a three-layer coextrusion commonly made from low-density polyethylene featuring a foamed middle layer.  They can also be made from polypropylene copolymer for products that are packaged at a higher temperature.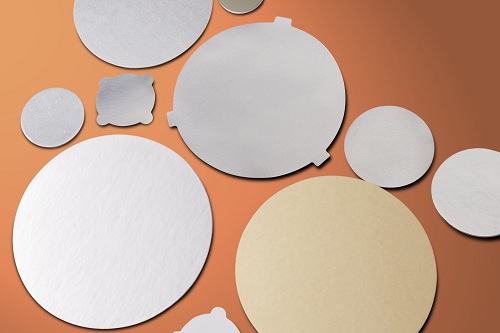 Induction heat seals are typically made from a five- to seven-layer paper, foil, foam (low-density polyethyleneor polystyrene) structure. The structure can feature two "pieces," one of which (made from either pulp or foam) provides a backing or reseal function.Pressure-sensitive liners are typically monolayer with adhesive coatings.
Tamper-evident attributes
Since the Tylenol tampering crisis occurred in the United States three-plus decades ago, many countries have adopted either mandatory or voluntary approaches to providing tamper-evident devices on over-the-counter pharmaceutical products.
A foam liner also can be part of a package with an induction heat-seal liner.  In that scenario, the foam liner is used to minimize closure back off in transit which can cause leaks—particularly with liquid contents.  Also foam structures can be used as a resealing liner and can provide additional barrier properties.
One leaking bottle can potentially damage all of the packages in a lot or shipment.  Therefore, it is critical for pharmaceutical manufacturers to make sure they have subjected their package to performance testing to make sure that the closure performs in the intended manner.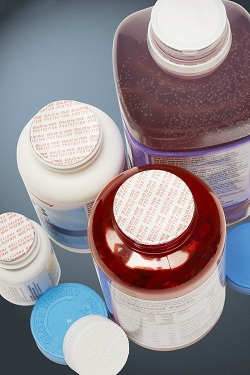 Removal attributes
There are two removable liner types. The first is a weld, tamper-evident seal that leaves residue to indicate that the contents have been breached. Not only do tamper-evident seals need to provide protection, but they also should be removable. The goal is to deliver protection, and also provide consumers with access to the medication.
The second is a clean-peel liner option, frequently with pull-tabs.The objective is to eliminate adhesive residue/strings so that content contamination after opening does not occur. The pull tab needs to have enhanced strength to resist delamination from the rest of the material when removed by consumers.
The most frequently specified by ethical and over-the-counter pharma manufacturers is a weld seal for tamper evidence. However, other segments such as nutraceuticals are more common users of clean-peel pull tab liners.
Non tamper-evident uses
There may be instances where pharma manufacturers prefer to use a foam liner (which is not tamper-evident) and gain the required tamper-evident attributes via other devices such as closures, shrink bands and folding cartons.
Just one scenario where this would be likely is a liquid pharmaceutical product packaged in a glass container. This requires a liner that can provide more stringent performance attributes to prevent leakage.Induction seals work with plastic containers because both the liner and the finish melt a little to create the sealing bond.  Glass melts at a much higher temperature and therefore it is not feasible to mate an induction seal to its surface.
Pressure-sensitive liners
Pressure-sensitive liners are more commonly found on products that require a cost-effective solution and where the liner is not being used as a tamper-evident device.Typical applications include vitamins, minerals and supplements.
Performance in higher temperature climates
With multinational pharmaceutical companies marketing their products across the globe, it is important to take environmental conditions, such as temperature, into account. In recent years, high-temperature wax has been engineered to bolster the stability of two-piece induction seals that are stored or distributed in challenging high-temperature conditions.
The objective is to reduce costly seal-related product leakage from closures that have failed. This is of particular concern for packages with lined closures and seals shipped or stored in high-temperature conditions, such as those commonly found in the Middle East, Southeast Asia, Australia, South America and the Southern United States—as well as seasonally, in many parts of the world.
Regulatory drivers
Pharmaceutical companies typically require their suppliers to respond rapidly to requests for Drug Master Files (DMF) and Letters of Authorization (LOA).Failure to do so means that the pharma company will be delayed in meeting its own regulatory and commercialization deadlines.
What is also impacting suppliers is the requirement in some countries—such as Canada and the United States—to submit DMFs and LOAs electronically.  These require special formatting and submission procedures, which are both costly and time consuming for suppliers to execute.
Other regulatory issues at the forefront are meeting guidelines on elemental impurities that need to be followed as well as assurances that structures do not contain certain components such as bisphenol-A.
Barrier properties
Every pharmaceutical product requires some level of barrier protection against oxygen and moisture vapor ingress.  The objective is to deliver shelf life and efficacy of the intended drug or supplement product. In addition, capsules, tablets, soft gels, etc. need to be delivered uncompromised without crumbling or other visual degradation. Selecting the right type of closure liner means that the package has one more component that will help deliver desired results.
Conclusion
Going forward, a critical challenge will be meeting the latest regulations. For example, where a standard induction seal could have been used in the past, a new generation of resealing liners will now be needed to pass new testing regulations. Liners will also be pushed to deliver enhanced protection against migration of moisture vapor and oxygen to help deliver efficacy and shelf-life objectives.