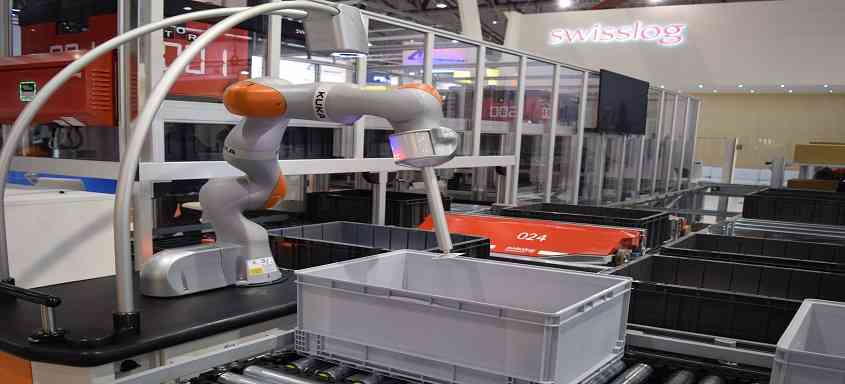 For the pharmaceutical industry, keeping all regulatory requirements is a top priority not only in development and production, but also for the storage and distribution of drugs, active substances and medical products.
As those in the sector are already aware, Government and industry regulations require that pharmaceutical companies perform continuous quality monitoring and process control. To tackle the challenges that come with international compliance, companies need approved customized solutions that provide absolute accuracy and visibility, as well as continuous and immediate availability.
Traditionally, these solutions have been less flexible and would remain unchanged for a longer period of time. However, the world is changing. Smaller batch sizes, increased product ranges, increased product sensitivity and shorter shelf life are among the challenges to consider when storing and distributing pharma products. The result leaves many pharma giants embracing new technology to help change their distribution models, relieve cost pressures and maximize the growth potential of online pharmacies.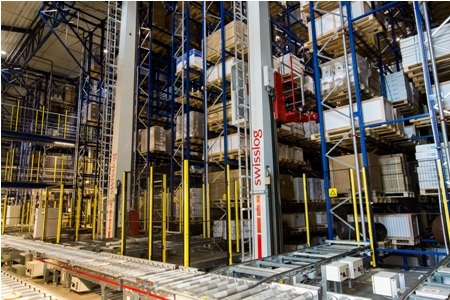 How might such an approach impact on process compliance and validation?
Few industries are driven by such strict regulatory requirements as the pharma sector. Stringent validation processes must assure that all process steps work as designed. In a way, this acts as a barrier against new technology.
Take the example of a packaging line: one order may require two drums of tablets, four boxes of blister packs, four boxes of secondary packaging, a box of inserts and a box of outer cartons. These materials are traditionally collected from the warehouse by hand, placed on one pallet and then taken to production. Larger companies may use automatic storage and bring the products to a goods-to-person workplace, but the human still does the actual picking.
Advancements in automation and robotics technology, now bring automating even that last step within technical reach. In the not too distant past, people saw the moving robot as potentially dangerous, not malicious in the way science fiction might have us believe, but a potentially hazardous machine that required us to keep our distance.
Today, we're much more comfortable with our new robot partners. A new generation of safer, human-collaborative robots are available at home and at work, raising the prospect of new collaborative processes within pharmaceutical factory logistics and helping businesses achieve the highest level of productivity while reducing risk at the same time.
However, pharma companies have understandably been hesitant to implement these technologies, simply because they need to consider the impact on the process validation.
The order preparation process is likely set out in the company's Standard Operating Procedures (SOPs), and any IT systems and documentation involved have been tested during the validation process.
To completely change this process and replace the human with a robot, it would require a new, possibly long, difficult and costly validation process. Using only robots here excludes human supervision and invalidates the use of the established SOPs.
But what if the robot and a human could work together?
Perhaps the robot could pick and place the boxes with the secondary packaging and the outer cartons. At the same time, the human picks and places the more odd-shaped drums of tablets and the blister packs. The human operator oversees the work of the robot, performing regular checks during and after the process. The worker is still following the established SOP but has a helping hand.
Without wanting to dent our human pride too much, the results should overcome some of our own frailties and be improved. The duty is still on the human partner to ultimately act as validator, in much the same way that self-driving cars can still fit in the established frameworks of legislation and accountability by still requiring a human driver behind the wheel.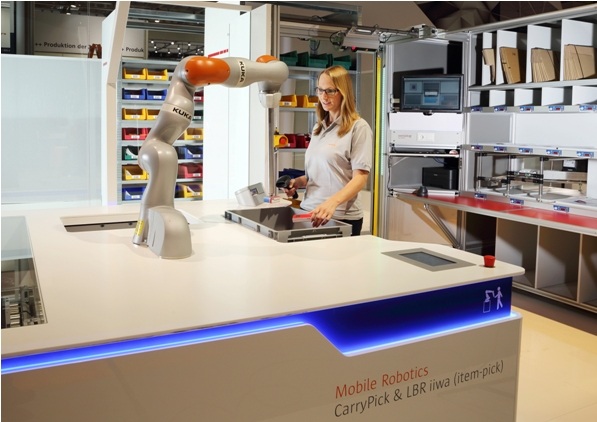 Depending on the outcome of risk analysis, and the views of quality officers and inspecting agencies, the relative benefit to validation processes will ultimately be determined by ourselves.
I am sure the prospect of human-robot collaboration intrigues many, but some might be wondering about the impact on quality assurance. My guess is that as more real life examples are being introduced, each going through the full validation process as they are implemented, experience will tell us if in this collaborative model we can still trust the established manual SOPs. Maybe one day allowing us to take a back seat, so long as we know the steering wheel is still within reach.
Reliable transport, storage and order fulfillment of pharmaceutical and medical products
Swisslog has already implemented automated logistics systems for many leading pharmaceutical companies around the world. Livzon Pharmaceutical Group Inc., for example, is benefitting from an automated logistics system in its facility in China, designed and implemented by Swisslog.
The solution consists of a 23.5-meter high-bay warehouse with 15 pallet cranes, pallet and case conveyors, a palletizing robot from KUKA, linear and loop shuttle car systems, automated guided vehicles and Swisslog's proprietary warehouse management system and controls software, the cornerstone of the automation concept.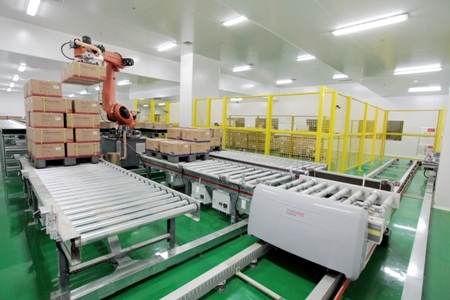 Serving about 1,500 customers, Livzon is achieving a maximum number of storage locations within a minimized space, as well as high efficiency with less dependency on labor availability.
The solution is also adaptable for the use of three temperature controlled areas – an ambient warehouse, a chilled warehouse and a cool warehouse – to accommodate storage requirements of various finished goods and raw materials.
Another pharmaceutical company taking advantage of this element of the solution is F. Hoffman-La Roche, based in Switzerland. Roche develops drugs, some of which are biotechnology-based and temperature-sensitive. For storage and picking of these medications, Swisslog implemented a state-of-the-art cold storage logistics facility at Roche's Kaiseraugst location.
The high bay cold storage warehouse has four aisles, moves 1,000 to 1,500 pallets per day and operates in a temperature range between 2°C and 8°C. Four Swisslog Vectura cranes are used for single-deep storage. In contrast, the deep-freeze warehouse operates at a constant temperature of minus 10°C. Swisslog's Warehouse Management System WM 6 is one of the systems controlling the Roche logistics facility, including conveyor and picking technologies. WM 6 also manages the tracking and tracing of warehouse and shipping processes that affect quality and safety in accordance with the GMP Guideline.
Where there's a will there's a way
Pharma giants such as Livzon and Roche are already recognizing the value of automation in their distribution centers, and when custom concepts designed by industry experts mean reduced errors as well as compliance with regulations, it's the obvious choice for the industry.
Now, if in addition to that the aspect of human-robotic collaboration gets developed and excepted, I believe automation technology will become accessible for smaller operations too.
What it comes down to is if there is enough determination to automate storage and distribution facilities for pharmaceuticals, it is definitely possible to improve supply chain efficiency and maximise the number of storage locations within a minimized space without increasing the dependence on physical labor.