Product life cycle management (PLM) is now a critical area of focus for any pharmaceutical marketer. It's no longer enough to simply get a drug to market – maintaining success, meeting different market requirements and profitability throughout its life is just as important.
Secondary packaging can play an important role in managing a product from launch until its later stages. In fact, making small changes to a proven product can make a big difference in the market.
Secondary packaging changes can address a range of both market and regulatory needs, giving a product new market potential. It can help you:
Meet patient demand for user-friendly systems
Address increasing product safety regulations
Comply with changing regulatory requirements (such as serialization)
Achieve greater cost-efficiencies
PLM through product redesign
Product redesign is one example of using secondary packaging to extend product life cycle. Packaging changes can add greater usability, efficiency, and safety into an already successful product—giving you clear differentiation in the market.
Safety enhancements - Many options exist for improving the safety of existing injectable products. A tamper-evident closure supports the product integrity, while incorporating a safety device can help safeguard users from needlestick injuries. Even changing colors can enhance safety—color-coded plunder rods can help distinguish dosage strengths and reduce the risk of medication error.
Needlestick protection devices help safeguard against sharps injuries and related blood-borne infections:

Convenience enhancements - Convenience is a key motivator in product life cycle enhancements. As the number of injectable therapies grows, so will the demand for easier-to-use delivery systems. Moving from a liquid vial to a prefilled syringe can save clinicians time, just as going from a lyophilized vial kit to a dual-chamber system by incorporating a pen assembly makes patient administration even more convenient.
Patient-friendly packaging provides patients with an easy-to-use option for home administration

Regulatory compliances - Increasing regulations regarding patient safety can pose challenges to manufacturers—challenges that can often be solved with innovative use of secondary packaging. Regulations often differ between countries, and packaging can help pharma companies adapt. For example, a product can be launched in one package globally, with a simple upgrade made for the more stringent Japanese market. Integrating a serialization strategy in the packaging process can also help maintain regulatory compliance and increase market differentiation.
Blister pack meets stringent regulatory requirements in Japan by providing protection against particles:

Vetter can support you in your packaging redesign
A successful packaging redesign or enhancement requires a robust process that addresses document management, secondary packaging documents, training, process qualification and validation, and the release process for new regulatory requirements. Working with a Contract Development and Manufacturing Organization (CDMO) that can help create an efficient process for PLM offers significant advantages.
Vetter offers not only a range of secondary packaging services and technologies, but the expertise and experience that turn secondary packaging into a strategy for life cycle success.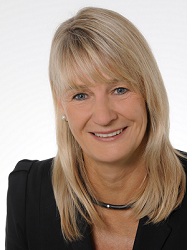 Susanne Hall, Team Leader, Secondary Packaging, Vetter
Susanne Hall has a diploma in engineering from the College of Engineering, focused on specialized precision engineering. Following an internship at the Eaton Corporation in Sarasota, Florida, she began her career in 1990 at Dr. Karl Thomae in Biberach as Head of Packaging Technology. Susanne joined Vetter's Research and Development department in 1993 as Head of Packaging Material Input Control. She was named Team Leader of Secondary Packaging in 2008.