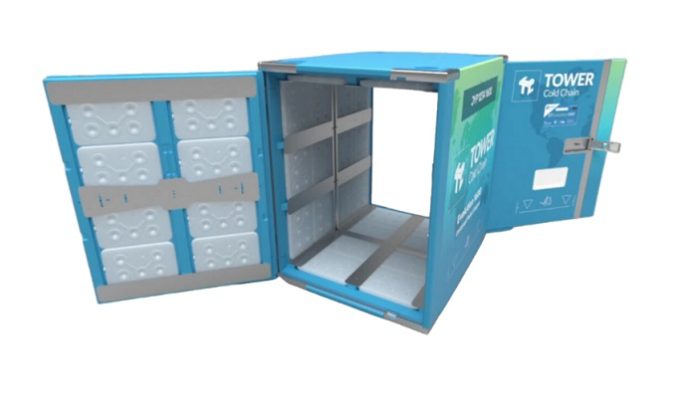 The latest innovation from Tower Cold Chain, a pioneer in passive temperature-controlled containers, offers pharmaceutical manufacturers, airlines and 3PL providers a single solution compatible with U.S. and E.U. pallets – with an ultra-lightweight design.
The Evolution 1600 Tower Universal Pallet, unveiled at CPHI Barcelona 2023, is perfectly adapted to universal shipping needs, meeting industry standards for a truly pan-global container. As such, it gives the pharmaceutical and life sciences markets unparalleled levels of efficiency and versatility in their cold chain operations.
Enabling pharmaceutical shipments for products that need to be kept between -60°C to +20°C with an industry-standard runtime of 120 hours without the need of electricity or manual intervention during transit, Tower has used its extensive experience of cold chain container design to find the optimum balance between size, weight and volumetric efficiency.
"The Evolution 1600 Tower Universal Pallet has been developed in response to the challenges faced in transporting large volumes of pharmaceuticals and life science products around the world. We were inspired to innovate an efficient solution that was not hindered by size, weight, plate or pallet configurations," says Martin Hawes, Global Head of Product Development at Tower Cold Chain.
"The Evolution 1600 sets new standards for the cold chain industry, offering the same robust, reliable and reusable benefits, but with added flexibility, weight efficiency and space utilisation."
Each Evolution 1600 is a quarter of the size of a PMC pallet, allowing four containers to be transported per pallet. By analysing data from hundreds of thousands of journeys, Tower has reduced the amount of phase-change materials required to maintain a consistent internal temperature – resulting in significant weight savings and more space for product to be packed.
User convenience is assured throughout. Removable plates enable flexible and sustainable conditioning, with the option to add dry ice for ultra-cold shipments. The Evolution 1600 is designed with double-door access for improved accessibility and safety during loading and unloading.
Customers continue to get the benefits associated with Tower products: a robust design for product protection, reliable temperature control of up to 120 hours, and a reusable system that means the Evolution 1600 can be shipped around the world, hundreds of times – for a substantially reduced carbon footprint versus single-use and heavier alternatives.
With built in data logging technology to provide real-time updates of internal temperature monitoring, the Evolution 1600 is part of Tower's digital transformation journey to enhance and streamline customer's access to data visualisation, analysis, and shipping details.
The introduction of the Evolution 1600 coincides with Tower's international global hub network expansion, bolstering customers' availability of its robust, reliable, and reusable cold storage solutions. With its latest facilities opening in Switzerland, Italy, and Ireland as well as the launch of its American Centre of Excellence, Tower remains committed to advancing the standard for cold chain logistics on a global scale.