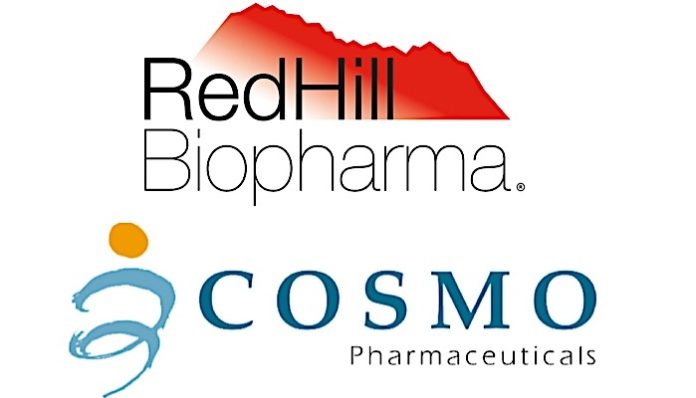 RedHill Biopharma Ltd., a specialty biopharmaceutical company, announced agreements with Cosmo Pharmaceuticals NV to manufacture two key products; RedHill's largest selling product in the U.S., Movantik®, and RHB-204, currently in a Phase 3 U.S. study as a stand-alone, first-line orally-administered treatment for pulmonary nontuberculous mycobacteria (NTM) disease.
"Movantik is currently our biggest commercial product. This agreement strengthens our qualified supply base and capacity moving forward and solidifies our ongoing strategic relationship with Cosmo," said Steven Thomasian, RedHill's Vice President of Supply Chain Management.
"We are happy to strengthen our partnership with RedHill with the manufacturing of these two important products and therefore to further expand Cosmo's production capacities and capabilities," said Davide Malavasi, Cosmo's Head of Manufacturing.
Movantik is the leading prescribed oral peripherally acting mu-opioid receptor antagonist (PAMORA) in the U.S. specifically designed to treat opioid-induced constipation (OIC) in adult patients with chronic non-cancer pain1. OIC is the most common and debilitating gastrointestinal adverse effect associated with opioid therapy, estimated to affect between 40-80% of the millions of patients taking chronic opioid therapy each year2.
RHB-204 is an investigational proprietary, fixed-dose oral capsule containing a combination of clarithromycin, rifabutin, and clofazimine, developed as a stand-alone first-line treatment for pulmonary NTM disease caused by Mycobacterium avium Complex (MAC). Although rare, the incidence and prevalence of pulmonary NTM disease are increasing in many areas of the world3. There were an estimated 110,000 pulmonary NTM disease patients in the U.S. in 2017, with U.S. market potential estimated at over $500 million4. RHB-204 has received FDA Fast Track, Orphan Drug and QIDP designations aimed at accelerating development and FDA review and extending U.S. market exclusivity to a potential total of 12 years, to be granted at the time of FDA approval.
About RedHill Biopharma
RedHill Biopharma Ltd. is a specialty biopharmaceutical company primarily focused on gastrointestinal and infectious diseases. RedHill promotes the gastrointestinal drugs, Movantik® for opioid-induced constipation in adults5, Talicia® for the treatment of Helicobacter pylori (H. pylori) infection in adults6, and Aemcolo® for the treatment of travelers' diarrhea in adults7. RedHill's key clinical late-stage development programs include: (i) RHB-204, with an ongoing Phase 3 study for pulmonary nontuberculous mycobacteria (NTM) disease; (ii) opaganib (Yeliva®), a first-in-class SK2 selective inhibitor targeting multiple indications with a Phase 2/3 program for COVID-19 and Phase 2 studies for prostate cancer and cholangiocarcinoma ongoing; (iii) RHB-107 (upamostat), a serine protease inhibitor in a U.S. Phase 2/3 study for symptomatic COVID-19, and targeting multiple other cancer and inflammatory gastrointestinal diseases; (iv) RHB-104, with positive results from a first Phase 3 study for Crohn's disease; (v) RHB-102 (Bekinda®), with positive results from a Phase 3 study for acute gastroenteritis and gastritis and positive results from a Phase 2 study for IBS-D; and (vi) RHB-106, an encapsulated bowel preparation.
About Cosmo Pharmaceuticals
Cosmo is a specialty pharmaceutical company focused on developing and commercializing products to treat selected gastrointestinal disorders and improve endoscopy quality measures through aiding the detection of colonic lesions. Cosmo has also developed medical devices for endoscopy and has recently entered into a partnership with Medtronic for the global distribution of GI Genius™ its artificial intelligence device for use in coloscopies and GI procedures. Cosmo has licensed Aemcolo® to RedHill Biopharma for the US and has licensed Relafalk® to Dr. Falk Gmbh for the EU and other countries.