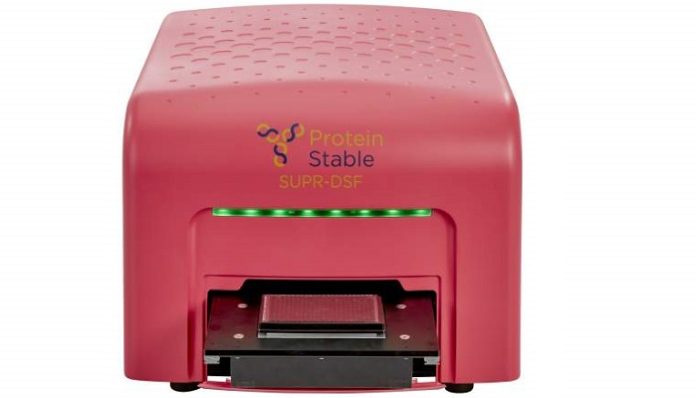 Malvern Panalytical (Malvern, UK) and Applied Photophysics (Leatherhead, UK) have announced their commercial agreement for Malvern Panalytical to distribute Protein Stable's microplate-based differential scanning fluorimeter, SUPR-DSF, in the United States of America and Canada.
The SUPR-DSF provides researchers with high-throughput protein stability screening using the technique of Differential Scanning Fluorimetry (DSF). Its speed of analysis, 384-well plate format, ultra-low sample volume requirement and low running costs enable the SUPR-DSF to flexibly support scientists working in biologics discovery, formulation development and process development.
Malvern Panalytical offers a broad, integrated range of technologies and contract services to its customers in the pharmaceutical industry, supporting all stages of development from discovery through to commercial manufacturing. The scientific instrument manufacturer, a member of the Spectris Group, recently consolidated its provision for drug discovery and development with its acquisition of Creoptix AG and its WAVEsystem technology for next-generation molecular interaction analysis. The addition of DSF as a high-throughput screening (HTS) tool further extends and strengthens the company's existing portfolio for stability and structural analysis.
This, coupled with Malvern Panalytical's decades of expertise and experience, provides customers with a unique toolset which empowers them to make important decisions in candidate and formulation selection with absolute confidence.
Dr. Mark Carnegie-Brown, Vice-President, Pharma & Food Sector at Malvern Panalytical, said: "This distribution agreement for Protein Stable's SUPR-DSF perfectly complements Malvern Panalytical's existing expertise in pharmaceutical discovery and early development. The addition of DSF to our portfolio of structure, stability and interaction analysis solutions provides a significant uplift to the value we deliver to our clients, magnifying the analytical power at their fingertips and enabling them to bring safe and effective pharmaceutical products to market quickly and efficiently."
Dr Tim Flanagan, CEO at Applied Photophysics & Protein Stable, said: "we developed the SUPR-DSF to solve critical challenges in protein stability screening – how to simplify sample processing, screen many samples in good time, without using large quantities of expensive protein, and delivering rich data to inform downstream development. Our partnership with Malvern Panalytical extends our market reach, ensuring more researchers can gain access to our combined extensive orthogonal tool set, enabling them to unlock the development of exciting new biologics-based therapies."