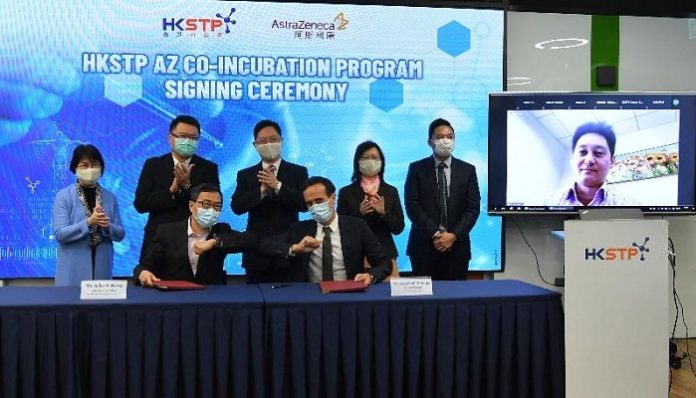 AstraZeneca and the Hong Kong Science and Technology Parks Corporation (HKSTP) have launched a co-incubation programme to support biomedical startups in their mission to develop integrated oncology solutions to accelerate innovation in oncology, foster local biomedical technologies and enhance Hong Kong's status as a leading biomedical innovation hub.
In the last decade, malignant cancerous tumours have been the number one cause of death among all diseases in Hong Kong[1]. Today's cancer treatment solutions, physical check-ups, diagnosis, treatment, follow-up and rehabilitation, are all interrelated. Improvements in either aspect of the patient journey will create huge opportunities to drive better treatment outcomes.
R&D boost for biomedical startups and platform to global markets
This programme will attract local and overseas startups to embed themselves in the Science Park and develop comprehensive oncology diagnosis and treatment solutions. Successful applicants of the programme will be eligible to a series of professional support from HKSTP, including the funding support of up to HK$6 million, working space and advanced laboratory facilities, as well as leverage HKSTP's value-added services platform which provides business matching opportunities with strategic partners and potential investors, and talent support.
In the programme, AstraZeneca will support startups and assist in connecting them with industry stakeholders and partners, so that they can have a clearer understanding on industry information and related opportunities. Additionally, AstraZeneca will also leverage its existing networks with Mainland China and global markets, including the Wuxi International Life Science Innovation Campus (I·Campus) co-built with local Government and Emerging Markets Health Innovation Hubs, SLUSH and Cambridge Network, to provide platforms for exploring opportunities overseas.
Gwenael Meneux, General Manager of AstraZeneca Hong Kong & Macau, said, "We look forward to our first collaboration with HKSTP, which hopefully will create a vibrant medical ecosystem. Incu-Bio startups, together with a medium-sized medical innovation technology company that already have a certain scale, will be able to make full use of Hong Kong's professional talents and innovative technologies to promote local medical innovation, helping patients with early treatment, enhancing the effectiveness of treatment and maintaining patients' quality of life.
Albert Wong, CEO of HKSTP, said, "Biomedical technology is a key strategic focus for HKSTP. This partnership between HKSTP and AstraZeneca marks a key milestone in HKSTP's mission to continually drive Hong Kong's biomedical technology development."
"With the professional knowledge, rich industry experience and global cooperation network from AstraZeneca, together with our world-class infrastructure and support, we will be able to attract high potential startups to land in Hong Kong, accelerate their growth, bring widespread benefit to cancer patients, and establish Hong Kong as a global leader in biomedical innovation."
The first oncology partnership project
This is the first oncology-related partnership launched by AstraZeneca Hong Kong and HKSTP. The plan will last for two years. Participating startups will also become members of HKSTP Incu-Bio.
About Hong Kong Science and Technology Parks Corporation
Comprising Science Park, InnoCentre and Industrial Estates, Hong Kong Science & Technology Parks Corporation (HKSTP) is a statutory body dedicated to building a vibrant innovation and technology ecosystem to connect stakeholders, nurture technology talents, facilitate collaboration, and catalyse innovations to deliver social and economic benefits to Hong Kong and the region.
Established in May 2001, HKSTP has been driving the development of Hong Kong into a regional hub for innovation and growth in several focused clusters including Electronics, Information & Communications Technology, Green Technology, Biomedical Technology, Materials and Precision Engineering. We enable science and technology companies to nurture ideas, innovate and grow, supported by our R&D facilities, infrastructure, and market-led laboratories and technical centres with professional support services. We also offer value added services and comprehensive incubation programmes for technology start-ups to accelerate their growth.
Technology businesses benefit from our specialised services and infrastructure at Science Park for applied research and product development; enterprises can find creative design support at InnoCentre; while skill-intensive businesses are served by our three industrial estates at Tai Po, Tseung Kwan O and Yuen Long. More information about HKSTP is available at www.hkstp.org.
About AstraZeneca
AstraZeneca is a global, science-led biopharmaceutical company that focuses on the discovery, development and commercialisation of prescription medicines, primarily for the treatment of diseases in three main therapy areas – Oncology, Cardiovascular & Metabolic Disease and Respiratory. We are also selectively active in the areas of autoimmunity, neuroscience and infection.
AstraZeneca Hong Kong oversees both the Hong Kong and Macau markets and attaches a strong importance to them. Since its inception in 1990, AstraZeneca Hong Kong has delivered many life-changing medicines that have transformed the lives of patients and have revolutionized disease treatment in Hong Kong and Macau. Over the years, we have been continually expanding our business in order to meet the growing demand of the markets.
Underpinned by strong science and innovation in our Global R&D Centre and Corporate Headquarters in Cambridge. AstraZeneca Hong Kong focused on returning to growth through a science-led innovation strategy. We actively respond to the increasingly complex disease environment and the emerge of new health challenging by focusing on growth through innovation – embracing technology, digital and data to deliver patient-centric solutions to Hong Kong patients. We have played an active role in changing the healthcare environment in Hong Kong. Throughout our 30-year history, we have launched more than 100 products, including blockbusters, conducting over 100 clinical studies, including 30 breakthrough studies, and treating over 5,000,000 patients.
The AstraZeneca Emerging Markets Health Innovation Hubs are designed to improve access to resources and technology, to improve capacity for local R&D, and boost the capabilities to address local needs. The first Hub opened in Russia in July 2018 and was followed by Hubs in Brazil, Argentina, India, Singapore and the GCC countries, as well as Mainland China, Taiwan, and Hong Kong.