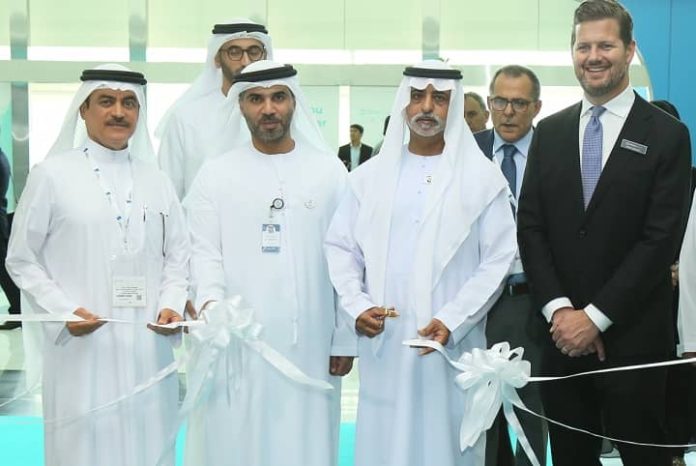 Pharmaceutical professionals from across the world descend upon ADNEC in Abu Dhabi for the region's leading platform for the pharma market
His Excellency Sheikh Nahyan, Minister of Tolerance, officially inaugurated CPhI Middle East & Africa 2019, the region's leading platform for the pharmaceutical industry followed by a tour of the exhibition and introducing the keynote session.
The event, which is returning for a second year after its successful launch in the capital last year and sponsored by the Ministry of Health and Protection (MoHaP), will take place at the Abu Dhabi National Exhibition Centre (ADNEC) from 16-18 September 2019. The event is providing a showcase for over 294 exhibitors and is expecting to attract 4,900+ visitors.
The onsite conference programme opened with a keynote speech from His Excellency Dr Amin Hussain Al Amiri, Assistant Undersecretary of Public Health Policy & Licensing Sector in UAE Ministry of Health & Prevention, MoHaP. Entitled Healthcare and Pharmaceutical Continuum: Highlights Across the Region, where he addressed a number of topics including a focus on Middle East healthcare systems, creating value for patients and society, R&D investments and an overview on creating a smart regulatory environment for the UAE.
According to research commissioned by CPhI, the pharma market in the MENA region is set to top US$41 billion by 2022 while also increasing partnership and business opportunities at both a local and international and to further increase the value of the market in this region.
A total of 14 sessions are scheduled for the three-day showcase, including on day one An Industry Players Perspective on Pharma Manufacturing in the GCC, The Forgotten
CPhI MEA takes place from 16-18 September, for further information please visit www.cphi.com/mea
About CPhI
CPhI drives growth and innovation at every step of the global pharmaceutical supply chain from drug discovery to finished dosage. Through exhibitions, conferences and online communities, CPhI brings together more than 100,000 pharmaceutical professionals each year to network, identify business opportunities and expand the global market. CPhI hosts events in Europe, North America, Korea, China, India, Japan, Southeast Asia and the Middle East, and co-locates with ICSE for contract services, P-MEC for machinery, equipment & technology, FDF for finished dosage formulations, InnoPack for pharmaceutical packaging and BioPh for biopharma. CPhI provides an online buyer & supplier directory at CPhI-Online.com.
For more information visit: www.cphi.com
About Informa Markets
Informa Markets creates platforms for industries and specialist markets to trade, innovate and grow. Our portfolio is comprised of more than 550 international B2B events and brands in markets including Healthcare & Pharmaceuticals, Infrastructure, Construction & Real Estate, Fashion & Apparel, Hospitality, Food & Beverage, and Health & Nutrition, among others. We provide customers and partners around the globe with opportunities to engage, experience and do business through face-to-face exhibitions, specialist digital content and actionable data solutions. As the world's leading exhibitions organiser, we bring a diverse range of specialist markets to life, unlocking opportunities and helping them to thrive 365 days of the year. For more information, please visit www.informamarkets.com.