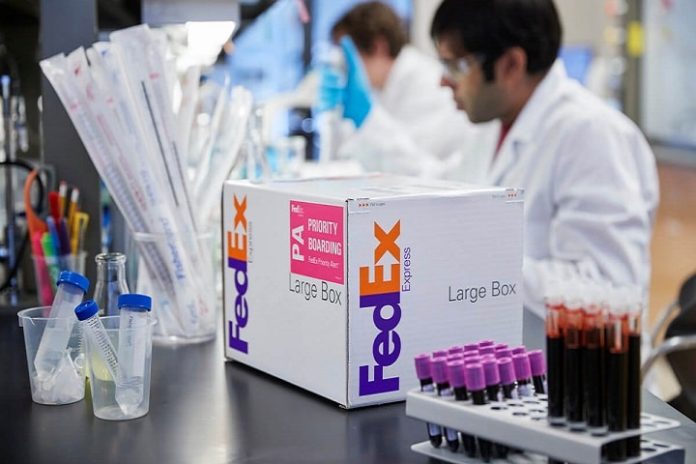 Following the completed renovation of the TNT Life Science Center in Tokyo, Japan in May 2019, FedEx Express is bolstering its healthcare solutions to support and better meet the complex logistics needs of its pharmaceutical customers in Asia Pacific. The Life Science Center – with 40 dedicated employees serving clinical sites throughout Japan – has expanded capacity, boasting the latest modern equipment and a strong team of clinical trial logistics service specialists. The upgraded facility will better meet and support the clinical trial logistics requirements of healthcare customers both within the Japan domestic market and those shipping to Japan from around the world.
The improvements at the Life Science Center are all specifically designed for clinical trial logistics, such as:
At 3,500 square meters, the enhanced Life Science Center has an 80% increase in clinical drug storage capacity.
Expansion of Chiller Rooms and Ambient Rooms with two separate temperature zones (between 2 degrees to 8 degrees Celsius and 20 degrees Celsius).
Establishment of Allocation Room where investigational medication product and placebos can be assigned inside the facility.
Introduction of humidity control in Chiller Rooms, Ambient Rooms and Allocation room.
Establishment of a frozen storage unit, enabling storage of between minus 20 degrees and minus 30 degrees Celsius.
A centralized monitoring system to ensure temperature and humidity integrity and controlling of all temperature-controlled facilities.
Enhanced security systems – including earthquake resistance standards compliance – and renovation of the private back-up power generation system.
Overseas pharmaceutical customers can now ship investigational medication product in bulk to the Life Science Center in Tokyo, which will store them in temperature-controlled facilities, instead of shipping individually when needed. The drugs can then be delivered to hospitals all over Japan when needed in special temperature-controlled packaging systems. After the trial ends, the unused drugs can be retrieved from the hospitals and stored in the Life Science Center for return to the origin or destruction.
The upgraded Life Science Center – an important hub for storage and transportation of investigational medication product in Japan – will continue to meet the diverse needs of global pharmaceutical companies and contract research organizations (CROs). It will help customers simplify the clinical trial logistics and optimize cost and time efficiencies, so they can focus on more important business priorities.
The pharmaceutical industry is moving to combat rare diseases with more advances in research. Japan is the second fastest growing mature pharmaceutical market in the world, close behind the U.S. and expecting dramatic rise in generics and biosimilars in 2020. This will drive demand for stable supply of investigational medication product to support development, and better clinical trial logistics solutions.
"Asia Pacific is fast gaining preference from pharma companies the world over as a key destination for conducting clinical trials given the large patient pool and cost efficiencies. FedEx Express plays a key role as a strategic differentiator for success in clinical trial logistics, especially for potentially life-changing complex shipments," said Karen Reddington, president, Asia Pacific, FedEx Express. "With FedEx healthcare solutions, our customers have the benefit of deep healthcare logistics expertise, supplemented by global networks so they can stay compliant with global import and export regulations along with the assurance that their shipments will be transported under best-in-class facilities."
TNT and FedEx continue to further integrate, collaborate closely and harness both shipping solutions to deliver clinical trial logistics services to their customers, aided by a robust shipping process and an extensive operational network overseas for pharmaceutical companies in Japan and across Asia Pacific.
FedEx Express remains committed to serving customers with specialized logistics needs in the pharmaceutical sector. This year, FedEx Express launched the MedPak VI°C solution, a high performance reusable thermal packaging that provides 96 hours of temperature stability in case of unforeseen contingencies. Other solutions, such as SenseAware®, maintain close monitoring of package's temperature, humidity, pressure and location along delivery, providing customers with more visibility along the entire supply chain at any time.
Learn more about the FedEx Express healthcare solutions at http://www.fedex.com/hk_english/healthcare/
About FedEx Express
FedEx Express is the world's largest express transportation company, providing fast and reliable delivery to more than 220 countries and territories. FedEx Express uses a global air-and-ground network to speed delivery of time-sensitive shipments, by a definite time and date supported by a money-back guarantee1 .
About FedEx Corp. FedEx Corp. provides customers and businesses worldwide with a broad portfolio of transportation, e-commerce and business services. With annual revenues of $70 billion, the company offers integrated business solutions through operating companies competing collectively and managed collaboratively, under the respected FedEx brand. Consistently ranked among the world's most admired and trusted employers, FedEx inspires its more than 450,000 team members to remain focused on safety, the highest ethical and professional standards and the needs of their customers and communities. To learn more about how FedEx connects people and possibilities around the world, please visit about.fedex.com
FedEx Express press releases are available on the World Wide Web at about.fedex.com/newsroom/asia-english.
Please follow FedEx Express Asia Pacific social and digital media accounts:
FedEx Business Insights Hub: http://fedexbusinessinsights.com/en/
LinkedIn FedEx Go Global: https://www.linkedin.com/showcase/fedex-go-global/