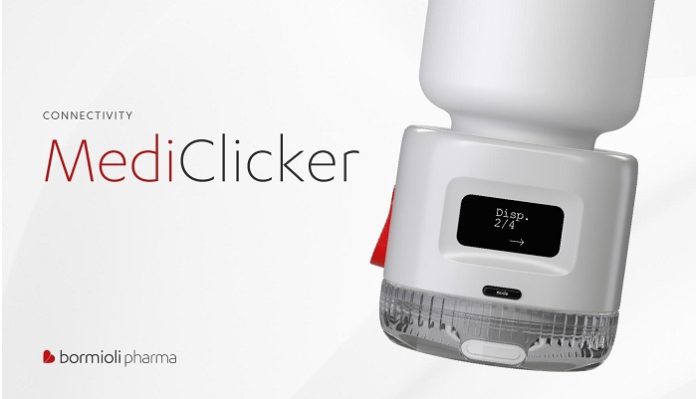 Bormioli Pharma has showcased for the first time two new pharma packaging prototypes developed in collaboration with Desall. The prototypes were unveiled at CPHI Frankfurt 2022, the largest pharmaceutical industry event of the year that took place in Frankfurt, Germany, between November 1-3 earlier this year.
Born through open innovation processes with a focus on patient-centred solutions and in line with current industry-specific technological trends, the two new medical devices consist of: an IoT, smart-controlled device for easy pill dosing (MediClicker), and an ophthalmic drop applicator (OpenEye).
Bormioli Pharma & Desall: innovating together
OpenEye and MediClicker are the result of a year-long collaboration between the open innovation platform Desall and Bormioli Pharma, an international leader in the production of pharmaceutical packaging and medical devices.
Thanks to its decade-long experience in the development of new and innovative product solutions, Desall was able to support Bormioli Pharma throughout all phases of product development, from creative inception, to prototyping:
Creative Inception – Consultancy services aimed at identifying the key characteristics of new product solutions.
Research Innovation – Crowdsourcing services for market research and concept collection leveraging a global community of 140.000+ registered users.
Prototyping – Mechanical, electronic and software engineering services to develop selected solutions into industrially viable prototypes with associated app interfaces and IoT
MediClicker & OpenEye: developing user-centred solutions through crowdsourcing
MediClicker & OpenEye are unique user-centred solutions in line with current industry-specific technological trends. Both solutions thus show how key open innovation processes such as crowdsourcing, co-participation and co-creation can yield unique results in terms of product innovation even in highly competitive and specialised sectors.
The product concepts of MediClicker & OpenEye were selected from a pool of proposals submitted by Desall's creative community as part of the international open calls launched for Bormioli Pharma on desall.com between 2021/2022.
Abiding open innovation principles, and in order to maximise opportunities for participation, the open calls did not present any registration fee or other kinds of limitations. The winning concepts were submitted by Spanish designer Carlos Martín Lopez and the London-based design studio Makers Department led by Fabio Salvador, respectively.
MediClicker – improving patient's therapy adherence through connected devices
MediClicker is a smart-controlled pill-dispensing system with IoT functionalities.
The medical device employs a display and dedicated app to share key information with the user to prevent the risks of voluntary and involuntary errors in drug administration. The user is informed of the amount of pills contained in the dispenser at any given time, and is notified on their smartphone the exact number of pills that must be administered.
Digital healthcare and the use of connected devices are among the growing trends within the pharma industry. MediClicker can improve patients' therapy adherence, providing information through the use of IoT, thus preventing the risks of errors in drug administration.
OpenEye: enhancing self-administration of ophthalmic drugs
OpenEye is an ophthalmic drop applicator that makes self-administration easier, safer and more efficient. The container consists of a plastic bottle, a protective cap, and a drop applicator made of pharma-grade silicone whose composition and conformation ensure safe usage, easy cleanability and precise and efficient application, thus minimising waste during drug administration.
OpenEye provides a solution to the growing number of elderly patients who self-administer eye-care liquid drugs and require a simplified and safe method of administration. The user-centric approach at the heart of OpenEye allows for precise and safe administration by the target user group while maximising drug usage.
Desall
Desall is an open innovation platform that connects prestigious brands to a community of designers and creatives with different cultural backgrounds and from a wide range of creative industries. The platform allows for participatory design and project development through bespoke contests that are organised, launched and promoted by Desall in collaboration with its clients. Contest participants are part of Desall's growing community, a creative powerhouse of over 140K members which is able to provide high-quality solutions for every product development phase requested by the client – from concept to product design, from naming to packaging. Thanks to its sister company Factory08, since 2018 Desall is also able to offer product industrialization services, with a focus on engineering and development of industrial automation equipment that is in line with the latest standards of the industry 4.0 technology. As of today, Desall has launched over 250 activities, promoting the creation of more than 42K creative projects.