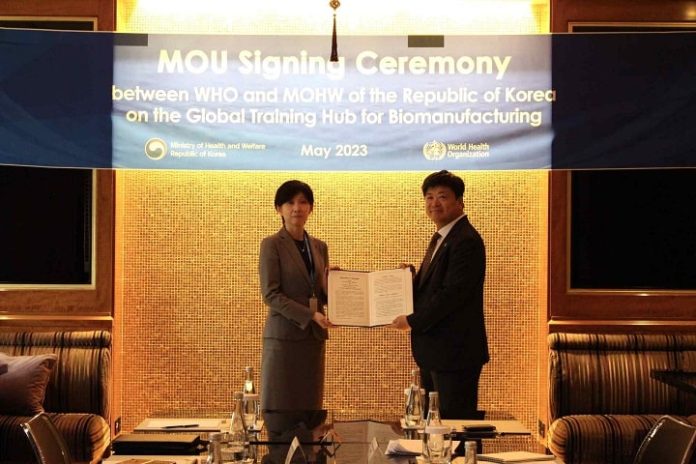 The World Health Organisation as well as the Republic of South Korea have gone ahead and inked a MoU so as to establish a worldwide training hub when it comes to biomanufacturing. The worldwide training centre will go on to serve entire low and middle-income countries (LMIC) so as to manufacture biologicals like insulin, vaccines, monoclonal antibodies, and also cancer medicines.
It is well to be noted that the COVID-19 pandemic went on to highlight the requirement to expand the local as well as regional production of vaccines as well as other mandatory health products across LMIC so as to make sure of equitable access.
To help countries with the know-how to quickly manufacture mRNA vaccines, the WHO, in collab with partners, went ahead and came up with the mRNA Technology Transfer programme with the launch of the hub facility in South Africa in April this year. The multilateral effort as well as other recent local manufacturing initiatives call for a workforce development strategy to bring on board, scale up, and also retain staff that work in these facilities with distinct competencies that are mandatory in bioproduction. These steps are indeed ambitious.
In order to address this gap, the WHO as well as the Republic of Korea have also gotten together in a closed partnership for more than a year and are now formalising their bent when it comes to the establishment of a worldwide training hub as far as biomanufacturing is concerned.
As per the Assistant Director General of WHO for Access to Medicines and Health Products, Dr. Yukiko Nakatani, they are delighted to ink this MoU so as to elevate their collaboration to another level and also partner when it comes to the development of an absolute training curriculum. They hope that this training hub, which happens to be world-class, will aid in building a skilled workforce and also ensure quality health products are developed across the world.
Apparently, the Korean government is offering a wide range of national training facilities as well as training programmes that cover the entire spectrum of biological development and is also widening its functions so as to accommodate a larger number of trainees across other nations with the construction of a Global Bio Education Campus anticipated to launch in 2025. At the Ministry of Health and Welfare, Republic of Korea, its Director General of the Global Vaccine Hub Office, Mr. Hwang Seunghyun, says that he hopes that the MoU will elevate the cooperation between Korea and WHO so as to make the biomanufacturing capacities of LMIC more robust.
Parallelly, the WHO is also intensifying the regulatory system's strengthening so as to ensure the quality and safety of health products.
The stronger regulatory agencies shall also go on to scale up confidence across locally manufactured products as well as counter misinformation and, at the same time, thwart the availability of substandard and falsified drugs.