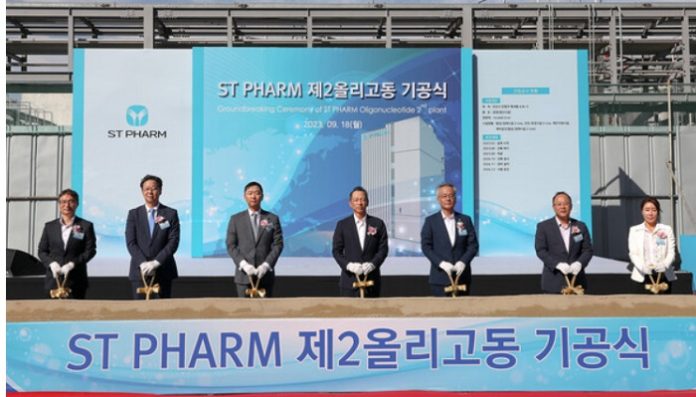 ST Pharm said it has taken its first step towards becoming the global leader in the oligonucleotide contract development and manufacturing organization (CDMO) domain with the groundbreaking ceremony for its second oligonucleotide facility.
The new plant will be located in Ansan, Gyeonggi Province. The company has planned an initial investment of 1.1 trillion won ($830.9 million) for the new oligonucleotide facility, and once construction and subsequent expansions are completed, the company expects to achieve production capabilities of around 14 mol (2.3~7 tons), positioning itself as the world's largest oligonucleotide active pharmaceutical ingredient (API) manufacturer.
The new plant will span approximately 10,900 square meters, boasting seven stories and a height of 60 meters.
Floors one through five will feature production facilities of large, middle, and small scales. The sixth and seventh floors have been designed as reserve spaces, enabling the addition of two large-scale lines to accommodate anticipated growth in the oligonucleotide market.
Emphasizing operational efficiency, ST Pharm plans to introduce an advanced automated system based on process automation for the new facility.
From its design stage, workflow optimization, including staff movement trajectories, was considered for optimal layout planning.
The company also plans to incorporate the process control system (PCS), building management system (BMS), and warehouse management system (WMS) to enhance production efficiency and cost savings.
Notably, reflecting a commitment to sustainable management from an ESG (Environment, Social, Governance) perspective, the plant will also integrate several eco-friendly features, including a heat reuse system for heating, a distillation system that does not require cooling water, a cleaning system that minimizes water consumption, and the implementation of technologies to prolong filter lifespan.
With expanding production capacities, the company expects a surge in revenues. Once the new oligonucleotide facility becomes fully operational, ST Pharm envisions achieving 1 trillion won in oligonucleotide API sales by 2030.
"The second oligonucleotide facility is designed to double our production capabilities and simultaneously enhance our production efficiency by four to five times," an ST Pharm official said. "Through this expansion, we aim to attract even more clients and post impressive results."
According to a 2022 report by Brandessence Market Research, a market research firm, the oligonucleotide therapeutics market is projected to grow at an annual rate of 17.4 percent from 9.7 trillion won in 2021 to reach 30 trillion won by 2028.