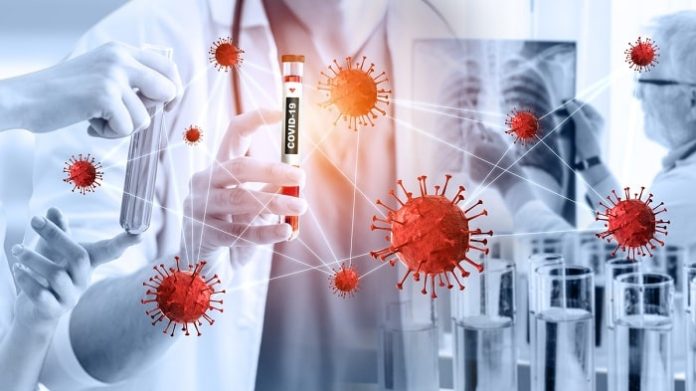 Sorrento Therapeutics, Inc., a clinical and commercial stage biopharmaceutical company developing new therapies to treat cancer, pain and COVID-19. The publication details preclinical vaccination studies of a new to-be-licensed and developed protein-based COVID-19 vaccination candidate, DYAI-100. The new RBD-based COVID-19 vaccination candidate demonstrated in preclinical studies the potential to elicit potent neutralizing B-cell immune responses against the original SARS-CoV-2 strain and its emerging variants, including Beta and Delta.
The generation of a protein-based vaccination candidate that provides protection against the original SARS-CoV-2 virus and emerging VoCs has proved to be challenging. The publication reports the protective neutralizing activities of the sera of vaccinated animals against a broad spectrum of SARS-CoV-2 virus and its major VoCs by immunization with recombinant Spike protein receptor binding domain (RBD) administered in conjunction with aluminum-phosphate adjuvant intramuscularly. Immunizing mice with RBD protein vaccine with simple aluminum-phosphate adjuvant led to the production of IgG antibodies recognizing the Spike protein of the prototype SARS-CoV-2 as well as the VoCs, such as Alpha ("United Kingdom"), Beta ("South Africa"), Gamma ("Brazil/Japan"), and Delta ("India"). RBD protein immunization induced to the activation of a Th1 polarization of CD4 positive T cells. Furthermore, RBD protein immunization produced IgG antibodies in vivo, which exerted high neutralizing activity against live SARS-CoV-2 and the highly transmissible VoCs, Beta and Delta, as well as Gamma to a lesser extent. Thus, DYAI-100 represents a promising COVID-19 vaccination candidate against COVID-19 that may potentially offer broad protective range against emerging VOCs of SARS-CoV-2 virus.
About Sorrento Therapeutics, Inc.
Sorrento is a clinical stage, antibody-centric, biopharmaceutical company developing new therapies to treat cancers and COVID-19. Sorrento's multimodal, multipronged approach to fighting cancer is made possible by its extensive immuno-oncology platforms, including key assets such as fully human antibodies ("G-MAB™ library"), clinical stage immuno-cellular therapies ("CAR-T", "DAR-T™"), antibody-drug conjugates ("ADCs"), and clinical stage oncolytic virus ("Seprehvir™"). Sorrento is also developing potential antiviral therapies and vaccines against coronaviruses, including COVIGUARD™, COVI-AMG™, COVISHIELD™, Gene-MAb™, COVI-MSC™ and COVIDROPS™; and diagnostic test solutions, including COVITRACK™, COVISTIX™ and COVITRACE™.
Sorrento's commitment to life-enhancing therapies for patients is also demonstrated by our effort to advance a first-in-class (TRPV1 agonist) non-opioid pain management small molecule, resiniferatoxin ("RTX"), and SP-102 (10 mg, dexamethasone sodium phosphate viscous gel) (SEMDEXA™), a novel, viscous gel formulation of a widely used corticosteroid for epidural injections to treat lumbosacral radicular pain, or sciatica, and to commercialize ZTlido® (lidocaine topical system) 1.8% for the treatment of post-herpetic neuralgia. RTX has completed a Phase IB trial for intractable pain associated with cancer and a Phase 1B trial in osteoarthritis patients. SEMDEXA is in a pivotal Phase 3 trial for the treatment of lumbosacral radicular pain, or sciatica. ZTlido® was approved by the FDA on February 28, 2018.